Out of step on food security
Punjab is a major contributor of wheat and rice to the bread basket of India, particularly buffer food stocks. But grain storage remains a critical problem with regard to food security. Unless this is addressed, grains will continue to rot and the poor will go hungry.
Beant S Ahloowalia
FOOD security is a balance in the equation between population on one side and food production and its distribution on the other. Food must be produced in sufficient quantity and should be within the purchasing of the people. In addition, food should be nutritionally wholesome. The present population of India is 1.22 billion which makes it the second most populous country in the world after China with over 1.35 billion. India represents almost 17.3 per cent of the world's population, which means one out of six people on this planet live in India. By 2030, India's population will surpass that of China. With the growth rate at 1.58 per cent, India is predicted to have more than 1.53 billion people by the end of 2030. More than 50 per cent of India's current population is below the age of 25 and over 65 per cent below the age of 35. Approximately 72.2 per cent of the population lives in some 638,000 villages and the rest 27.8 per cent in 5,480 towns and urban agglomerations. The estimated birth rate per year is 22.2 per 1,000 while the death rate is 6.4 per 1,000.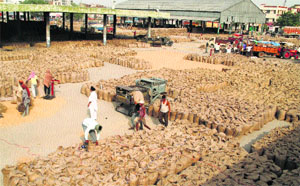 Nearly 90 per cent of the wheat in Punjab is stored in the open, mostly in sacks, with little cover. Tribune file photo
The current food grain production stands around 250 million tonnes, although estimated production varied from 250 to 257 MT. In 2012, India produced over 252.5 MT of grains. This figure does not include other food resources such as pulse crops, root and tuber, oilseed, cotton seed, sugar, fruits and vegetables, which contribute a large source of food for the rich and poor alike. Whereas the current food production is more than sufficient in India, its distribution is lopsided. The poor sections of the population (estimated around 450 million) in India cannot afford to purchase sufficient food, and if they can, it is not wholesome.
Punjab with an area of 2.2 per cent of India is a major contributor of wheat and rice to the bread basket of India. It produces approximately 9 million MT of rice and 12.5 million MT of wheat every year. In 2012, Punjab produced over 13 million MT of wheat. In 2010-11, Punjab's contribution to the central pool was 8.63 MT of rice in 2011 and 13 MT of wheat in 2012. All along, Punjab has been contributing maximum wheat and rice to the central pool.
Storage problems
Lack of silos, low MSP and mismanagement of the FCI and wrong policies of the state and central government in handling, storage and distribution of grains remain a challenge. The most critical factor is grain storage. This is important both for food security and protection of grains. Wastage of food through negligence and poor storage should be a criminal act as it leads to food deprivation, starvation and even death among the poor. Badly stored food results in the wastage and deterioration of food quality. Nearly 90 per cent of the wheat in Punjab is stored in the open under antiquated storage, mostly in sack with meagre or no cover. According to the FCI, food worth Rs 50,000 crore is wasted every year. This is about 20 per cent of the food produced by the country. This figure includes food losses in processing, packaging, transportation and even marketing, but most of it is wasted under poor storage conditions.
In Punjab the value of wheat damaged from improper storage has been assessed between Rs 500 to Rs 800 crore per year. Punjab annually produces approximately 21.5 million MT of grains that includes 9 million MT wheat and 12.5 million MT paddy. The storage capacity of the state is only 30 per cent of the total grains under protected conditions such as godowns and rented houses. Even under these conditions mice and rats damage grains on a large scale. The FCI has silos with a storage capacity of only 0.3 million MT in Moga. However, the cost of storage is three to four times more than open storage. It has been proposed to construct two silos, with a storage capacity of 50,000 tonnes each, but that is only on paper. A couple of years ago, Punjab auctioned huge stocks of grains that were unfit for human consumption.
Properly stored wheat in silos can last four to five years, whereas food stored in the open rots within a year. Wheat stocks in the open are exposed to moisture, making them vulnerable to fungal attacks and rotting. The grains start turning black, and produce an unbearable stench. Monsoon makes it worse.
Since these open godowns are located along national and state highways, they remain drenched in rain and flood waters for weeks. Wooden plinths on which stacks of wheat bags are piled get saturated with water and the excess moisture by capillary action moves up to the grains, making them highly vulnerable to attack by insects, pests and rodents. Each year huge stocks of wheat and paddy rot in the open all over Punjab, particularly near grain markets where storage conditions are pathetic. The FCI stores the bags 30 feet high where bags are stacked up 25 feet high under tarpaulin sheets, the remaining 5 feet are meant for workers for carrying out inspections. The wooden planks on which the grain sacks rest soak water and haphazard coverage of tarpaulin sheets leaves enough scope for water to seep in. In addition, rodents, pigeons and parrots damage grains in the open. This system of storage is primitive.
Food security of India is also at risk from the changing socio-agricultural environment in Punjab. The changing environment, extreme fluctuations in temperature, rapid depletion of water and soil degradation from wheat-rice based rotation and reduced use of organic fertilisers as compost further threaten food production and food security. This eventually would be reflected in the non-availability of food to the poor sections of society whose numbers are increasing disproportionately in the ever-increasing population of India, already past 1.2 billion. The increase in food production cannot keep up with the population of India which may stabilise around 1.6 billion by 2050, if not sooner.
Looking for solutions
Two parallel actions need to be taken to balance the equation of population and food production. Increased yield, hence food production, cannot go on for ever even by adding fertilisers and pesticides and using the best available crop management packages. The law of diminishing returns will take over. Increase in population on the other hand is limitless. Hence, the food security of India cannot be guaranteed. The balance in the equation of increasing population and food production is unsustainable even within the decade ahead. The most obvious factor in food security is the increasing numbers of people to be fed and some measures have to be taken to control population. Special efforts should be made on population control in states and regions with high birth rates.
Although the food production component of the equation has kept pace with the increase in population during the past years, this is under threat from climatic change, erratic monsoon, floods, drought, increasing temperatures, outbreak of new diseases, pests and above all water depletion and soil exhaustion. Whereas it is possible to adjust soil fertility by adding chemical fertilisers, the decrease in the organic content of the soils by green manure, use of pesticides and excessive use of fertilisers will cause serious ecological problems. This would adversely affect resources of soil, water and animal for food production and consumption and human health. Hence, population control must become the highest priority if India has to keep feeding its population.
To increase crop yields and sustain an 'ever green revolution' and to have eco-friendly agriculture without damaging soil, to reduce water use and cut down the cost of production, several simple steps can be undertaken. The introduction of zero tillage reduces the cost of cultivation. It also prevents burning of paddy and wheat straw in fields, and preserves micro-nutrients and friendly worms in the soil. Mulching and green manure are essential to maintain and improve soil health and increase production with reduced inputs of fertilisers.
The use of water can be minimised with drip irrigation. If India has to sustain food production, farmers should undertake relay cropping, zero tillage, multi-cropping, mixed farming, agro-forestry, and agro-horticulture in place of traditional wheat-paddy rotation. Crops such as sweet potato and sunflower should be tried to replace rice cultivation. More orchards with kinnow, orange, grape and banana should be planted and drip irrigation should become a part of the package of growing these fruits.
These measures are medium term and financial intervention of the state and central governments are needed to promote these ideas among the farmers so that the new cropping systems are as profitable as the traditional wheat-rice rotation. Many vegetables can be grown under protected conditions such as plastic, net and glasshouses with drip irrigation. The protected cultivation reduces water requirement, produces more uniform produce and reduces the use of pesticides and insecticides. But once again, these need a massive input of information and financial packages to the farming community. The state and Central governments must play their roles in providing these facilities.
The writer is a former ex-staff member of the FAO/IAEA Joint Division, International Atomic Energy Agency, Vienna, Austria
Grain of truth
* India's current food grain production stands around 250 million tonnes, though estimated production varied from 250 to 257 MT.
* In 2012, India produced over 252.5 MT grains. The current food production is sufficient, but its distribution is awry. The poor — estimated around 450 million — cannot buy sufficient wholesome food.
* With an area of 2.2 per cent of India, Punjab is a major contributor of wheat and rice to the country's bread basket.
* Punjab produces about 9 million MT rice and 12.5 million MT wheat annually.
* In 2012, it produced over 13 million MT wheat. In 2010-11, its contribution to the central pool was 8.63 MT rice and 13 MT wheat.