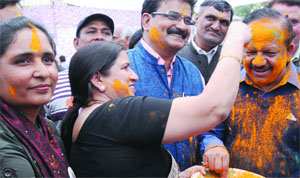 Delhi BJP president Harsh Vardhan and party leader Anita Arya smear colours on each other on the occasion of Holi Milan at the party office in New Delhi on Wednesday. Tribune photo: Manas Ranjan Bhui
Cong decries 'Namo Gulal' campaign
New Delhi, March 12
Delhi Congress today criticized the BJP for politicising the Holi festival and giving it a 'communal colour' by distributing 'Namo Gulal'.
Lawyers resent posters supporting Modi
New Delhi, March 12
With posters reading "Lawyers for Modi, Modi for lawyers" dotting walls of many courts in the national Capital, lawyers practising in the Supreme Court, High Court of Delhi, District Courts and other tribunals, have raised strong objection to such banners and posters that give an impression to the public that all lawyers have been supporting the BJP prime ministerial nominee Narendra Modi.
Students clamour for release of KMSS leader
New Delhi, March 12
Jawaharlal Nehru University Students' Union (JNUSU) joined the protest against the arrest of Krishak Mukti Sangram Samiti (KMSS) president Akhil Gogoi and demanded the immediate and unconditional release of the RTI activist. Protesting at Jantar Mantar today, they were also supported by a number of students of Delhi University and other social activists.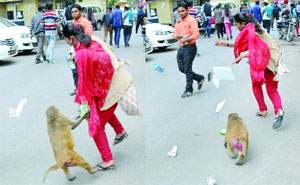 MONKEY BUSINESS: A simian snatches a woman's effects near Parliament Street police station in New Delhi on Wednesday. Tribune photo: Manas Ranjan Bhui
Metro tunnel built on Majlis Park corridor
New Delhi, March 12
A Delhi Metro tunnel was successfully built today below the operational Ring Road on the Majlis Park-Shiv Vihar Metro corridor with a Tunnel Boring Machine (TBM) at Shalimar Bagh.
'U and Me' campaign against dengue starts
New Delhi, March 12
With a view to checking the rising number of dengue cases, New Delhi Municipal Corporation (NDMC), All India Institute of Medical Sciences (AIIMS), Indian Medical Association (IMA), Rotary Blood Bank and Sahyog launched a campaign 'U and Me Against Dengue' in collaboration with Mortein NaturGard.
Sahitya Akademi honours literary greats
New Delhi. March 12
Sahitya Akademi felicitated several poets, authors, essayists and playwrights with awards for their works published in 24 recognised Indian languages, including English, at the ongoing annual event, the Festival of Letters.
Married constable commits suicide
New Delhi, March 12
A 25-year-old Delhi Police constable allegedly committed suicide when he jumped in front of a moving train at Hazrat Nizamuddin Railway Station in southeast Delhi on Tuesday afternoon.
Man accused of daughter's rape ends life
New Delhi, March 12
A 58-year-old man allegedly committed suicide by consuming poison in South Delhi's Govindpuri area, after his daughter accused him of raping her, police said today.
Man held for robbing scribe
New Delhi, March 12
A 30-year-old man has been apprehended for allegedly robbing a television journalist outside the victim's residence in East Delhi.