last word
Been there, done that, now for LS
From Infosys to Aadhaar, Bangalore has loved its IT hero, now it's time to see if they put their vote where the mouth is.
Nandan Nilekani, former UIDAI chief and Congress candidate in Bangalore
By Shubhadeep Choudhury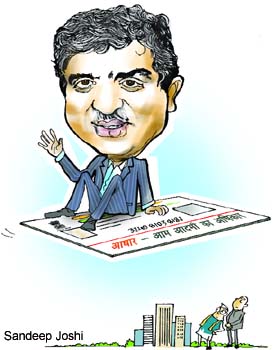 THE IT honchos are the rock stars of Bangalore. And just as the Aamir Khans of Bollywood have an opinion on everything from poverty to India's foreign policy, the top geeks in Bangalore are also liberal with their views on issues far removed from their industry.
So it was only a matter of time before IT bigwigs of Bangalore made a claim to the electoral cake too. City-based entrepreneur Rajeev Chandrasekhar is already a parliamentarian, but he is a member of the Rajya Sabha. It is thus not a surprise that Nandan Nilekani, co-founder of Infosys — a company that played a key role in establishing Bangalore's reputation as an IT hub — has become the first techie from the city to throw his hat in the ring to represent it in the Lok Sabha. He will contest from Bangalore (South).
Though not exactly as revered as Infosys patriarch Narayana Murthy, Nilekani is a close second in terms of celebrity. His name did the rounds even when the presidential election took place.
Mohandas Pai, who was Infosys' highest paid employee till he resigned in 2011, was another IT industry honcho suspected of harbouring political ambitions. The bearded Pai is considered a sympathiser of the BJP, though it's not clear on what basis. Both Murthy and Pai are associated with the Bangalore Political Action Committee (B Pac). Wipro boss Azim Premji is yet another Bangalore-based industrialist who does not shy away from airing his views on political and social issues.
Another Infosys top executive, V Balakrishnan, is contesting the Lok Sabha election from the Bangalore (Central) constituency on the AAP ticket. "Bala", as the former Infosys CFO is known, seems still heavily wrapped by his corporate past. Nilekani, on the other hand, is relatively free of any such hangover. Listed in the Forbes magazine among the richest Indians, Nilekani recently took a ride in a city bus. A photograph of him standing alone at the bus stop posted in his blog makes for an endearing picture.
The 58-year-old Nandan, an electrical engineering graduate from IIT-Bombay, started his career with Patni Computers, where Narayana Murthy was his senior. Murthy, Nandan and five others had left Patni to set up Infosys. The rest, as they say, is history. Nilekani took another bold decision 28 years later when he resigned from all his positions in Infosys and became head of the Unique Identification Authority of India (UIDAI) with the status of Cabinet Minister. That was in 2009.
Son of a textile mill manager, the suave and affable Nilekani spearheaded Infosys operations in the crucial North America market in the initial days and was based in the US. In 2002, he took over as CEO from Murthy when the industry was struggling post the dot-com bust. It was under his leadership that the company crossed a billion dollars in revenue for the first time.
In 2007, the Infosys CEO's baton was handed over to another co-founder, Gopalakrishnan. As co-chairman, Nilekani remained involved in providing strategic inputs to further the company's growth. Before he quit the company in 2009, he was travelling across the globe to meet large customers of Infosys, drum up new business and to strengthen the company's brand.
Interestingly, after Nilekani's resignation no one was given the responsibilities that were specifically handled by him at Infosys. This gave rise to the joke that Nilekani actually had nothing to do in Infosys when he finally left the company.
Nilekani next made a mark in government. The UIDAI under his stewardship is said to have given identity cards to 60 crore Indians. He considers it a commendable achievement.
While in the western countries business leaders accepting appointments in the government is not uncommon, few Indian CEOs go on to work for the government. Though businessmen such as Vijay Mallya, Naveen Jindal, Rajeev Chandrasekhar, etc, have entered politics and become parliamentarians, few have worked as a bureaucrat. Nilekani is considered a path-breaker in that respect.
Nilekani's candidature from the Congress has rattled his rival Ananth Kumar of the BJP, who has likened their electoral fight to the competition between Narendra Modi and Rahul Gandhi. According to Nandan, this shows that Ananth Kumar has no personal achievement despite having had five stints in the Lok Sabha from the constituency.
Writer of bestseller "Imagining India" and a reputed philanthropist, Nandan is married to Rohini Nilekani. Their two children have both studied at Yale University, US.
Whether people accept the IT star as their political leader, too, will be decided soon.