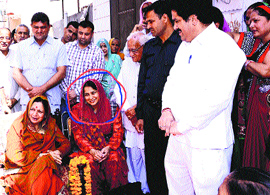 Rules be damned: PGIMS Public Relations Officer Seema Dahiya (encircled) at a public meeting in connection with campaigning with her cousin Asha Hooda and Rohtak MLA Bharat Bhushan Batra in violation of norms in Rohtak on Saturday. Photo: Manoj Dhaka

BJP's Virender Verma rejoins BSP
Karnal, March 15
Maratha Virender Verma, who was expecting to get a BJP ticket from Karnal, has decided to return to the BSP after his attempts were foiled due to the changing political scenario. Arvind Sharma from the Congress and Jaswinder Singh Sandhu from the INLD have started campaigning but the HJC, an alliance party of the BJP, is to decide their candidate from Karnal.
Recruitment of junior engineers
SPIO fined for delay in information to applicant
Ambala, March 15
The State Information Commission (SIC) has directed the Haryana Staff Selection Commission (HSSC) to upload marks awarded along with marks of viva voce of selected candidates on its official website. The SIC has imposed a penalty of Rs 25,000 on the State Public Information Officer (SPIO) of the HSSC and awarded a compensation of Rs 15,000 to the applicant for delay in information.
Married woman abducted by kin, rescued
Hisar, March 14
The police late last night rescued a married woman, who had been abducted by her family members for marrying a youth from another caste against their wishes, in Uklana town of the district. Police spokesperson Harish Bhardwaj said that woman, a resident of Mugalpura village, married her lover Sandeep Kumar of Faridpur village on January 15. As the couple sensed a threat of honour killing from the bride's family, the police had lodged them in a protection home under police protection after the marriage.
Assistant linemen to boycott work
Jind, March 15
The failure of the power utility in renewing contracts of around 350 assistant linemen may put lakhs of power consumers in this district to inconvenience as workers concerned have decided to boycott work. The term sanction for assistant linemen expired on February 6, after which they were working without legal permission.
21-member committee to resolve Kosli-Bhakli row
Kosli (Rewari), March 15
A 21-member committee was constituted to resolve a dispute between Kosli and Bhakli villages over naming of development works. The committee was formed at a mahapanchayat, which was attended by representatives of over 60 nearby villages, at Kosli town today.
Army man 'pays' for same 'gotra' wedding
Narnaul, March 15
An Army man who had eloped with and married a girl of the same 'gotra' over five years ago had to face the wrath of villagers on Wednesday when he came home for the first time after his wedding. He had to leave the village the next day after infuriated villagers blackened his face, garlanded him with slippers and paraded and thrashed him.

Farmer commits suicide, 10 booked
Sonepat, March 15
A farmer, Rajinder, of Nangal Kalan village committed suicide by consuming some poisonous substance at his residence last evening. He was rushed to the Civil Hospital, Sonepat, where he was referred to a private hospital in Delhi. However, he breathed his last in the Delhi hospital today.
Over 3.5 lakh INLD workers at booth level, says Abhay
Sonepat, March 15
Indian National Lok Dal (INLD) leader Abhay Singh Chautala today said the party was the biggest organisation of workers as it had a record number of over 3.50 lakh workers at the booth level. He was addressing a party workers' meeting at Gohana in support of party candidate Padam Singh Dahiya. He also said the BJP had come to the power with the support of the INLD in the past.
Four held for bike theft
Karnal, March 15
Four motorcycle thieves were arrested by the anti-auto theft unit of the Karnal police. During the interrogation, they admitted to stealing bikes from different parts of the state and selling them in Uttar Pradesh. They said two of the gang members stole bikes and sold them to other members.
Youth killed in group clash
Kurukshetra, March 15
A youth was killed while his three friends were injured in a group clash in Ladwa town last night. Sources said Lakwinder Singh and his three friends were attaked by 5-7 persons with sticks and rods. Lakhwinder, who was seriously injured in the attack, was taken to the Community Health Centre, from there he was referred to Lok Nayak Jai Prakash Hospital in Kurukshetra. He succumbed to his injuries on way to the hospital. Alleging police inaction, Lakhwinder's kin blocked the Ladwa-Pipli road for almost 3 hours today. DSP Shital Singh pacified the protesters, after which they lifted the blockade. TNS
2 file papers in Faridabad on first day
Faridabad, March 15
Two candidates filed their nomination papers on the first day here today. Officials said Deepak Gaur of the Arakshan Virodhi Morcha Party and Sanjay Maurya, an Independent candidate, filed their nomination papers from the Faridabad Lok Sabha constituency. Being holidays, no nomination papers will be filed on March 16 and March 17 and the next date for the process will be on March 18. Under a notification, nominations are to be filed up to March 22. The scrutiny of nominations will be done on March 24, and candidates can withdraw their papers up to 3 pm on March 26. Those left in the fray after the date of withdrawal will be issued election symbols. TNS
Only Guv, CJ can use red beacons: Govt
Chandigarh, March 15
The Haryana Home Department has issued guidelines on the use of red beacons atop government vehicles. A notification issued by the Transport Department stated that only the Governor and the Chief Justice of the Punjab and Haryana High Court were authorised to use red light atop their official vehicles. In a written communication, the Director General of Police, District Magistrates, Inspectors-General of Police Range, Police Commissioners of Faridabad, Gurgaon, Panchkula and Ambala, and all SPs have been requested to ensure compliance of the instructions and take appropriate action against any violations. TNS
250 graduates get degrees
Fatehabad, March 15
At least 250 graduates received their degrees during the convocation of Manohar Memorial Postgraduate College here today. RC Mishra, Inspector-General of Police (CID), delivered the convocation address and awarded degrees to the young graduates. He said while it was a time of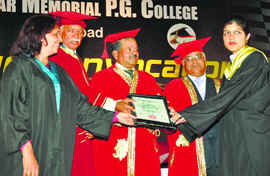 celebration, the day provided an opportunity to ponder over how one could overcome shortcomings and build a better future. Mishra said the aim of acquiring education should not merely getting jobs, but it should make a person a better individual as well. Speaking on the occasion, Principal DK Kaushik said the college students had been exhibiting their talent in various fields. TNS

IGP (CID) RC Mishra (centre) awards a degree to a graduate at Manohar Memorial Postgraduate College in Fatehabad on Saturday. A Tribune photograph

1 booked for raping cousin
Faridabad, March 15
The police have booked a youth for raping his cousin, aged about 25 years, in the Surajkund area here for over a year. No arrest has been made so far. The victim reported that her cousin Santosh of Housing Board Colony at Sector 18 had been sexually exploiting her since December 2012 when he intruded her house and raped her when she was alone in her house. She reported that Santosh clicked some photographs of hers during the act and started blackmailing her by threatening to reveal the photographs to her husband if she resisted physical relations with him. TNS
Youth drowns in Brahma Sarovar
Kurukshetra, March 15
A youth drowned in the Brahma Sarovar here today. Ramjas of Salarpur road went with Raju, Praveen and Munish of Mirzapur village for a holy bath. They were bathing near the railing when Ramjas lost his balance and was drowned. His friends tried, but could not save him. They informed the police, after which Ramjas' body was fished out by divers. TNS