From time immemorial marriages have been one of the most powerful instruments for sealing political alliances. To gain a foothold in the Indian Ocean, Charles II, King of England, married the Portugese princess Catherine de Braganza, for she brought with her the seven islands of Bombaim (which later became Bombay) as part of her dowry.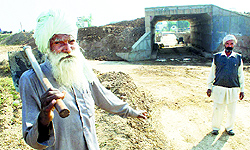 At the last count there was a backlog of 368 incomplete railway projects.

Closer home, we have the story of Mughal scion Akbar marrying the daughter of King Bharmal of Amer, Princess Jodha, to gain a lasting peace with the fierce Rajput clans.
In the era of coalition politics, which has been witnessed in India for the past two decades, the 'princess' much in demand has unfortunately been the Ministry of Railways, which comes loaded with a dowry of its vast resources and a budget of its own running into thousands of crores to be spent in any way the Railway Minister may deem fit.
Unfortunately, this princess so sacrificed at the altar of obtaining 'coalition loyalty' has been subject more to gross abuse, tantamount to 'rape', than being treated as a 'queen'.
Over the past 22 years the Railways has had to tie the knot with no less 11 'husbands'! Starting with the inimitable George Fernandes, a string of political heavy weights, viz. Janeshwar Mishra, Jaffer Sharief, Ram Vilas Paswan, Nitish Kumar, Ram Naik, Mamata Banerjee, once again Nitish Kumar, Lalu Yadav, again Mamata Banerjee, Dinesh Trivedi, have lorded over Rail Bhavan mostly to win friends and influence people with their unique initiatives that have proved disastrous for the nation's economic life.
Rather late in the day, realising the folly of handing over such an important portfolio to one of its innumerable coalition partners, the Congress appointed Pawan Kumar Bansal, who unfortunately failed to keep freeloaders at bay, and finally Mallikarjun Kharge was brought in with hardly any time to carry out any meaningful long term planning.
The inimitable Jaffer Sharif with his famous 'Project Unigauge' had set the trend, putting the Railways firmly on the path to financial ruin with scores of unviable projects finding their way into the Railway Board's 'Pink Book', a master list of commitments made in the Lok Sabha during the various Railway Budgets.
Brushing aside the issue of financially viability, Mamata Banerjee chose to call such projects 'socially desirable', where cost was of no consideration, never mind the populist role that such projects played in swaying voters, of course at the cost of the Railway's financial health.
At the last count there was a backlog of 368 projects with a whopping price tag of Rs 1,78,216 crore, for which only Rs 11,250 crore was provided in the current year's budget. At this rate it will take more than 15 years for these to be completed. In the meantime, new demands are bound to crop up.
In spite of promises made by every new Railway Minister to review these projects — a very large number of which are unviable — to prioritise and even jettison some of them by consulting stakeholders, nothing much has materialised.
On top of this, to Nitish Kumar goes the credit of total disruption of the command and control structure of the Railways by creating overnight no less than seven new zones, taking the tally from a manageable nine to 16 and adding in the process avoidable overheads.
Understandably, financial profligacy of the past two decades has taken its toll, resulting in the Railways recording the worst ever 'operating ratio' of 95 per cent in 2011-12.
With a distinct possibility of the forthcoming elections once again throwing up a fractured mandate, the Railways is bound to continue to be a ministry much in demand, and may be offered to one of the crucial coalition partners as a 'bride' for another five years of unbridled rape. Not a very rosy future for the nation's economic lifeline.
The writer is a former Member of the Railway Board.