M A I N N E W S
Death for 3 repeat offenders in Shakti Mills rape cases
Shiv Kumar
Tribune News Service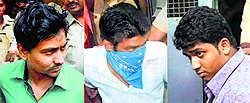 Mohd Salim Ansari, Vijay Jadhav and Kasim Bengali

Mumbai, April 4
Three men convicted of gang-raping women at the abandoned Shakti Mills compound in Central Mumbai were on Friday sentenced to death under laws that provide maximum punishment for repeat offenders.
Kasim Bengali, Vijay Jadhav and Mohammed Salim Ansari were sentenced to death after they were found guilty of gang-raping a 19-year-old telephone operator at the Shakti Mills compound last year. Some weeks later, they similarly assaulted a photojournalist on assignment.
Awarding the death penalty under tougher laws for rapists introduced recently after the brutal gang-rape of a paramedic in Delhi in 2012, Sessions Judge Shalini Phansalkar-Joshi said the trio did not have the potential to reform. "The Mumbai gang-rape accused have least respect for the law. They don't have the potential for reformation, as per the facts of the case," the judge said.
Noting that the survivors were left traumatised, the judge said the trio deserved the ultimate punishment. "The Mumbai gang-rape accused were emboldened since law-enforcing agencies hadn't caught them. If this is not the case where death sentence prescribed by law is valid, which is?" the judge asked.
The court noted that the rapes were not spontaneous and were pre-planned.
'No potential for reform'
Kasim Bengali, Vijay Jadhav and Mohammed Salim Ansari were found guilty of gang-raping two women — a telephone operator and a photojournalist — within a few weeks at the Shakti Mills compound in 2013
The court noted the rapes were pre-planned
Siraj Rehman Khan, found guilty of assaulting the photojournalist, was sentenced to imprisonment for the rest of his life