Ludhiana DMC Hospital launches hypertension chair and clinic
Ludhiana, April 4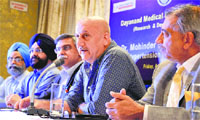 Dayanand Medical College and Hospital (DMCH) today launched Dr Mohinder P Sambhi Hypertension Chair and Clinic.


(From right) ML Sarin, a senior advocate of the Punjab and Haryana High Court, Bollywood actor Anupam Kher and Sunil Kant Munjal, president, Managing Society, DMCH, in Ludhiana on Friday. Photo: Inderjeet Verma

Manpreet's assets grow by 68% in two years
Chandigarh, April 4
Among other leaders, Congress leaders Partap Singh Bajwa (Gurdaspur), Capt Amarinder Singh (Amritsar) and Vijay Inder Singla (Sangrur) filed their nomination papers today. Manpreet Badal, PPP-Congress joint candidate, also filed his papers from Bathinda wheraas SAD-BJP nominee Pawan Kumar Tinu filed his papers from Jalandhar.
All MLAs barring one in his LS seat accompany Bajwa
Gurdaspur, April 4
Barring Batala MLA Ashwani Sekhri, who is said to be out of town, all other four legislators, including Sukhjinder Singh Randhawa (Dera Baba Nanak), Tripit Rajinder Singh Bajwa (Fatehgarh Churian), Charanjit Kaur Bajwa (Qadian) and Aruna Chowdhury (Dinanagar), accompanied PPCC president Partap Bajwa as he filed his nomination from Gurdaspur today.
Former MLA alleges kidnapping bid by Akalis
Muktsar, April 4
Raghbir Pardhan, former Congress MLA from Gidderabaha, has lodged a complaint with the police alleging that some youngsters, including the brother of the SAD's Gidderbaha constituency in charge, came to his shop last evening and tried to abduct him after entering into a scuffle.
Bhattal asks CM if he is with BJP or INLD
Sangrur, April 4
Former Chief Minister and Lehragaga MLA Rajinder Kaur Bhattal today asked Chief Minister Parkash Singh Badal to clarify whether he and his SAD were with the BJP or the INLD.
Studies take a back seat, PPP chief's son campaigns for him
Muktsar, April 4

PPP chief Manpreet Badal's son Arjun Badal has planned to postpone the third semester of his Bachelor's Degree in the New York University. He would instead campaign for his father who is fighting a high-pitched political battle as Congress-PPP joint candidate against his sister-in-law and sitting Bathinda MP Harsimrat Kaur Badal. Arjun (20) had come to India on March 16 on his spring break and was scheduled to leave for the US on April 13.

Sources said apart from having good public speaking skills, he was a bright student and held a scholarship in the university.

Factionalism to fore in roadshow for Sampla
Hoshiarpur, April 4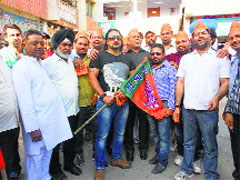 Factionalism in the local BJP unit came to the fore today when a roadshow in support of BJP candidate Vijay Sampla was organised by MP Avinash Rai Khanna's faction here. The road show was flagged off by the political secretary of MP Avinash Rai Khanna, Sanjiv Talwar, and most of Khanna's supporters participated in the show while those from the Tikshan faction remained absent.


BJP workers of MP Avinash Rai Khanna's faction before a roadshow in Hoshiarpur on Friday. Tribune photo

Ropar Cong puts up united show at Ambika's rally
Ropar, April 4
Faction-ridden Ropar district Congress displayed a united show during Congress candidate from Anandpur Sahib Ambika Soni's public meeting here today. Former minister Ramesh Dutt Sharma, former district party presidents Sukhwinder Singh Whisky and Amarjit Singh Saini, who have been opposing the appointment of new district president Harbhag Singh Saini, shared the dais for the first time.
Manpreet a Congress pawn, says CM
Bathinda, April 4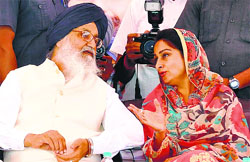 Manpreet Badal, PPP chief, had all along been a Congress pawn and this had been exposed now, said Chief Minister Parkash Singh Badal while addressing a rally at Maur Mandi today. He was referring to Manpreet contesting on the Congress symbol (hand).




CM parkash Badal and his daughter-in-law Harsimrat Badal at an election rally at Maur on Friday. Tribune photo

Manpreet seeks transfer of Bathinda SSP for 'fair' poll
Bathinda, April 4
Manpreet Badal, PPP-Congress candidate, told mediapersons today that his party (PPP) still existed and that he had decided to fight on the Congress symbol as directed by this party's 45-member central committee.
Now BJP, Congress row over memorial to terrorism victims
Amritsar, April 4
Even as the Operation Bluestar debate is yet to die down, another row on a memorial to terrorism victims has cropped up.
Bhagat Singh's nephew upset with Manpreet
Ludhiana, April 4


Abhey Singh Sandhu, nephew of Shaheed Bhagat Singh and central committee member of the Punjab People's Party (PPP) has expressed anguish at Manpreet Badal contesting the Bathinda seat on the Congress symbol (hand) instead that of the PPP (kite).





Abhey Singh Sandhu, nephew of Shaheed Bhagat Singh, at a press meet in Ludhiana on Friday. Tribune photo

Govt favoured Powercom CMD: Cong
Chandigarh, April 4
Punjab Pradesh Congress Committee spokesperson Sukhpal Singh Khaira, in a communication to Chief Election Commissioner VS Sampath has sought a stay on the March 12 notification.
BKU chief backs AAP manifesto for farmers
Chandigarh, April 4
Bharti Kisan Union leader Satnam Singh Behru today said his organisation appreciated the concern shown by the Aam Aadmi Party (APP) in its manifesto with regard to the agriculture sector.
Captain must explain stand on Bluestar: SAD
Amritsar, April 4
Harcharan Bains, SAD general secretary, today asked Capt Amarinder Singh to "categorically" state his "revised opinion" of Indira Gandhi and her armed assault on the Golden Temple in 1984.


Employees' bid to take out procession foiled
Fazilka, April 4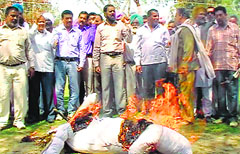 The plan of employees' unions to take out a procession against the state government was foiled by the police today.






Employees burn the effigy of the state government in Fazilka on Friday. A Tribune photo

Grant for teachers' salaries released
Bathinda, April 4
The state government today released the grant for salaries to schoolteachers for the month of February.
Village threatens poll boycott over police 'inaction' in fraud case
Hoshiarpur, April 4
The panchayat of Sheenh Chathiyal village near Garhdiwala in the district has threatened to boycott the Lok Sabha elections in view of police "inaction" on a farmer's complaint of being duped of Rs 15 lakh.
Women set 'belans' rolling for drug-free poll
Hoshiarpur, April 4
Anyone found distributing narcotics or liquor during the Lok Sabha elections will be taken to task, courtesy belan (rolling pin), so says Belan Brigade, a voluntary organisation. The activists carrying 'belans' will spread the message of drug-free elections and society to every home," Belan Brigade president Anita Sharma told the media at Press Club here today.
Sikh scholar Gurbhagat Singh passes away


Patiala, April 4
Renowned Sikh scholar Dr Gurbhagat Singh passed away in the wee hours today morning in Delhi. He had suffered a stroke about a fortnight back and was undergoing treatment at a private hospital in Patiala from where he was shifted to Delhi. Dr Gurbhagat Singh, former Head of the English Department of Punjabi University, had written over 12 books on various subjects.
Gurbhagat Singh. Tribune file photo


Man convicted for wife's murder
Abohar, April 4
A court in Rajasthan's Sriganganagar has sentenced Sant Ram to life imprisonment under Sections 304B, 498A of the IPC in connection with his wife's death.
Ashutosh died a natural death, state police tells High Court
Chandigarh, April 4
Ashutosh Maharaj died a natural death, after all. As the issue came up for resumed hearing before the Punjab and Haryana High Court this morning, the Punjab Police ruled out the possibility of his unnatural death.


Minors held for murder
Abohar, April 4
The police have arrested Devinder Singh and his friend Dheera Singh, both aged below 17 years, on the charge of murder of Sandeep Kaur near Dargah Peer Baba in Rajiv Nagar here.
Dy Registrar booked for not joining poll duty
Fatehgarh Sahib, April 4
The police have registered a case against Naresh Goyal, Deputy Registrar of Cooperative Societies, for not joining election duty despite directions from the Deputy Commissioner-cum-Returning Officer.
Poll officer: Heroin worth Rs 340 cr seized
Chandigarh, April 4
The seizure of drugs and illicit liquor worth more than Rs 346 crore in the past one month after the election process started is a pointer to the bustling drug trade in Punjab. This is contrary to the police's claims of having made inroads into the drug trade.
Two Congress workers booked
Ferozepur, April 4
Two unidentified persons have been booked for violation of the model code of conduct after they were spotted carrying firearms during a Congress workers' rally in support of party candidate Sunil Jakhar here.
Cop held for extorting money from truck drivers
Sangrur, April 4
The local police have arrested a Sub-Inspector, Pritpal Singh, posted in 2nd India Reserve Battalion (IRB) at Ladda Kothi (Sangrur), for allegedly extorting money from truck drivers on the pretext of checking their vehicles.