Cong seeks paper-trail EVMs for Bathinda
Chandigarh/Bathinda, April 3
Punjab Pradesh Congress Committee spokesman Sukhpal Singh Khaira has sought the allocation of VVPAT (voter verifiable paper audit trail) EVMs for the super-sensitive Bathinda Lok Sabha constituency.
CPI leaders campaign for Manpreet in Bathinda
Bathinda, April 3
Almost a month after the parliamentary elections were announced, SAD-BJP candidate from Bathinda Harsimrat Kaur Badal has been running her campaign in top gear with an army of senior leaders from across the state pushing her ship. On the other hand, her main challenger, Manpreet Badal, joint candidate of the PPP, Congress, CPI and SAD (Barnala), largely captains his ship with his family members supported by alliance leaders.
Back with SAD, Libra accuses Cong of selling party ticket
Chandigarh, April 3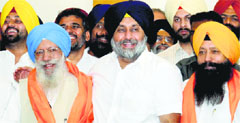 Congress Member of Parliament from Fatehgarh Sahib Sukhdev Singh Libra today re-joined the Shiromani Akali Dal (SAD). Talking to mediapersons, he said since the Congress had "sold" the party ticket to various aspirants, those like him with limited resources were forced to quit the party.

SAD chief Sukhbir Badal welcomes Sukhdev Singh Libra into the party in Chandigarh on Thursday. Tribune photo


Rajoana's sister files papers as Independent
Patiala, April 3
Kamaldeep Kaur, foster sister of Balwant Singh Rajoana, who has been convicted in the Beant Singh assassination case, filed her nomination as an Independent from the Patiala parliamentary constituency today.
CPI's Kashmir files papers from Faridkot
Faridkot, April 3
CPI leader Kashmir Singh today filed his nomination papers from the Faridkot parliamentary seat.
Bains holds impressive road show
Ludhiana, April 3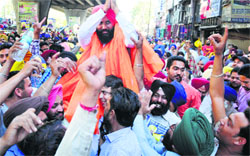 Supporters of Simarjit Singh Bains, who is contesting as an Independent from Ludhiana, gathered at the local railway station for his road show. They welcomed him amid dhol beats and presented him a siropa as a young girl, addressing the gathering on a microphone, described him as a "lion" who would rid the state of "corrupt politicians."


Independent candidate Simarjit Singh Bains during a road show in Ludhiana on Thursday. Tribune photo

Capt corners BJP on Kutch farmers
Khasa (Amritsar), April 3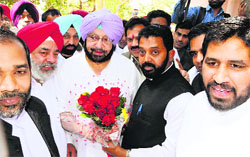 Launching his election campaign from the Attari Assembly segment today, Congress candidate Capt Amarinder Singh said the BJP had "thrown Navjot Singh Sidhu out of Amritsar" and that the saffron party had no sympathy for the displaced Sikh farmers in Gujarat.



Supporters greet Capt Amarinder Singh in Amritsar on Thursday . Photo: Vishal Kumar

SAD to gain from Cong infighting, says Sukhbir
Chandigarh, April 3
The Congress high command's move to field senior Punjab leaders in the Lok Sabha elections has rejuvenated the party rank and file. The Congress now seems in a combative mood. However, the euphoria may not last long if the Congress leaders continue to indulge in shadow boxing.
Disgruntled Amloh MLA backs Preneet
Patiala, April 3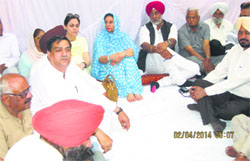 Three-time Member Parliament Preneet Kaur met Amloh MLA Kaka Randeep Singh, who has a strong base in Nabha, to seek his support ahead of the elections. Though the MLA's supporters have been complaining that Preneet had been ignoring them for some time, Randeep Singh pledged his support to her.



Preneet Kaur (centre) at Amloh MLA Kaka Randeep Singh's house in Nabha on Wednesday. A Tribune photograph

AAP activist joins Congress
Fazilka, April 3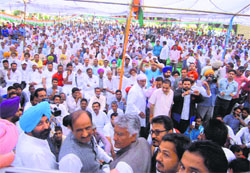 An activist of the Aam Aadmi Party (AAP) from Jalalabad, Sonia, has left the party. She joined the Congress during a rally attended by Congress Legislature Party (CLP) leader Sunil Jakhar, among others, at the district's Jalalabad town yesterday.






Congress leader Sunil Jakhar at a rally held in Jalalabad on Wednesday. Tribune photo

Badal brothers refrain from attacking each other at rallies
Lambi, April 3
They two brothers have different political affiliations but, at heart, they have strong feelings for familial ties.
Differently-abled woman defies odds, clears PCS
Patiala, April 3
Against all odds, Kulwinder Kaur (28) of Kakrala Bhaika village in Patran, has cleared the Punjab Civil Services (Judicial) Exam. The result was declared yesterday.
Patiala schools 'force' parents to pay more for books, uniform
Patiala, April 3
Most private schools are allegedly forcing parents to buy stationary and school uniform from designated shops only.
122 students not allowed to take exam
Fazilka, April 3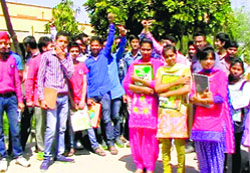 In all, 122 BA students studying in local MR Government College could not appear in their first paper of English as their roll number were not released by Panjab University due to alleged official wrangles.





Students of MR Government College protest outside the institute in Fazilka on Thursday. Tribune photo

22 youths to soon return home from Riyadh
Hoshiarpur, April 3
There's ray of hope for the release of 38 youths stuck in Saudi Arabia, as the company that was earlier asking for money to give return their passports has agreed to for a bailout package as per their terms.
Protest against irregular power supply
Abohar, April 3
A clash was averted between Power Corporation employees and Sriganganagar residents protesting against frequent power breakdowns.
Let off in terror cases, man moves HC to get passport
Chandigarh, April 3
Acquitted by the courts in the alleged cases of terrorism in the state, Wassan Singh Jafarwal today moved the Punjab and Haryana High Court for issuance of a passport.
Indo-Brit actress to star in Hollywood film
London, April 3
British actress of Indian origin Archie Panjabi has been signed up for a major disaster movie in Hollywood.


DPI's posting as Text Book Board Director legal: HC
Chandigarh, April 3
Less than three months after Punjab State University Text Book Board Director Gurpal Singh moved the Punjab and Haryana High Court claiming that he was ineligible to hold the post, Justice Rajesh Bindal has ruled that his transfer order did not "suffer from any illegality".
Ropar court frames charges against Hawara
Ropar, April 3
Additional District and Sessions Judge Jatinder Kaur today framed charges under various sections of the IPC and TADA against BKI chief Jagtar Singh Hawara.
3 get 10-yr jail in drug case
Abohar, April 3
A court in Rajasthan's Sriganganagar district has sentenced three convicts to 10 years' rigorous imprisonment under the NDPS Act.


BSF seizes Rs 65 cr heroin, weapons
Amritsar, April 3
The Border Security Force (BSF) confiscated a haul of narcotics and arms near the Mullakot border outpost in the Amritsar sector.
'Giani gang' busted, four held with arms
Barnala, April 3
The district police today claimed to have busted a gang, involved in looting, snatching and murder incidents, and held four gang members. The police seized five pistols, a few cartridges and two cars from them.
Train, tractor collide; one hurt
Fazilka, April 3
An assistant driver of the Sriganganagar-Ferozepur express train sustained injuries when the train smashed into a tractor-trailer at an unmanned level crossing near Fazilka today.
Two die in accidents
Tarn Taran, April 3
Two persons died while seven others were injured in two road accidents last evening.