New Delhi voters difficult to woo
Tribune News Service
New Delhi, April 3
Standing on a small wooden platform, BJP's national spokesperson and New Delhi Parliamentary constituency candidate Meenakshi Lekhi spoke on promises that will be fulfiled, if the party comes to power. Addressing a small gathering at Khirki Extension today, she spoke on the promise of delivering on a range of issues, from the development of urban infrastructure to employment.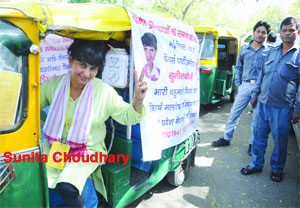 But, the people had something else in their minds. "This place has become a mini-Africa," shouted a woman. Another woman claimed that the Africans have allegedly started prostitution and drug rackets in Khirki Extension. Lekhi asserted that it was a law and order situation. While recalling AAP MLA Somnath Bharti's raid against the Africans in the locality to curb the alleged rackets, she said that it was legally wrong. "Women cannot be arrested at night," she said. But the residents disagreed. "He was right. You have come here to take votes. Your problem is that you only have a few days left to ask for it. But this is the problem (in regard to Africans) we are facing every day. But you have never come here to solve this problem," said a residents, Rakhi, at Lekhi.
Speaking to The Tribune over the phone, she said, "Obviously these people are AAP supporters."
Ten minutes ago, it was not an angry atmosphere that had surrounded Lekhi as she stepped outside her SUV at Khirki Extension. With the rhythm of the dhol (drum) she began her campaigning. Walking side by side with her supporters who garlanded her, she smiled and waved at the residents. They stood along the streets or at their balconies, watching her pass by.
A local resident said that due to the prostitution and drug rackets allegedly run by the Africans, the locality lacks security. "The police do not do anything about it. We have complained several times to them, but they have not listened to us. We are afraid to allow our women and children to go out at night," he said.
On the other hand, a Nigerian national named Yusuf said that the locals of here are racist. "I have been staying in this locality for the past two years. Sometimes without any provocation we are beaten by the locals. And if one of us intervenes, they assemble as a mob and attack us. There are Indians living in Nigeria also, but we do not treat them this way. There is no prostitution and drug rackets run by us. Most of us are students. And I think I will leave this city and probably go to Mumbai," he said.
At the other end of Delhi at Pandav Nagar, the AAP's New Delhi constituency candidate, Ashish Khetan, arrives in a SUV in the afternoon. He starts walking from the main road with his supporters and heads towards Kathputli Colony, where a large gathering of people are waiting for him. Swinging brooms - the party symbol - in their hands, in a chorus they shout "Aa gaya jhadu wala aa gaya". He is greeted by the residents of this tiny, dilapidated colony, which had been highlighted by him in a Rs 1,000-crore scam.
At a press conference last week, Khetan had said that when Congress leader Ajay Maken was the Urban Development Minister he had allegedly sold land in the colony to Raheja Builders for more than Rs 6 crore. Khetan added that according to a Delhi Development Authority audit, the land is worth Rs 1,000 crore.
Residents of Kathputli Colony, who are all artists, assert that Khetan is supporting them at this juncture when they are likely to be evicted from their homes. "We learnt that we will be shifted to the Anand Parbat transit camp. Maken betrayed us by selling our land to Raheja Builders without even consulting us. We have been staying in this colony for the past 50 years. It was the dream of our grandfathers to see us settle down here without any problems. But that dream remains shattered. We are all poor and the only thing that we have left is our honour. That honour remains in the dirt," said Raju, a singer.
Raju said that the matter is pending at the Delhi High Court. He, along with the other residents, is demanding their share of land at Kathputli Colony. "But if we cannot be given the land, we should be provided accommodation near the colony. The reason we are asking for this is that our livelihoods depend on it," he said.
While the residents openly show a dislike for Maken, he campaigns at Sudharshan Park near Moti Nagar, where he appears to have a strong support base. He is the Congress candidate for the New Delhi Parliamentary constituency. Dressed in a plain shirt and trousers and wearing thick glasses, he smiles at people, who block his path to garland him and wish him luck for the polls. In one such instance, an old man holds him by his shoulders and tightly hugs him.
Manish Kumar, a resident of the colony, said, "Earlier there was nothing in Moti Nagar. Electricity was a major problem and so was the sewage system. There were weak, single storey houses. Now there are multi storey buildings. And all this has happened due to Maken's efforts."
caimpaign trail

A woman of substance
Becoming an auto-rickshaw driver in Delhi was not an easy choice for Sunita Choudhary. But, 36-years-old Sunita is contesting the Lok Sabha elections from the New Delhi Parliamentary constituency. A social worker, rushing accident victims to hospitals and fighting for women who are victims of crime, Sunita aims to become a Member of Parliament to further help the public.
She says that women security should be the top priority of the government. "If women are secure, then the nation will be secure," she says.
Choudhary explains that it is important to change the mentality of the public to prevent rapes. Women should also be employed, she adds.
She has been working as an autorickshaw driver in Delhi for the past eight and a half years. "I did not think before joining this profession. I am from Uttar Pradesh and I had shifted to the city about 15 years ago. My expenses were increasing and the problem for women is that they cannot easily find an accommodation. About one and a half months ago, I had gone to Meerut. I did not have enough money to rent a room at a guesthouse, so I went to a dharamshala (shelter home). But the caretaker said that they do not rent out rooms to lone women," she said.
Sunita is not married. "I am searching for someone," she laughs.
She claims to dedicate herself in helping people in distress. "I give free service to accident victims. If I see a vehicle hit someone, I note down the number. Take the victim to the hospital and inform the police about the accident. The police have often used me as a witness in such cases," she said.