| | | |
| --- | --- | --- |
| | ARTICLE | |
Criminal neglect of children
Voters in unsafe cities should confront politicians
Jayshree Sengupta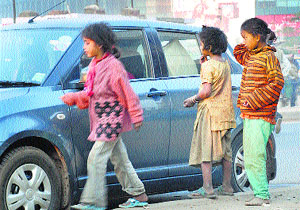 A number of questions should be asked by the urban voters today. They should not just listen to speeches, smart talk and repartees of campaigners because, although entertaining, these often hide the real agenda of politicians. The voters should ask what many around the world are asking about India. Why is it that despite being the third largest economy in the world (in purchasing power parity terms) as well as the world's largest democracy, and an emerging economic power, women are still unsafe in the streets of Delhi and other cities? Why are children living in the cities of India still suffering from such a high rate of malnourishment? Around 47 per cent of the urban children are undernourished. Even though there is an increasing amount of glamour and glitter in Indian cities, which often boast of world class malls, the fact remains that there are thousands of street children whom no one looks after. They are homeless and are earning small amounts and live in various corners of big cities. They are abused and exploited and have no medical care or education.
We should also not overlook the fact that there still is female foeticide, practised in towns and big cities and there is a slum population of 8.8 million households or 44 million people living in dwellings which lack access to clean water, sanitation and toilets.
That women are unsafe in cities is a shameful fact and instead of taking drastic measures to stop harassment, molestation and rape of women, very little is being done and crime against women continues unabated. Issues like the maintenance of law and order through regular police patrolling, an increase in street-lighting, helplines, quick and severe punishment to rapists are still not the first priority of many politicians who are contesting elections in our cities.
Regarding street children, the situation is alarming and very little is being done. There are around 400,000 children who work and live in the streets of Indian cities and they are truly homeless and disconnected from their families. There are 37,059 street children in Mumbai and around 50,000 in Delhi and most are above the age of 8 though many are younger and can be seen begging at traffic lights. The most common work is scavenging for recyclable materials such as plastic paper and metals. It is a dangerous occupation which can lead to serious diseases. Many of the children are very sick.
Poverty is the main cause of children leaving home. Problems in families like violence and alcoholism make children run away from home. A lot of children run away from their village homes lured by unscrupulous agents to cities with promises of glamour, money and high life. Thousands are abandoned or orphaned children. Most of the money that the children earn by working 10 to 12 hours a day is spent on food but they also buy addictive substances like drugs, tobacco, alcohol. They spend a lot on seeing movies and because they lack sanitation/hygiene, they are perpetually in need of health care. Clean drinking water, bathing and toilet facilities are lacking for most street children.
The Central government has got many schemes for the urban poor and midday meals in schools are important milestones. The right to education is also supposed to ensure that every child between 6 and 14 gets educated. But both these provisions are flawed as their implementation is far from perfect. Many children have suffered on account of contaminated midday meals. Also the right to education can only be enforced if there are proper schools with teachers and classrooms in slums. Unfortunately slum children may get enrolled but the dropout rate is high because of lack of proper school curriculum and the parents' inability to look after their children's homework or send them to school on time. Some cannot afford uniform and textbooks. Once a child stops going to school for a longish period, he or she drops out as it is difficult to catch up. Lack of skills further diminishes their ability to get a good job. They start working in small eateries, motor repair workshops, construction sites, as coolies and domestic help.
In today's political scene not many contestants have a background of having worked with the underprivileged people or fighting for the rights of women and children. Many think it is a good opportunity to get into the charmed circle of parliamentarians who have attractive remunerations and huge fringe benefits for five years. People from cinema, theatre and the fashion world are contesting elections and promising that they would bring about social change. They sound patently false; yet people will vote for them. But we really ought to ask whether they will help in projecting a better image of India after the new government is formed because so far, even though the right laws are in place, there is lack of good governance in all spheres.
Thus even if we attain a high GDP growth, which is promised in party manifestos, we'll continue to have stark contrasts in the lives of people in cities and this will become an embarrassment for India in future. While India has a record number of dollar billionaires and millionaires, the fact that thousands of children have no future at all is something we should be bothered about. These children will have nothing but hatred towards society and they could be recruited by terrorists and other anti-social elements. In the end everyone will pay a price for the neglect of children who seem to have no one as their guardian. Similarly, the stigma of having unsafe cities, where women cannot go around alone at night, is not going to help in increasing tourism or foreign investment. The word has gone around already that India does not look after the safety of its women and children. Thus voters beware! They could be choosing people who give little thought to bettering the lives of millions of women and children who are less privileged and abused.

| | | |
| --- | --- | --- |
| | MIDDLE | |
Coping with life abroad
Peeyush Agnihotri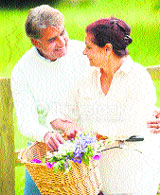 When the elderly leave India for good to join their married children abroad, they are in for a massive lifestyle change.
Initial euphoria over, what they face upfront are grossly under-valued jobs, a language barrier, limited mobility, a different cultural milieu, financial dependence and joint family squabbles — certainly not what they had bargained for.
It's their age to retire and relax. However, familial bonds and compulsions spur them to get uprooted and start all over again. Already in the dusk of their lives, which also implies failing health, they have to take up 'survival jobs' to escape the stifling domestic environment and contribute to the (joint) family's finances. This comes with a compulsive responsibility of playing nanny to grandkids.
Reminds me of poet Munawwar Rana's couplet: Muzahiron yehi tareekh hai makanon ki, Banane wala hamesha baramdey mein raha (This is what happens, O guardians of house; those who build it are confined outdoors).
But these veterans have ways to overcome odds. Besides networking among same-age-same-ethnicity peers, they try to make light of strange situations with witty remarks.
A friend, who had been an impish student in India, narrated how he chanced upon his retired schoolteacher at the workplace. The teacher, after relocating abroad, took up a worker's job at a warehouse where this friend was a foreman. The nonplussed former teacher quipped at this embarrassing face-off: Nakhidaa, ithey vee masteraan nu thalle laaya ye (Look how you pinned your teacher here too, you moron).
Then inside a Latino fast food chain, when I directed a confused senior citizen to the washroom marked 'Caballero' instead of 'Senoras' , he thanked while covering up the Spanish challenge with Je tere wargey naa hon saadaa taan padhdey samajhdey hi kaam ho jaavey (If it not were for guys like you, these signs can 'ease' people like us).
It's this bring-it-on spirit that keeps them going. At work, a shout of previous designations, Kiddan faujiaa, Hor suna patwaaria etc, serves both as a greeting and a breeze from the past.
Sometimes, hilarity pops out of innocence too. Rab tainu hor tarakiyaan deve, agli vaar char darwaaje wali gaadi dewaye (May God give you enough prosperity to afford a four-door sedan) was a fresh-from-India grandma's well-meaning blessing when the family's "kakaji" flaunted his two-door Bentley coupe. She thought four doors had to be a scaled-up option.
The elderly with tears that those toothless grins mask need love and emotional support for social integration. These golden-agers are like those old trees that may not yield fruits but would never fail to provide cool shade even when 'transplanted' on foreign shores.

OPED —

Governance
Elections lack substantive agenda
Manjit S. Kang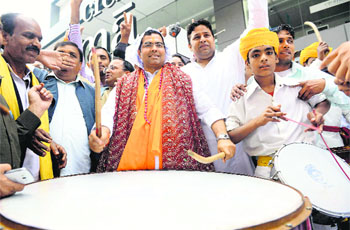 Drums of democracy:

Sound hollow in the absence of hard facts and issue-based debates.
Another season of elections is upon the Indian voters. There are the usual activities – promulgation of model code of conduct, distribution of tickets by political parties, switching parties and turning rebel for not getting the party ticket, tall promises and distribution of liquor/drugs to woo voters, etc. However, candidates never seem to engage in constructive debates on issues – only complaining and mud-slinging. Few candidates spell out their vision on education, healthcare, farmers' plight, agriculture, environment, drug-abuse, traffic reforms, etc.
Having lived in the United States for more than four decades, I can unequivocally say that at every level of the democratic election process, there are substantive debates between/among candidates. Many times, debates are what makes or breaks a candidate. Debates can expose the shallowness of candidates on issues. Sometimes, the statements that the candidates make or how they treat people can determine the outcome of elections. For example, in 2006, a senatorial candidate of the US Republican Party from the state of Virginia, George Allen, called a field operative (an American of Indian origin) of his Democratic opponent, who was 'video-tracking' Allen, 'macaca' – meaning 'monkey'. Allen, who was earlier touted as a strong future presidential contender, lost the senate race simply because of this racial slur. Global Language Monitor named 'macaca' as the most politically incorrect word of 2006. There are plenty of political candidates in India, who call each other worse names than 'macaca'.


Cacophony

The number of FI Rs against political parties was the highest at 346 in the assembly elections of Delhi, held in December, 2013


The Election Commission pulled up Congress vice-president Rahul Gandhi for the "tone, tenor and content" of his speeches, wherein he accused the BJP of instigating one community against the other.


A notice was issued to BJP's prime ministerial candidate Narendra Modi over his "khooni panja" and "zaalim haath" remarks, saying it violated the model code of conduct.


Union Minister Beni Prasad Verma too was booked for saying, "Mulayam Singh Yadav can get me killed anytime," accusing him of not only orchestrating Muzaffarnagar riots but of planning an assassination.
Debate vs mud-slinging
In India, there is a need for a Commission on Debates. In the USA, presidential debates are sponsored by the Commission on Presidential Debates that was established in 1987 to provide the best possible information to voters and to conduct research and educational activities related to debates. The League of Women Voters (LWV), a civic organisation, founded in 1920 to help women take a larger role in public affairs, also sponsored presidential debates before 1987. Such organisations are needed in India to organise debates among candidates at least during the parliamentary and legislative assembly elections. I am sure there are plenty of highly qualified (hopefully unbiased) TV anchors and newspaper editors who can moderate such debates.
For example, public debates are a need in Punjab on major issues like drugs and corruption, acknowledged widely but rarely addressed by the political parties.
Drugs
Someone has aptly said if you were intent on bringing down a powerful country that you would not want to confront militarily, orchestrate that country's destruction from within. Getting the youth – the future of the country – addicted to drugs can destroy that country without firing a shot or destroying infrastructure. In 2012, Jim Yardley, a reporter for New York Times, commented on the issue of drug abuse in Punjab, saying, "Throughout the border state of Punjab, whether in villages or cities, drugs have become a scourge. Opium is prevalent, refined as heroin or other illegal substances. Schoolboys sometimes eat small black balls of opium paste, with tea, before classes. Synthetic drugs are popular among those too poor to afford heroin." An overwhelming majority of addicts were said to be between the ages of 15 and 35, with many of them unemployed and frustrated by unmet expectations. Yardley further wrote that even though around 60 per cent of all illicit drugs confiscated in India were seized in Punjab, during the Punjab state elections of 2012, candidates rarely spoke about drug abuse, and that India's Election Commission indicated that some political workers were actually giving away drugs to buy votes; party workers in some districts distributed coupons that voters could redeem at pharmacies. This is really a sad commentary on the state of affairs in Punjab that once was the most progressive state of India. Those at the helm of affairs seem to be playing Russian roulette with the lives of youngsters who instead of becoming a 'demographic dividend' turn out to be a liability for the society.
Corruption
The Corruption Perception Index ranks countries based on the perceived level of corruption in the public sector on a scale of 0 (meaning highly corrupt) to 100 (very clean). India had a score of 36/100. According to researcher Finn Heinrich, corruption hurts the poor most. The poor in poor countries will not be able to get out of poverty until they tackle corruption. Corruption is rampant in India. When someone was asked 'Where is the capital of India?' a pejorative answer was "Swiss Banks," referring to the black money hidden there by politicians. India, where most of the public-sector employees stand with their hand out to do the job that they are already paid to do, has become a laughing stock of the world. Governments must enforce the laws in right earnest to combat this menace of corruption.
Education
In 2011, India's overall literacy rate was 74.04 per cent. The literacy rate for men was much higher (82.14 per cent) than that for women (65.46 per cent). Punjab's comparative literacy rate figures were: 76.2 per cent (overall), 81.5 per cent (men) and 71.3 per cent (women). There is a big gulf between the urban and rural literacy rates. The literacy rate for rural women needs to be improved drastically by creating educational opportunities for them. The highest literacy rates were for Kerala: 93.9 per cent (overall), 96 per cent (men) and 92 per cent (women). Punjab has a long way to go to compete with states like Kerala. We read daily in newspapers about the pitiable condition of infrastructure of government schools, the lack of teachers, flawed educational policies, and scams associated with every educational scheme. Literacy is the core to democracy. How many candidates in the Lok-Sabha races are addressing the literacy issue and quality of education in Punjab?
Environment and health
In Punjab, water pollution caused by chemical toxicity is a serious problem. According to Sant Balbir Singh Seechewal, laws to control pollution remain on paper only and in realty, very little or no efforts are made to control water and air pollution and poisonous chemicals, such as cyanide that continue to emanate from factories in Ludhiana, Jalandhar and Phagwara, freely flow in river waters. Such chemicals can lead to diseases like cancer. In Muktsar, between 2001 and 2009, 1074 deaths were attributed to cancer. During the same period, 211 cancer-related deaths occurred in the Lambi constituency. In March 2009, Dr. Carin Smit of South Africa examined hair samples of mentally retarded children from the Malwa region and found that 80 per cent samples contained uranium in such large quantities as could make children sick. According to the World Health Organization, 15 microgram of uranium per liter of water is regarded as safe limit, but Bhabha Atomic Research Center found uranium levels ranging from 2.2 to 244.2 microgram in water samples from the Malwa region. Arsenic is also found in Malwa water, and chronic exposure to arsenic increases the chances of getting cancer of the lungs, bladder, and kidneys. High-quality cancer research centers and hospitals in the Malwa region should be a high priority of any government coming to power.
Agricultural diversification
Much has been written about the need for crop diversification away from wheat-rice system in Punjab toward high-value crops, such as fruits and vegetables. The problems created by the wheat-rice system are the result of lack of visionary, far-sighted policies. The people entrusted with providing solutions are mostly the same whose short-sighted policies created the problems to begin with. Infusion of fresh ideas is needed. Cultivation of pulses, oilseeds, and cereals such as maize must be added to the mix of crops grown. Political agenda must include promotion of an environment beneficial to life through the protection and wise management of natural resources to ensure sustainability of agriculture.
Traffic management
I have lived in Ludhiana for a number of years and have travelled the length and breadth of the Punjab. In big cities, one invariably comes across snarling traffic. Generally, it becomes a headache for the travellers. This again is due to the lack of visionary planning. Why allow so many vehicles on the road without first insuring needed infrastructure? Highways should be built first to accommodate the anticipated traffic. Police can and should ensure that only those who have passed both written and road tests be issued a driving license. So many young school-going children are seen running around on scooters; most of them may not even be eligible to get a driving license.
Population control
India is poised to overtake China in population by 2030. Politicians in India rarely talk about tackling this important issue. Greater and greater burden continues to be placed on land and agriculturists to produce more and more food grains to feed the burgeoning population while efforts to control population are non-existent.
These are some of the issues that must be debated. All Lok-Sabha candidates must be cognizant of these issues and be able to tell the voters where they stand on each of the issues. Past experience tells us that the so-called "manifestos" of the political parties are hardly ever practically implemented. The consequences of the 'business-as-usual' scenario are summed up in this adage, "If you always do what you always did, you always get what you always got."
— The writer, former Vice Chancellor, Punjab Agricultural University, Ludhiana, is currently Adjunct Professor, Kansas State University, Manhattan (USA).