Is empowerment just another hype?
The slow pace of women's empowerment reflected through increased incidents of honour killings, domestic violence, rape, molestation and women's trafficking is a reflection of the failure of legal rights, public policy and incentives accorded to them. Can patriarchy alone be blamed, or, it is a letdown by the State?
Rajesh Gill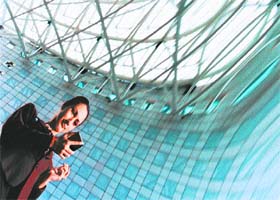 The glass ceiling: Merely being in the decision-making positions does not empower women if their decisions reinforce the patriarchal mindset. Thinkstock photos
Women's empowerment happens to be the most discussed and yet least understood of major issues. Basically, a woman is empowered when she is able to take decisions regarding herself, her family, community and society at large.
The fact is after 66 years of independence, women's empowerment still appears to be a mirage. Girls are performing better academically, are winning medals and scholarships; more women are entering as professionals, but they are unable to reach positions, where decisions are being made. How many universities in India, barring the women universities, have women vice chancellors, or registrars? Why is it that while it is the women who put in days of hard work and labour in organising the prestigious academic functions, they are missing on the dais except in seminars on the women's issues? If we have failed to make our higher educational institutions 'inclusive' in terms of gender, what can be expected of other social and political institutions? It is an irony that while we are harping on inclusive growth all the time, we have failed to introduce the long pending Bill on Reservation for Women in Parliament and State Assemblies, even in the year of Lok Sabha elections.
Present scenario
In order to woo women voters, Rahul Gandhi has been saying that if Congress comes to power, he will get Women's Reservation Bill passed as an Act. Why did he not get it passed all these years while the Congress led UPA was in power? Is it in order to keep the issue pending? Ironically, all political parties are equally averse to the enactment of this Bill, which shows the extent of gender insensitivity among them. It is a pity that women's inclusion in developmental process continues to be an issue to be hyped during seminars and election rallies only. There is little doubt that just as the issue of poverty, which got over politicised with 'garibihatao' slogan, women's empowerment too has been trivialised as an objective, often abused as a political gimmick by all political parties. A state that has failed to offer a physically safe environment to half of its population certainly cannot claim to govern the largest democracy in the world. State cannot just get rid of its responsibility towards ensuring equal rights to its women to facilitate their share in political, legal and civil rights. In a country that boasts of the legacy of being one of the oldest living civilizations, the strife for such basic issues becomes even more ironical.
Crucial to growth
Kofi Annan, Secretary General of the United Nations has asserted that gender equality is a "pre-requisite" for achieving the Millennium Development Goals. Amartya Sen has referred to the phenomenon of 'missing women' to capture the point that the proportion of women is much lower than what it should have been, had girls been allowed to take birth just like boys, and then to survive thereafter. World Development Report of 2012 says that around 6 million women are missing every year, out of which 23 per cent are never born, 10 per cent go missing in early childhood, 21 per cent in the reproductive years and 38 per cent above the age of 60 years. These figures however do not include lakhs of women who are never able to access the resources, jobs and opportunities. In short, even in the 21st century, it matters a lot whether one is born a man or a woman.
Major obstructions
No doubt, we have travelled a long way in empowering women with legal rights, public policy and incentives, and we also understand very clearly by now that the culprit is the 'mindset'. But have we, as a State, done anything to change this mindset? 73rd and 74th Constitutional Amendment Acts were great steps towards an inclusive development, but in most of the cases reservation of women has been usurped by men for retaining political power within their hold. Panchayats have continued to be male spaces, completely excluding women, especially if they also happen to be Dalits and hence poor.
Numerous structural barriers keep women away from powerful positions; so much so that even when they are in powerful positions, they are not able to exercise power, primarily because the centres of power continue to be patriarchal. With men at the helm of affairs, a few women who somehow reach these positions are always seen as women first and professionals later. In fact, when choices are made to put women in positions of decision making, generally submissive women are selected, the ones who can toe the patriarchal line while the assertive and independent women are sidelined. The few women who do get to taste empowerment get so obsessed with their accomplishments that they become totally oblivious of their sisters who need their support. Women are also blamed for prioritising family and children more than their work. This is exactly the 'blaming the victim' approach. Society continues to hold her responsible for the failure of the child, who happens to be a joint responsibility of both parents. She has to struggle hard to meet the domestic and work expectations, which happen to be contradictory.
The premium of honour
Another major obstruction to women's empowerment is the huge premium attached to the honour of a woman. Right from a poor unskilled illiterate woman to a highly placed and successful woman, she can be easily violated. For a woman whose honour is once violated, the damage becomes irreparable. The burden she thus has to carry is enormous which often stops her from reaching at the helm of affairs. While struggling to work with men in construction work, in factories, in bureaucracy, in politics, in universities and so on, she has to continuously struggle maintaining that honour, for which only she is held responsible by society and the State interventions in such cases have been nil. Ditto has been the case with the honour killings where the State has chosen to be a mute spectator. Whenever a woman is violated, she is blamed to have 'invited' it.
The slow pace of women's empowerment reflected through increased incidents of honour killings, domestic violence, rape and molestation, trafficking in women, is often blamed on the mindset that refuses to change. It is strange that we could so easily fight our religious beliefs for adopting abortion, at least easier than it was in the West, we threw away joint families to enjoy the independence of conjugal families, we prefer working daughters-in-law because they bring money, we rush to send our daughters to beauty pageants and film industry the moment they get an offer, why is it then the mindset refuses to see women as decision makers? Is it sufficient for the State to frame statutes, policies and then wait for the patriarchal mindset to change? Does the State care enough that the thoughtfully drafted policies get implemented with firmness and sincerity?
Moving ahead
Let the political parties ensure 50 per cent representation for women as their office bearers and the candidates they field for elections. That will be the first test of a political party towards the issue of women's empowerment, which every party has been abusing. Let us ensure that women, who get elected as members of panchayats, exercise their decision making role without the interference of their husbands. It is an absolute lie that these women are not capable of taking decisions. There are numerous cases where completely illiterate, Dalit and extremely poor women sarpanches have done wonders for their community, while educated, upper-caste women have been rubber stamps. Why measure the competence of women with such tough yardsticks when we have hundreds of men as members of panchayats, State Legislatures and even Parliament, who are dumb spectators, but are never criticised for being worthless and irresponsible.
State intervention a must
The very first indicator of women's empowerment is an equal representation of women with men in every walk of life and at all levels, I mean at top positions too, in governments, in ministries, in universities and in the corporate sector. The State cannot absolve itself of the responsibility of dealing with the situation with a heavy hand. Whenever a woman sarpanch is removed from office by a no-confidence motion, whenever an assertive Dalit woman panchayat member refuses to appease the male patriarchs, whenever a woman construction worker resists the sexual advances of her employer, whenever a woman victim of domestic violence fails to get an FIR lodged at the police station, whenever a woman employee fails to get justice from authorities against sexual harassment at workplace, does the State react with the same force as it does for other offences? If not, it is not a question of mindset of people it is a question of the mindset of the State, especially in a democratic state.
The hype created around women's empowerment notwithstanding, it is women who shall have to break through the glass ceiling and claim the space where decisions are made. Women in decision making positions shall have to remember millions of other women who are invisible and voiceless. If women are not prepared to stand for themselves, no one else would, neither the State, nor men, nor the civic society. Merely being in the decision-making positions shall not make women empowered so long as their decisions reinforce the patriarchal mindset. State shall have to ensure that women's empowerment is not treated as a hype but gets translated through its institutions. The seriousness of the State and society on the issue shall have to get reflected through the grassroots reality, which at the moment seems stuck.
The writer is Professor, Department of Sociology, Panjab University, Chandigarh.
Road to nowhere
In patriarchal India, marriage is considered to be the only road for women to attain social security.
The National Council for Applied Economic Research, conducted a survey with over 30,000 married women in 2011 and 2012 between ages 16 and 49, living in over 1,500 villages and 971 urban neighbourhoods.
The study shows two in five Indian women didn't get to choose their spouse.
About one in two was married before the legal age of 18.
54 per cent women said they would be beaten up for going out of the house without permission, 35 per cent for not cooking properly, and 36 per cent for inadequate dowry payments.
India does not have a mechanism for maintaining official statistics of dowry payments.