Gurdaspur's political turf all set for triangular contest
Gurdaspur, March 31
The political field in the Gurdaspur parliamentary constituency is poised for a triangular contest with a sitting MP, a cinestar and a not-be-taken-lightly candidate entering the fray.


Sukhbir calls Cong 'sinking ship'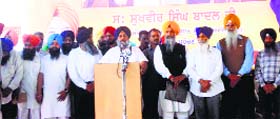 Hoshiarpur, March 31
Deputy Chief Minister Sukhbir Singh Badal today hit out the UPA Government for "doing nothing for the country".




Deputy Chief Minister Sukhbir Singh Badal addresses a rally at Garhshankar in Hoshiarpur district on Monday. Tribune photo

SAD formed cartels for personal gains: Soni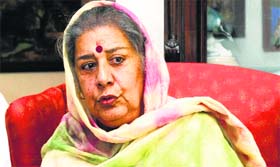 Chandigarh, March 31
Ambika Soni, Congress candidate from Anandpur Sahib, today launched a scathing attack on the ruling Shiromani Akali Dal (SAD), accusing them of forming a cartel in the media, the sand mining and the transport business.


Ambika Soni, Congresss candidate from Anandpur Sahib, interacts with mediapersons in Chandigarh on Monday. Tribune photo: Pradeep Tewari

Bitta: My party has betrayed me
Chandigarh, March 31
Maninderjit Singh Bitta, chairman of the All-India Anti-Terrorist Front (AIATF), today alleged that the Congress leadership, in connivance with intelligence agencies, had backstabbed him.
CPI to contest 5 seats in state
Chandigarh, March 31
The CPI will contest five Lok Sabha seats in Punjab and extend support to CPM candidates in two constituencies. In Bathinda, the party has already announced its support to PPP-Congress candidate Manpreet Singh Badal whereas in Chandigarh, it will be supporting Aam Aadmi Party (AAP) nominee Gulkirat Kaur Panag.
Manpreet seeks votes in his old constituency Gidderbaha
Muktsar, March 31
PPP chief Manpreet Singh Badal today for the first time shared stage with the Congress leaders in Gidderbaha assembly constituency — from where he was elected thrice as MLA on the SAD ticket but lost the last elections on the PPP ticket — seeking votes for Joginder Singh Punjgraian, Congress candidate from Faridkot parliamentary constituency.
Akali candidate Ayali in tape row
Chandigarh, March 31
Shiromani Akali Dal (SAD) candidate from Ludhiana MS Ayali has been caught on tape threatening government officials, "tussi lokan di churi tight kar deyanga, je tussi kisse ne vi Bains da kamm kita..."
Bhagwant no match for Dhindsa: Badal
Dirba (Sangrur), March 31
Taking a dig at Rahul Gandhi, Chief Minister Parkash Singh Badal has alleged that the Congress vice-president was unsure about his party's victory and, therefore, had refused to be named as the prime ministerial candidate.
In Amritsar, real issues take a back seat
Amritsar, March 31
Led by Revenue Minister Bikram Majithia, the SAD-BJP alliance has mounted an offensive against Congress candidate and former CM Capt Amarinder Singh.


Jaitley's daughter violates code, seeks votes from ITI students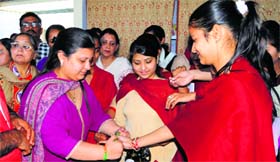 Amritsar, March 31
Campaigning for her father for the second successive day here, Sonali Jaitley, daughter of BJP candidate Arun Jaitley, today ended up violating the model code of conduct when she reportedly sought votes for the BJP at the Government ITI for Girls in Beri Gate area of the city.


Arun Jaitley's daughter Sonali Jaitley (left) seeking votes for her father at an educational institution in Amritsar on Monday. Photo: vishal kumar

EC asked to reconsider ban on 'Atta Dal'
Chandigarh, March 31
The Punjab Chief Electoral Officer (CEO) has forwarded a communication of the Punjab Government to the Election Commission (EC), seeking disbursal of 'Atta Dal' according to the earlier plans of supply of six months.
Bhullar's village rejoices with dhol and sweets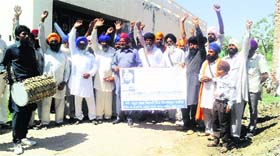 Bathinda, March 31
Villagers of Dialpura Bhaika and surrounding villages welcomed the Supreme Court decision on Davinder Pal Singh Bhullar with dhols. Senior Shiromani Akali Dal (Panch Pardhani) leader Baba Hardeep Singh distributed sweets among the villagers.


Residents of Dialpura Bhaike celebrate the SC decision on Davinder Pal Singh Bhullar on Monday. A Tribune photograph

BJP will set up SIT to probe 1984 killings, says DSGMC chief

New Delhi, March 31
At a joint press conference of the Delhi BJP and the SAD, Rajya Sabha Member of Parliament (MP) Naresh Gujral today said that the Sikhs were massacred in 1984 and about 30 years later, not a single accused had been punished.



Akali leaders Manjit Singh GK and Naresh Gujral with senior BJP leader VK Malhotra (centre) at a press conference in New Delhi on Monday. Tribune photo: Manas Ranjan Bhui

Earth dug out from historic well to be immersed in Ravi
Amritsar, March 31
The Gurdwara Shaheed Ganj Management Committee, Ajnala, has decided to immerse the earth dug out from the historic 'Kalianwala Khu' in the Ravi on April 13.
Pendency of cases down 33% in subordinate courts
Chandigarh, March 31
Less than six months after the Punjab and Haryana High Court adopted a slew of measures to bring down the pendency of cases in subordinate courts, the number of over-a-decade-old cases is down by 33 per cent.
CJ inaugurates ADR in Fatehgarh Sahib

Fatehgarh Sahib, March 31
Justice Sanjay Kishan Kaul, Chief Justice Punjab and Haryana High Court, today said a magistrate only had 1,600 pending cases to dispose of as opposed to 5,000 earlier.





Chief Justice Sanjay Kishan Kaul in Fatehgarh Sahib on Monday. Tribune photo

Teachers' promotion: Secy rapped for referring case to EC
Chandigarh, March 31
The Punjab and Haryana High Court today virtually admonished the Education Secretary for unnecessarily referring the issue of handing appointment letters to 300 headmasters on promotion as principals to the Election Commission. The High Court also directed the secretary to implement the orders on the issue within a week, failing which she would have to present herself in the court.
Medical students, docs for drug-free elections in Patiala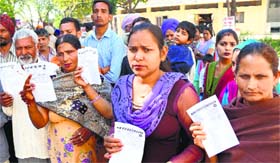 Patiala, March 31
Medical students and professionals today came together to protest against the trend of politicians buying votes with drugs. Government Medical College students took out a march for a drug-free election.



Doctors protest outside the Government Rajpura Civil Hospital on Monday. A Tribune photograph

Youth needs to develop perspective: Experts
Patiala, March 31
Thapar University conducted a two-day international conference on "Changing perspectives and paradigms in business and behavioural sciences". Delegates from various countries, including the US, Iran, Mexico and Germany, attended the event.
Complainant against Sukhbir seeks voting rights for jail inmates
Faridkot, March 31
A complainant in a criminal assault case against Deputy Chief Minister Sukhbir Singh Badal has sent a letter to the Supreme Court and the Chief Election Commissioner (CEC), seeking voting rights for all jail inmates.
Govt employees await salaries, protest in Muktsar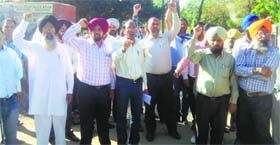 Muktsar, March 31
The government employees' unions today protested against the Punjab Government for not paying them salaries on time.





Government employees protest outside Treasury office in Muktsar on Monday. Tribune photo

Illicit relations led to 554 murders in five years: RTI
Bathinda, March 31
Murders due to illicit relations seem to have reached alarming proportions. In all, 554 such cases were reported in various districts of Punjab in the past five years.


HC orders CBI probe into bungling of rice subsidy
Chandigarh, March 31
Just about three years after a petition alleged a loss of more than Rs 120 crore to the Centre due to alleged misappropriation of subsidy for the upgrade of PAU-201 variety of rice, the Punjab and Haryana High Court has ordered a CBI probe.
Singer let off in six-yr-old drug smuggling case
Jalandhar, March 31
Kuldeep Singh, alias KS Makhan, a Punjabi singer who is the BSP candidate from Anandpur Sahib, along with three other persons was today acquitted by a local court in a drug trafficking case.

Bus driver who 'crushed' pump owner held
Barnala, March 31
The Orbit bus driver, who allegedly crushed down a petrol pump filling station yesterday, was arrested today, the police have said. The accused, Sabar Khan of Kangar village in Bathinda district in this case would be produced in court tomorrow.