Harsimrat hails Capt for calling PPP a spent force
Chandigarh, March 30
Bathinda MP Harsimrat Kaur Badal has thanked Punjab Congress leader Capt Amarinder Singh for acknowledging that the Peoples Party of Punjab (PPP) was a finished force. He had said this during an interaction with newsmen at Amritsar on Friday.
Capt likens Majithia to Masood, tells Jaitley to spell out agenda
Amritsar, March 30
Former Chief Minister and Congress candidate Captain Amarinder Singh today told his BJP rival Arun Jaitley to have courage to condemn Revenue Minister Bikram Singh Majithia the way he condemned Imran Masood for his outrageous remarks about Narendra Modi. Talking to mediapersons here today, Badal said, "It was Jaitley who had brought Sidhu into the BJP and the latter has got immense respect in the party.
Amarinder trying to disturb peace, says CM
Majitha (Amritsar), March 30
Chief Minister Parkash Singh Badal today hit back at Congress candidate Capt Amarinder Singh, calling the former Chief Minister an "instigator who is trying to disturb the peaceful atmosphere in Punjab through his provocative and distorted statements".
NDA govt will help revive industry in state: Sukhbir
Ludhiana, March 30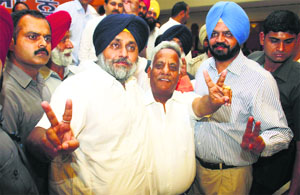 The Congress strategy of fielding party heavyweights would not work in the elections, said Deputy Chief Minister and Shiromani Akali Dal president Sukhbir Singh Badal in Ludhiana today. He was in the city to induct former district Congress president Jagmohan Sharma into the Akali fold. Batting for the BJP prime ministerial candidate Narendra Modi, Sukhbir said an NDA government at the Centre would augur well for Punjab.

Deputy CM Sukhbir Badal inducts Congress leader Jagmohan Sharma (centre) into the SAD in Ludhiana on Sunday. Manpreet Ayali, SAD candidate from Ludhiana, is also seen. Tribune photo: Himanshu Mahajan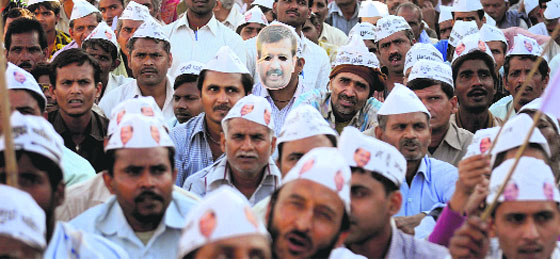 man in the middle:

Supporters of the Aam Aadmi Party at a rally at Sherpur in Ludhiana. AAP's HS Phoolka is pitted against Congress' Ravneet Singh Bittu and SAD-BJP's Manpreet Singh Ayali. Tribune photo: Himanshu Mahajan
But show of unity in Fazilka
Fazilka, March 30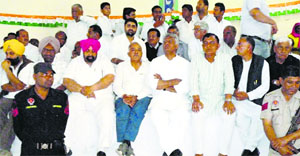 Sinking their differences, various factions of the Congress put up a united face and shared the dais with party candidate from Ferozepur Sunil Jakhar during his to the town here today.

Congress leaders put up a united face in Fazilka on Sunday. Photo: Praful Chander Nagpal

Dal Khalsa lashes out at Cong, BJP
Amritsar, March 30
The Dal Khalsa has accused both the Congress and the BJP for "trading on the pain of Sikhs" and using it as a political bargaining tool.
Cong win in Amritsar to begin SAD end:
Fatehgarh Sahib, March 30
Former Vidhan Sabha Deputy Speaker Bir Devinder Singh has said Amritsar was the most crucial seat for the Congress and its result would prove to be a turning point in Punjab's politics.
Daughter, relatives pitch in for Jaitley
Amritsar, March 30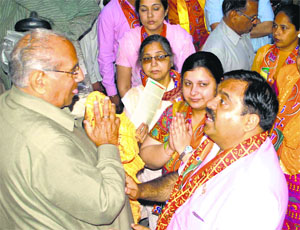 BJP candidate Arun Jaitley's daughter Sonali Jaitley and other relatives today kicked off their campaign in the walled city area here. Sonali along with BJP general secretary Tarun Chugh started canvassing from the streets of Katra Jaimal Singh area. They went on a door-to-door campaign. Talking to mediapersons, Sonali said, "It feels great to be in the city having our ancestral roots. I have been meeting people who are treating us like their family and showering love and affection on us."
Arun Jaitley's daughter Sonali in Amritsar. Tribune photo

State Dalits continue to face discrimination: Study
New Delhi, March 30
Corruption, caste-based discrimination and erratic delivery of welfare schemes remain issues of concern for the Dalit voters in Punjab and Chandigarh. And most of them are appreciative of the nascent Aam Aadmi Party (AAP), a new study has indicated.
Badals do not vote in local elections
Muktsar, March 30
The Badals did not cast their vote during the last two zila parishad, panchayat samiti and gram panchayat elections. But with CM's daughter-in-law Harsimrat Kaur Badal and his estranged nephew Manpreet Badal taking on each other from the Bathinda parliamentary constituency, they are now asking the people to exercise franchise.
Orbit bus crushes man
Barnala, March 30
The owner of a filling station, Ramesh Kumar (55), was killed when his scooter was hit by a bus of Orbit Transport Company at Tapa, about 15 km from here, this evening. After his death, an angry mob pelted stones at the bus and raised slogans against the government.
picture of calm: Patiala MP Preneet Kaur during her election campaign in Rajpura on Sunday. Tribune Photo: JS Virdi
Cong men clash at Malout...
Muktsar, March 30
The district Congress leadership presented a divided face when some Congress leaders and supporters thrashed each other in presence of CLP leader and Congress candidate from Ferozepur parliamentary constituency, Sunil Kumar Jakhar, during a public meeting in Malout town this afternoon.
Stuck in Riyadh, youths want travel agents booked
Hoshiarpur, March 30
Punjabi boys stuck in Saudi Arabia have sent a complaint to the NRI cell of the Punjab Police seeking registration of a case and the arrest of the travel agents who sent them overseas. They have alleged that the agents gave them duplicate driving licences and other documents.
Khaira seeks Preneet's help
Chandigarh, March 30
Congress spokesperson Sukhpal Singh Khaira in a communication to Minister of State for Home Affairs Preneet Kaur has sought help for the 38 Punjabi youths stuck in Riyadh, Saudi Arabia, since November last year.
Three of family commit suicide; parents, SDM under suspicion
Ferozepur, March 30
Three members of a family allegedly committed suicide by jumping into the Rajasthan feeder canal near Varpal village in Zira sub-division this morning.
Govt boost must for diversification: experts
Chandigarh, March 30
The establishment of large-scale cold chains, standardisation of freezing and packaging norms, and a strong Central and state-level policy are needed to revolutionise the agriculture sector and resolve the problem of depleting water table in north India, especially in Punjab and Haryana, said Roshan Lal, Additional Chief Secretary (Agriculture), Haryana.
Tale of two crumbling schools in Nangal
Ropar, March 30
The Punjab Government blames the Centre for insufficient funds, but it seems that it does not have money for an important state subject such as education in Nangal.
Police knock door to door to collect licensed weapons
Faridkot, March 30
After several owners of the licensed weapons mounted political pressure on the police and civil administration not to collect their firearms, their teams have started visiting the houses of licensess to collect the arms.
Diarrhea outbreak in Faridkot village
Faridkot, March 30
Thirty persons, most of them children of Dalit families, have reported positive for diarrhea in Behbal Khurd village of Faridkot. They were rushed to civil hospitals in Bajakhana, Kotkapura, Jaitu and the medical college in Faridkot. Those affected reported symptoms of vomiting and acute pain in abdomen this morning.
Hit by breaches, Gang canal repair all set to begin
Abohar, March 30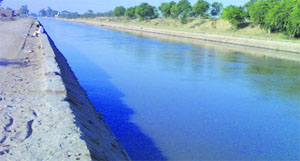 The water supply in the Gang (Bikaner) canal will be suspended on Monday midnight for a month to take up the third phase of brick lining. Initially, the authorities had decided to defer the closure for a year fearing that it might annoy farmers in the election month.
The Gang canal enters Sriganganagar district through Abohar. Tribune photo

SAD (A) candidate for classless society
Hoshiarpur, March 30
Shiromani Akali Dal (Amritsar) candidate from Hoshiarpur Lok Sabha Constituency Shamsher Singh Maloya said adopting the Khalsa model of Guru Gobind Singh and the philosophy of life and classless society as propounded by Guru Nanak Dev and Guru Ravidas would solve country's problems.
Enhanced vigil on inter-state border ahead of elections
Ferozepur, March 30
Security agencies have enhanced surveillance along the inter-state border with Rajasthan, besides the international border with Pakistan, to check flow of arms and ammunition, fake currency and drugs ahead of the Lok Sabha elections.
Pak sanctions Rs 55 lakh for renovation of temples in Sindh
Abohar, March 30
The Pakistan government has sanctioned Rs 55 lakh for the renovation of 11 temples in Sindh province. Pakistan Hindu Welfare Council president Munwar Chand, who is also a member of the Evacuees Trust Property Board (ETPB), said the Karachi-based ancient Swaminarayan Mandir would also get a facelift. Notably, pilgrims for the annual fair at Hinglaj Peeth in Lasbela district of Baluchistan assemble at Swaminarayan Mandir run by a local committee.
EDI system to simplify exports to Pakistan
Amritsar, March 30
With an aim to simplify the process and also cut down the transaction cost of exporters, the Electronic Data Interchange (EDI) system has been inaugurated at the Integrated Check Post in Attari.
HC raps Centre for having multiple counsels
Chandigarh, March 30
The Punjab and Haryana High Court has rapped the Centre for creating confusion by having multiple counsels. Taking serious view of the practice of having different departments represented by different counsels, a Division Bench also directed Secretary, Union Department of Legal Affairs, to look into the matter.
multiple chances for exam
High Court calls for 'sympathetic attitude' on matter
Chandigarh, March 30
The Punjab and Haryana High Court has called for a "more sympathetic attitude" by university authorities while dealing with mercy chance pleas of students. The call came on a petition filed against Guru Ravidas Ayurved University and another respondent by a student seeking mercy chance.
Paramour among 2 booked for murder
Abohar, March 30
The police has launched a comprehensive search around Dargah Peer Baba to recover the weapon used to kill a girl by her paramour and his accomplice here.