VIGNETTES
Horrible road to 'divine' dwelling
I was to deliver a lecture at a workshop organised in Dharamsala. I always feel elated in going to Kangra because I had been Deputy Commissioner there in 1992-93 and attempted to nurse the place as my second home. This time, as I crossed Nadaun, the last station in Hamirpur district, I started feeling the bounce and jounce due to potholes and dips on the road. The road at several places has been reduced to being dirty and single-laned owing to digging going on.
Streetlight failure, traffic woes leave Kangra residents in the dark
Kangra, March 30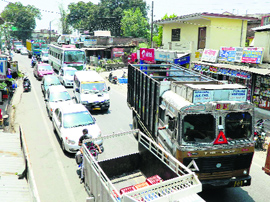 Resentment prevails among residents of this temple town over day-to-day traffic chaos on different roads. Besides, municipal authorities have failed to maintain streetlights as the town plunges into darkness every evening. In view of the Navratras scheduled to start from March 31, pilgrims are thronging the town in advance to avoid pilgrim rush in the Shakti peeths in Kangra valley. Thus, the number of vehicles entering the town is increasing.

Traffic chaos on a road in Kangra. Photo by writer
Woman accuses former MLA of sexual assault
Hamirpur, March 30
A woman from the Badsar area of Hamirpur district has lodged a complaint against a former MLA for sexually assaulting her about two years ago. The complaint was made by the victim to the Chief Minister's office on March 4, from where the complaint was sent for investigation to Hamirpur Superintendent of Police (SP) office. The Superintendent of Police office recorded the statement of the victim on March 25 at Hamirpur.
Parties promise to make Kangra rail line broad gauge
Palampur, March 30
With electioneering picking up in the Kangra valley, expansion and conversion of the Kangra valley rail line into broad gauge has once again become a hot political issue. Various political parties, in their election campaign, are coming up with a promise with residents of the Kangra valley for converting the Kangra valley narrow-gauge rail line into broad-gauge track and linking Pathankot with Leh via Manali.
Sujanpur Assembly bypoll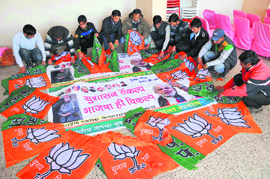 BJP upbeat over EC's decision
Shimla, March 30
The Himachal BJP is upbeat over the decision of the Election Commission (EC) to hold Sujanpur Assembly by-election simultaneously with the Lok Sabha poll on May 7 and has already started the process of shortlisting their candidate.

BJP workers make preparations for the forthcoming Lok Sabha elections at the BJP office in Shimla.

Gupt Ganga shrine
Trust, shrine mgmt locked in row
Kangra, March 30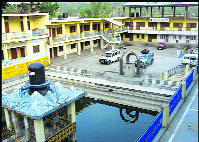 Controversy has cropped up between the temple trust looking after the Bajjreshwari Temple, one of the 52 Shakti Peeths here, and the Dharam Teerth Sathan Sudhar Sabha looking after the Gupt Ganga shrine in this temple town. This follows a notice served by the Assistant Commissioner, Temples, and SDM, Kangra, to hand over possession of the Gupt Ganga shrine to the Bajjreshwari Temple Trust.

A view of the Gupt Ganga shrine in Kangra.
Politics not a source of business for me: Rana
Una, March 30


"Politics or games are not a source of business for me and I am here for social service." This was stated by Congress candidate from Hamirpur Rajinder Rana here today. He was addressing a public meeting at Kinnu village of Chintpurni Assembly segment during his campaign, when he said his win in the Sujanpur Assembly segment by a margin of over 15,000 votes was an adequate proof of this. Rana said people in the state had discarded the Bharatiya Janata Party around 15 months ago due to its anti-people policies.
'Will win all four seats in state'
Shimla, March 30
The BJP leaders in the state are upbeat over opinion polls, which gave it four out of four seats. State party spokesperson Ganesh Dutt here today said even the media had accepted now that the Modi wave was sweeping the country and Himachal was no exception.
Sterilisation drive fails to check stray dog menace
Shimla, March 30
The Shimla Municipal Corporation's (SMC) sterilisation campaign has failed to check the stray dog menace in the city. Stray dogs, some of them abandoned by their owners, attacking city residents has become a daily occurrence. "Our children are a scared lot and we are under a constant fear that stray dogs will attack them," rued Rabinder Singh and his wife Jaswant Kaur, local residents.
State set to prepare inventory of domestic, foreign tourists
Shimla, March 30
Himachal is set to become the first state in the country to prepare a "complete Inventory" of both domestic and foreign tourists visiting the state. It is likely to post the data on official website of the state Tourism Department to make it accessible to the common man.
Chaitra Navratras start today
Kangra, March 30
The Kangra temple town seat of one of the 52 'shakti peeths' Bajjreshwari is all set for the Chaitra Navratras scheduled to start tomorrow. Devotees have started thronging temples towns of Kangra, Chamunda and Jwalamukhi.
Early rain, floods hit tourism
Shimla, March 30
Rain and floods in Kinnaur and other parts of Himachal and the Uttarakhand tragedy hit tourism last year. Tourist arrival declined by 6.3 per cent. Tourist arrival, which had increased by 7 per cent in 2012 to 1,61,46,332, dropped to 1,51,29,835 in 2013. The number of foreign tourists dropped from 5,00,284 to 4,14,249 while the number of domestic tourists was down from 1,56,46,048 in 2012 to 1,47,15,586 in 2013.
One killed in road mishap
Kangra, March 30
One person was killed on the spot and four others were injured in two different road accidents in the district during the last 24 hours, the police said here today. The police said Atul Thakur (27) of Arki and serving as an engineer at Palampur, was killed on the spot when the ill-fated car (CH 01 AU 2306) in which he was travelling dashed against a tree in the wee hours of this morning at Nagrota Bagwan.
Learn from HP how to govern progressively, Bali tells Modi
Kangra, March 30
Transport Minister GS Bali said BJP prime ministerial candidate Narendra Modi should learn how to govern progressively from Himachal Pradesh because it fared better than Gujarat in education, health and per capita income.
Una RTO office issues route permit to a bus sans body
Una, March 30
As per information sought under the Right to Information (RTI) Act by Dinesh Saini of Daulatpur Chowk in Una district, the Una office of the Regional Transport Office (RTO) has illegally issued route permit to a private bus, only on the basis of chassis number and a temporary registration number.
'Cong has no right to stay in power'
Chamba, March 30
National president of the Bharatiya Janata Party (BJP) Minority Morcha Abdul Rasheed Ansari said the Congress party had no right to stay in power at the Centre as it has failed to curb corruption. Ansari, who was speaking to mediapersons in Chamba yesterday, described the Congress rule as "directionless" and termed Bharatiya Janata Party's prime ministerial candidate Narendra Modi as someone who had a vision to reinforce the confidence of the people.
Town and country planning act
Withdraw notification or face stir, BJP leader tells govt
Sundernagar, March 30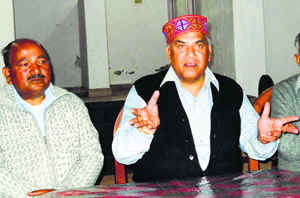 Former minister and BJP leader Roop Singh Thakur criticised the state government for including 35 revenue Mohal, adjoining Sundernagar, under the Town and Country Planning (TCP) Act regarding which a notification was issued a few days ago. While addressing mediapersons here today, he said the government had never bothered to know whether local residents wanted to include their village under the TCP Act or not.

BJP leader Roop Singh Thakur addresses mediapersons in Sundernagar on Sunday. Photo: Mahesh Chander Sharma
'Women will have to claim leadership roles'
Shimla, March 30
Fraser Valley of Canada and Himachal Pradesh University (HPU), Shimla, will collaborate with the Centre for Canadian Studies (CCS) as the nodal centre within the Himachal Pradesh University for a joint internship for university students, faculty exchange programme, joint research projects and a joint degree programme. This was stated by the Director, Centre for Canadian Studies, Prof Meenakshi Faith Paul.
Two Chinese nationals detained in Kinnaur district
Shimla, March 30
The police today intercepted two Chinese nationals near Namgya checkpost on the Indo-Tibet border in tribal Kinnaur district. The two Chinese nationals were accompanied by two girls from Ladakh.
Roads open for vehicular traffic in Chamba
Chamba, March 30
Roads blocked due to landslips in Chamba district were opened for vehicular traffic yesterday with the strenuous efforts put in by the Public Works Department (PWD) workforce. A landslide had occurred near Sarela on the Chamba-Tissa highway following heavy rain in the region, after which it remained blocked for a day.
BJP protests model code violations
Shimla, March 30
The BJP in the state has taken a strong exception to repeated violations of the model code of conduct by the government and urged the Chief Electoral Officer (CEO) to grant permission to the government to take decisions only in emergency cases.
Two booked for felling deodar tree
Chamba, March 30
Two persons were booked for felling a deodar green tree in the Rulwala forest in Churah sub-division of the district on Thursday, according to a delayed police report received here today. The police report said the felling of the deodar tree was detected when forest guard Kalyan Singh, along with other officials, was on a patrol in the Rulwala forest. Accordingly, a case under relevant sections of the Indian Forest Act and the Indian Penal Code had been registered at the Tissa police station on a complaint of Joginder Singh, Block Officer of the Thalli forest block, the report further said. OC
15 artists take part in workshop at Naggar
Kullu, March 30
A seven-day workshop for artists, being organised by the Lalit Kala Academy in collaboration with the International Roerich Memorial Trust, started off at Naggar here yesterday. Karol Fraser, an artist from England, along with 14 Indian artists, five hailing from Himachal Pradesh, were participating in the workshop. Dr Nand Lal, a participant, said while each artist would create a new painting, slideshows of their previous works would also be presented during the workshop. OC
2 killed in separate accidents
Una, March 30
A cyclist and a pedestrian were killed in two separate incidents that took place in Amb sub-division of the district on Friday night. Both vehicles involved in the accident fled from the site. The victims, include Pushpinder Kumar (32) of Takoli in Kangra, who was walking in the Amb bazaar when he was hit. Cyclist Hari Krishan (55) of Dhandhari village in Amb sub-division was killed when a vehicle hit him at Takarla village.
Residents submit memo to NHRC
Chamba, March 30
Residents of Mokhri village, under the banner of the Chamera-III Oustees' Welfare Association, have submitted a memorandum to the National Human Rights Commission (NHRC) through the district administration. Seeking a solution to their problems, the residents said they had been affected by seepage from the tunnel of the Chamera-III hydroelectric project two years ago. — OC