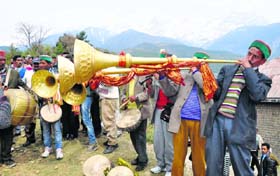 People from upper Himachal welcome AICC vice-president Rahul Gandhi at a public rally in Dharamsala on Thursday. Photo: Kamaljeet
BJP still dithering over Mandi candidate
Shimla, March 20
The BJP's dilemma over the choice of candidate for the Mandi Lok Sabha seat seems to continue as no decision could be taken even by the party's parliamentary board which met in New Delhi yesterday.
BJP holds meeting in Mandi
Mandi, March 20
The BJP leaders today held a meeting here in the run-up to the parliamentary elections. Addressing the meeting, state secretary of the party Pawan Rana said, "Today, Modi wave is sweeping the country. The Mandi parliamentary constituency is no exception, but party workers will have to work hard to reap benefits from this wave."
Sukhu is my friend: Anurag
Hamirpur, March 20
"Himachal Pradesh Congress Committee chief Sukhwinder Singh Sukhu is my friend and has been supporting me in the parliamentary elections. Hope, he will support me this time too."
Transfers in Education Department
ECI intervention sought
Shimla, March 20
Former Chief Minister PK Dhumal today sought an intervention of the Election Commission of India (ECI) with regard to transfers being made by the state government in the Education Department, despite the model code of conduct.
At 98, Roshan Lal is all set to cast vote
Chamba, March 20
An energetic 98-year-old Roshan Lal Vohra is all set to exercise his vote on May 7 which is the election date for the General Election in the state. Roshan Lal, a resident of Mohalla Ramgarh of Chamba town, claims to have worked during the General Election to the first Lok Sabha in 1951-52 when he was serving as a kanungo in the Revenue Department.
'Evaluation of compensation from power firms justified'
Palampur, March 20
The state Forest Department has justified the compensation charges from power companies for damaging forest wealth during the execution of hydel power projects in the Palampur region in the past seven years.
Una Milkfed plant runs into losses
Una, March 20
Nowadays, 700 litres milk is being packed in pouches at the milk processing plant of Himachal Pradesh State Co-operative Milk Producer's Federation Ltd (HP Milkfed) situated at Lalsinghi village, 3 km from the district headquarters. The plant has a capacity to pasteurise and pack 5,000 litres of milk every day.


The Ridge has no custodian
Shimla, March 20
The Queen of Hills is celebrating its 150 years as the summer capital, but the Shimla Municipal Corporation (SMC) has no proper map of the city so far. Besides, there are many custodians of the sinking Ridge, including Shimla Municipal Corporation (SMC), district administration and the Home Department.

People enjoy a sunny day on the Ridge in Shimla on Thursday. Photo: Amit Kanwar
Kullu-Manali airport set to have another airline
Kullu, March 20
The new terminal building at the Kullu-Manali airport in Bhuntar will now have another airline in the aviation industry. The non-scheduled airline, named Himalayan Bulls, has launched its online booking portal (www.himalayanbulls.com) and started accepting return bookings for the Chandigarh-Kullu sector from April 1 onwards.
Jyoti Murder Case
Truck driver's role under scanner
Panchkula, March 20
The role of truck driver Tilak Raj came under the scanner when two police officers gave contradictory statements before the court during cross-examination. Tilak Raj was reportedly the driver of the truck that was run over Jyoti in order to make the case appear as an accident.


Samiti announces support for Pratibha
Kullu, March 20
The Kullu Zila Sadak Parivahan Janhit Vikas Samiti will support Pratibha Singh, Congress candidate from the Mandi Parliamentary constituency, for the upcoming Lok Sabha elections.


Members of the Zila Sadak Parivahan Janhit Vikas Samiti at a press conference in Kullu on Wednesday.
Upgraded school functioning depends on availability of facilities: Govt
Shimla, March 20
The state has upgraded government high schools as senior secondary schools, keeping in view the creation of posts under the budgetary allocation and the facilities as required under government norms. This was stated by the state government before the HP High Court.
Fruit, vegetable growers get tips at seminar
Nurpur, March 20
The Horticulture Department organised a seminar at Rit near here yesterday. The seminar, aimed at educating fruit and vegetable growers in lower Kangra areas, was presided over by Kangra district Bhartiya Kisan Union (BKU) vice-president Suresh Pathania.
Kiratpur-Ner Chowk nh four-laning
NHAI asked to hold fresh survey
Mandi, March 20
Deputy Commissioner, Mandi, Devesh Kumar has asked the project director of the National Highways Authority of India (NHAI) to conduct a fresh survey of the proposed four-laning of the Kiratpur-Ner Chowk national highway.
Labourers not paid wages in Baijnath
Palampur, March 20
Hundreds of labourers working under the Mahatma Gandhi National Rural Employment Guarantee Act (MGNREGA) in Baijnath subdivision have not been paid their wages for the past one month.
Rampur hydro project inaugurated
Shimla, March 20
Satluj Jal Vidyut Nigam Limited CMD RP Singh today inaugurated the first unit of the 412-MW Rampur Hydro Electric Project at Bayal village in Kullu district. Power generation today was also started with the synchronisation of its first 68.67-MW unit with the northern grid.


Tribal status to 21 panchayats sought
Bharmour, March 20
The issue of granting tribal status to non-tribal areas falling in the Bharmour tribal Assembly constituency of Chamba district is drawing attention of election contestants of different political parties to put it on their agenda.

Choori, a non-tribal panchayat of the Bharmour tribal Assembly constituency. Photo: Balkrishan Prashar
Governor, CM condole Khushwant Singh's death
Shimla, March 20
Governor Urmila Singh and Chief Minister Virbhadra Singh have mourned the death of eminent author and renowned journalist Khushwant Singh. They said Khushwant Singh had a long and illustrious literary career spanning several decades and set new standards in the literary world.
Amit Bharmouri is zila parishad chairperson
Chamba, March 20
Amit Bharmouri was elected the chairperson of the zila parishad unopposed yesterday, an official spokesman said here today. On the occasion, 15 out of the 18 zila parishad members were present.
Two injured as jeep falls into nullah
Nurpur, March 20
Two persons, Raveen Soni of Ward No.3 here, and Mulkh Raj of Bhalayee Mata in Chamba district, were injured when the jeep they were travelling in fell into a nullah at Letri near here last night. They were going to Nurpur after attending an official meeting in Chamba district, a police report said.