BJP flays CM for using red beacon
Shimla, March 14
The BJP today filed a complaint with the Election Commission of India (ECI) for the misuse of red beacon by Chief Minister Virbhadra Singh.
Govt cold to farmers' plight: Satti
Una, March 14
State BJP president and Una MLA Satpal Singh Satti today said farmers owning cattle were facing an acute shortage of wheat straw fodder, while Congress leaders were insensitive to the issue.
Parties slam Cong, BJP
Shimla, March 14
Various NGOs and the CPM, the Aam Aadmi Party (AAP) and the Himachal Lokhit Party have joined hands, accusing the BJP and the Congress of raising petty issues such as photos of Sonia Gandhi on ration cards or Atal Bihari Vajpayee on ration bags or on 108 ambulance.
Campaigning for Chander begins in Kangra
Chamba, March 14
With former MP Chander Kumar being announced as the Congress candidate from the Kangra Lok Sabha constituency by the Congress Central Election Committee (CEC), the District Congress Committee (DCC) has kicked off its election campaign in favour of Chander Kumar in Chamba district today.
Kamal Kanta Batra's nomination hailed
Una, March 14
The Una unit of the Aam Aadmi Party (AAP) has hailed the decision of the party high command to allocate the ticket from the Hamirpur parliamentary segment to Kamal Kanta Batra, mother of Kargil martyr and Param Vir Chakra awardee Capt Vikram Batra.
Opposition to Rana's candidature uncalled for, says Virbhadra
Hamirpur, March 14
Chief Minister Virbhadra Singh today said the Congress was making efforts to win the Hamirpur parliamentary seat in the coming elections.
All set for free, fair polls, says DC
Mandi, March 14
Returning Officer of Mandi parliamentary constituency Devesh Kumar said all arrangements have been made to conduct free and fair elections.
SC asks HC to reconsider plea
New Delhi, March 14
The Supreme Court today asked the Himachal Pradesh High Court to consider afresh the plea for making Chief Minister Virbhadra Singh a party to a case relating to the controversy over the HPCA's properties, including the Dharamsala stadium.
Two colleges seek more time
Shimla, March 14
Two of the four proposed private medical colleges granted approval by the state government have sought extension in response to the show-cause notices issued to them by the Health Department for cancellation due to an inordinate delay in setting them up.
Free run for cement firms cost state ~235 cr in 2012-13
Shimla, March 14
The Comptroller and Auditor General's latest report has painted a messy picture of the state's finances.
Remove beacons, judicial officers told
Shimla, March 14
In compliance with the Supreme Court order on the use of red or blue beacons, the HP High Court has asked all its judicial officers to remove them from their vehicles.
Five-day workshop for teachers ends
Chamba, March 14
The five-day workshop on school leadership development programme organised for centre heads of Chamba district concluded at the District Institute of Education and Training (DIET) at Saroo, 12 km from here, today.
Soldier cremated with state honours
Mandi, March 14
An Assam Rifles jawan, posted in Manipur, was cremated with state honours at his native village in Badehad under Kotli tehsil here today.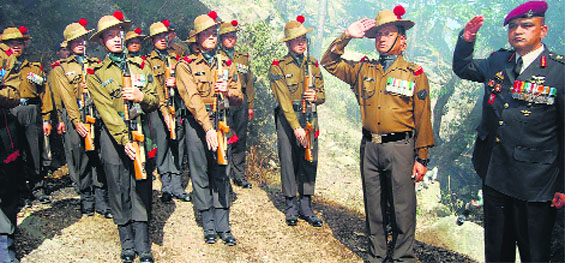 Jawans of the Assam Rifles give a salute to slain colleague Santosh Kumar at Badehad village on Friday. Photo: Jai Kumar
173 violators challaned
Una, March 14
Acting tough against traffic violators, the Una traffic police conducted 173 challans and collected Rs 1,26,800 from them yesterday.
Patwari caught taking bribe in Solan
Solan, March 14
The Nahan unit of Vigilance and Anti-Corruption Bureau today nabbed a patwari, Mumtaz Ali, while accepting a bribe of Rs 5,000 from Rampal for facilitating mutation of his land at the Bhatto Wali patwar circle in Paonta Sahib subdivision of Sirmaur district.
'Banker' cheats villager
Nurpur, March 14
Nurpur Deputy Superintendent of Police, Manoj Joshi, while cautioning residents here today, asked them not to reveal any information about their ATM cards to unidentified callers.
Bank manager thrashed
Palampur, March 14
An assistant manager of State bank of India was beaten up by two employees of a local power project near Bundla here yesterday.
Two die of poisoning
Kangra, March 14
Two people died of poisoning, while a 23-year-old girl succumbed to burn injuries at Dr Rajendra Prasad Government Medical College (DRPGMC) at Tanda, the police said here today.
Holi festival begins
Kangra, March 14
A three-day Holi festival began at Jain temple in old Kangra here today. Holi without colours is being celebrated by members of the Jain community during the festival. Hundreds of people have arrived here to celebrate the event. Devotees sang prayers as part of the celebrations. The antique 3500-year-old idol of Lord Adinath will be worshiped on the eve of Holi as an annual feature. — OC