International Women's Day

Laws for women mere paper tigers
Officials say judiciary can play a role in delivery of gender justice
Tribune Reporters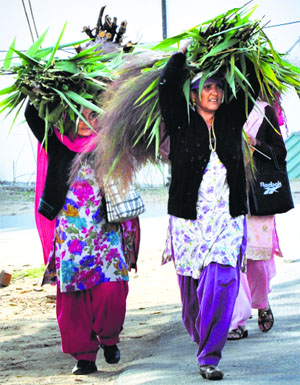 Village women, ignorant of International Women's Day, return home after collecting cattle fodder in Dharamsala on Saturday. Photo: Kamaljeet
Shimla, March 8
A one-day workshop on gender justice was held on the occasion of International Women's Day at the Hinachal Pradesh High Court here today. The workshop was inaugurated by Acting Chief Justice Mansoor Ahmad Mir and organised by the HP Judicial Academy.
The Acting Chief Justice said female foeticide, domestic violence against women and sexual harassment at workplace were serious concerns before society and the judiciary could play a major role in the delivery of gender justice.
He called upon the judicial officials to render women victims' quick, speedy and economic justice. Justice Rajiv Sharma said there were plenty of laws for women, but the real problem was their implementation.
Around 130 judicial officials from all Sessions Divisions of the state and law students from HP University and APG University's Law College participated in the workshop.
Justice Rajiv Sharma, Justice VK Sharma, Justice Dharam Chand Chaudhary and Justice Tarlok Singh Chauhan chaired different sessions on the Domestic Violence Act, role of judiciary in prevention of crime against women, role of meditation in family law adjudication, matrimonial disputes vis-a vis observance of human rights, bottlenecks in the speedy disposal of matrimonial disputes and remedies thereof, Pre-Conception and Pre-Natal Diagnostic Techniques (PC and PNDT Act) vis-ŕ-vis Human Rights and Empowerment of Women, role of Judiciary in the implementation of PC and PNDT Act and discrimination and harassment of women at workplace.
J&K State Consumer Disputes Redressal Commission president Justice Bashir A Kirmani, Rajiv Gandhi National Law University, Patiala, Vice-Chancellor Prof Paramjit S Jaswal, J&K Vigilance commissioner Gousul-Nisa Jeelani, District & Sessions judge Dr JN Barowalia (retd), HP High Court Bar Association vice-president Rita Goswami, Centre for Women Studies and Development, HPU, Director Mamta Mokta, APG Varsity Law College Director Prof Trisha Sharma and the Inspector General of Police (cyber crime), Shimla, Satwant Atwal Trivedi held the sessions with participants.
The workshop culminated with the valedictory address of Justice Dharam Chand Chaudhary. Retired judges of the Hight Court Justice DP Sood, Justice AK Goel and Justice DD Sud, Advocate General Shrawan Dogra, HP High Court Bar Association president Ashwani Pathak, Registrar General AC Dogra, High Court Registrars Sureshwar Thakur, Sushil Kukreja, KS Chandel and Arvind Malhotra, Judicial Academy director CB Barowalia, Joint Director Yaswant Chogal and Deputy Director Anuja Sood and other dignitaries were present on the occasion.
Street plays, awareness campaign held
International Women's Day was celebrated at the APG University today by celebrating achievements of women in all spheres of life.
The Department of Law held various activities, including poster making and staging street plays on topics such as honour killing, acid attacks, female foeticide, sexual harassment at work place, rape, eve-teasing and domestic violence. A workshop was held on sexual harassment with High Court Judge Justice SS Thakur (retd) being the key speaker. Law Department Director Trisha Sharma also spoke on the occasion.
Students also held a campaign on traffic rule and safety for women drivers at the St Bede's Chowk and near the railway station.
'Curbing crime against women is need of hour'
Additional Chief Secretary Social Justice Department PC Kapur said women empowerment could be ensured only when society was made free from domestic violence and women harassment.
Addressing the state-level International Women's Day here today, PC Kapur said there was a need to change the mindset on women and ensure proper implementation of various women and child programmes in which all women organisations should come forward in the state. He said all social groups and organisations should join hands to eliminate the social evils such as female foeticide and discrimination against woman in society.
Woman and Child Development Department Director Madhubala Sharma gave a brief account on various schemes started by the state government.
Tug of war, leg race and sack race, musical chairs competitions were held on the occasion.
10 women scribes honoured
KULLU: As many as 10 women journalists of the Kullu valley were honoured on the eve of International Women's Day at a function organised by the Press Club, Kullu, here yesterday.
Chief guest Dr Shivani Singh, wife of Banjar MLA Karan Singh, said women were the pillars of society.
Shalini Rai, Priyanka Rajput, Renuka Gautam, Nina Gautam, Kamlesh Verma, Neetu Sood, Indu Patiyal, Veena Jamwal, Nisha Kayath and Asha Dogra were presented mementos for their contributions to strengthen the fourth pillar of democracy. Renuka Gautam appreciated the efforts of the club to recognise the contributions of women.