No jumbo show for the BSP
Chandigarh, March 8
The UT Forest and Wildlife Department has rejected the Bahujan Samaj Party's (BSP) application seeking permission for using elephants during campaigns for the coming Lok Sabha elections. To counter BJP prime ministerial candidate Narendra Modi's NaMo tea campaign and the Congress' RaGa (Rahul Gandhi) milk campaign, the city unit of the BSP had decided to use elephants for the campaigns in the City Beautiful.
Swindlers rob NRI woman in P'kula
Panchkula, March 8
An NRI woman was robbed of gold jewellery worth Rs 2 lakh by a couple (in late 40s) who befriended her and told her that they would help her end her problems by chanting some "mantras" near her son's house in Sector 9, here. When the victim reached home, she was left with two ordinary 'karas'.

Honouring women of substance
Chandigarh State AIDS Control Society
The Chandigarh State AIDS Control Society in collaboration with HLL Life Care Ltd and non-government organisations (NGO) organised a rally-cum-educating event, "Condom man ki barat" on International Women's Day.


(From left) Shobha Koser, Dr Yash Bala, Satinder Satti, Anjitha Chepyala and Dr Ritu Nehra during the International Women's Day celebrations in Chandigarh. Tribune photo: S Chandan

Good Samaritans: 100 units of blood donated
Chandigarh, March 8
Hundred units of blood were collected during a blood donation camp organised by The Tribune Employees' Union on the occasion of International Women's Day here today. While inaugurating the eleventh successive camp on the special day, The Tribune Trust president Justice SS Sodhi (retd) said for judging the socio-economic conditions of a country, the status of its women and the level of their empowerment should be seen.

The Tribune Trust president Justice (retd) SS Sodhi (extreme left) and his wife, Bonny Sodhi, speak to blood donors during a camp at The Tribune office, Sector 29, Chandigarh, on Saturday. Tribune photo: Manoj Mahajan



Chandigarh votes 2014
Dept's tall claims fall flat
Chandigarh, March 8
While the UT Election Department is making tall claims about its efforts to get city residents enrolled as voters, its staff is making the residents get the enrolment forms photocopied from outside.


Modi focuses on women's empowerment
Chandigarh, March 8
The BJP prime ministerial candidate Narendra Modi focused on women's empowerment during the second round of "Chai Pe Charcha" held at different places across the city today. The live telecast of Modi's speech was screened at markets of Sectors 37 and 47 besides Colony No. 4.
Residents listen to the BJP's prime ministerial candidate Narendra Modi through video-conferencing during "Chai Pe Charcha" at the Sector 37 market in Chandigarh on Saturday. Tribune photo: S Chandan
naming of candidates
Delay hits BJP, Cong campaigns in city
Chandigarh, March 8
The delay on the part of two major political parties— Congress and BJP—in announcing their candidates for the Chandigarh Lok Sabha seat is casting its shadow on their national-level campaigns being run in the city.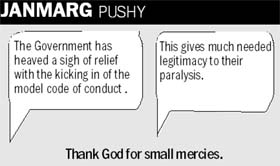 Forms at doorsteps for physically challenged
Chandigarh, March 8
The UT Election Department will be providing enrolment forms to physically challenged people at their doorsteps. The booth-level officers (BLOs) will also help them in filling in the forms at their homes.
POLL ISSUES
During the Lok Sabha elections, if any political party or any individual approaches you and offers money, liquor or any kind of favour or threatens you to vote in someone's favour, you can complain to the UT Election Department or the Chandigarh Police.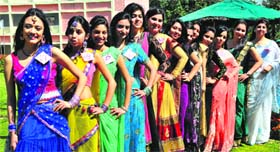 Celebrating women globally: Students during a farewell party at the Guru Gobind Singh College for Women in Sector 26, Chandigarh, on Saturday. Tribune photo: S Chandan
Create awareness among young voters, ADC directs educational institutes
Mohali, March 8
Educational institutions have been directed by Parveen Kumar Thind, Additional Deputy Commissioner, to draw up plans to create awareness among young voters about the importance of exercising their franchise in the Lok Sabha elections.
VOTING AWARENESS
P'kula DC sensitises petrol pump, gas agency owners
Panchkula, March 8
Panchkula Deputy Commissioner SS Phulia today sensitised the petrol pump owners, gas agency owners and members of the Residents Welfare Association to make people aware of their voting rights.


Spring festival fails to elicit favourable response
Panchkula, March 8
The much-awaited Spring Fest elicited a lukewarm response this time. The two-day fest — organised by the Horticulture Wing of the Haryana Urban Development Authority (HUDA) —was inaugurated by HUDA Administrator Sanjay Joon.

The participants at the face painting competition during the Spring Fest organised at HUDA Park in Panchkula on Saturday. Tribune photo: Nitin Mittal

DEVELOPMENT WORKS
Sangharsh committee stages dharna
Mohali, March 8
Members of Sector 76-80 Plot Allotment Sangharsh Committee (PASC) held a dharna in front of GMADA office in Phase VIII today in protest against the indifferent approach of authorities towards development and their other problems.

Residents of Sectors 76-80 protest outside GMADA office in Phase VIII, Mohali, on Saturday. Tribune photo: Parvesh Chauhan

Construction of toe walls in parks
Councillor seeks inquiry into use of poor material
Chandigarh, March 8
Councillor Malkiat Singh has demanded an inquiry into the alleged use of poor-quality material by a contractor for developing parks in his ward. The SAD councillor from Ward No. 10 said the contractor constructing toe walls in six neighborhood parks of Sector 41-A at a cost of Rs 15 lakh was making use of bricks of poor quality.


Councillor Malkiat Singh shows the bricks of poor quality being used at a Sector 41 park in Chandigarh. Tribune photo: Parvesh Chauhan
CHANGING SLUICE VALVE
Mohali to go waterless on March 10-11
Mohali, March 8
The supply of water to Mohali will be hit on March 10 and 11 due to the repair work of a sluice valve at the Kajauli waterworks. According to the officials, the sluice valve of the rising main of Phase III was being changed by the Chandigarh authorities.



aided colleges
4,000 staff to boycott exam duties
Chandigarh, March 8
As many as 4,000 employees of government-aided colleges of Punjab and Chandigarh have decided to boycott the examination duties of three universities scheduled for the next month.
Employees of government-aided colleges of Punjab and Chandigarh hold a protest in Chandigarh on Saturday. Tribune photo: Manoj Mahajan


Sri Dhanwantary Ayurvedic College-46
PU should conduct exams of all batches, says committee
Chandigarh, March 8
Panjab University should conduct the examination of all batches of Sri Dhanwantary Ayurvedic College, Sector 46, which were admitted till 2012-13 session. This was the recommendation made by the committee constituted by the university under the chairmanship of DVS Jain, a nominated senator of the PU after the protest rally held by the students last month.
Fazilka college was using forged signatures of principal: PU panel
Chandigarh, March 8
For the past around one year the National College for Girls, Chowarrian Wali, Fazilka district, is using forged signatures of their principal for every official communication with Panjab University (PU). The matter came into light when on the complaint of one of the student of the MA-II Punjabi, session 2013-14, the PU committee visited the college to verify it.
AVSAR 2014
68 students get job offers
Chandigarh, March 8
Sixtyeight students got offer letters from various companies who appeared in the interview during the three-day AVSAR 2014 at Panjab University that concluded today. Out of the 600 students who took part in the event, 381 were shortlisted for the final interview.
Tiny tots enthral the audience
Chandigarh, March 8
The Kindergarten section of Tribune Model School, Sector 29, here, staged a musical presentation, 'Pinocchio' during its annual function. Dressed up in colourful attires, the students presented the annual event with the theme 'Truth triumphs'.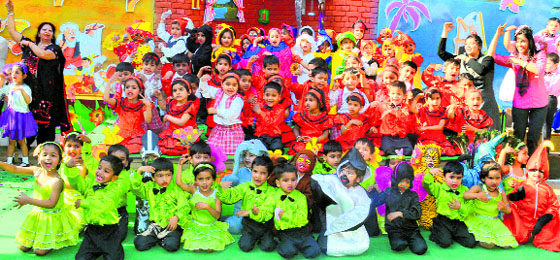 Tiny tots perform during the annual function of Tribune Model School, Sector 29, on its premises on Saturday. Tribune photo: Parvesh Chauhan
FROM SCHOOLS
Montessori graduation ceremony
Ryan International School organised a spectacular display of talent and enthusiasm during its annual event of the montessori graduation ceremony at the Tagore Theatre. The programme revolved around the theme "We are Champions".