Targeting youth through social media
Solan, March 19
With 93,636 first-time voters exercising their right to vote, all political parties are targeting the youth. The tele density, the number of telephones for every 100 individuals, in Himachal is 110. According to figures, there are nearly 70 lakh mobile users in the state and one-fourth of these are also using Internet on their mobiles.
Medicinal plants being exploited in state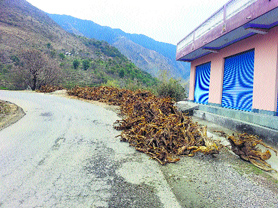 Dharamsala, March 19
Medicinal plants found in the forest areas are increasingly getting rare due to unscientific plunder. Sources said many pharmaceutical companies were hiring locals for collecting herbs. Rare medicinal herb berberry aristata (kashmal) is being exploited in Kangra, Chamba and Mandi. Berberry aristata is being uprooted and exported illegally.

Kashmal herb (berberry aristata) roots piled up along the Baijnath-Mandi road after illegal extraction.

Ruheja Power Project
Panic grips residents as tank bursts
Dharamsala, March 19
Panic has gripped residents in Bhatala panchayat near Dharamsala after the water storage tank of the Ruheja power project burst and water gushing out from it destroyed crops in areas nearby.
Solan police question Acharya Balkrishna
Solan, March 19
Acharya Balkrishna and Lalit Mohan, MD of Baba Ramdev's Patanjali Yogpeeth Trust's Kehlog-based land, were today quizzed by the Solan police for over three hours in a case of forgery, cheating and criminal conspiracy which was registered against the trust on February 13 in a case relating to lease of 28 acre land at Kehlog village near Sadhupul.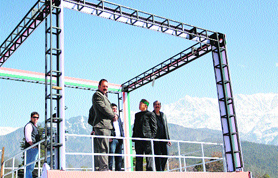 Chief Minister Virbhadra Singh inspects the stage in Dharamsala on Wednesday on the eve of Rahul Gandhi's rally. Photo: Kamaljeet

108 service ambulances
High Court notices to Himachal, GVK
Shimla, March 19
The High Court has issued notices to the state government and the GVK Emergency Management and Research Institute on a petition alleging that the persons recruited for running the 108 service ambulances under the National Health Rural Mission (NHRM)were removed from services by GVK without following a proper procedure.
Rahul to give tips to workers today: Sukhu
Kangra, March 19
All-India Congress Committee vice-president Rahul Gandhi will hold a two-hour close-door interaction with the party cadre at Dharamsala tomorrow and provide them tips how to face the poll. Disclosing this while talking to mediapersons at the residence of Transport Minister GS Bali here today, state Congress chief Sukhwinder Singh Sukhu said the Congress was confident of winning all four seats.
Youth killed by friend's uncles, 3 arrested
Una, March 19
An altercation, which turned violent, resulted in the death of a youth from Pubowal village in Haroli block of Una district. Daljit Singh died on the spot after being attacked with sharp-edged weapons by maternal uncles of his friend Sukhwinder Singh. The latter, who was also attacked by his uncles, managed to escape.
Illegal sand mining from Beas riverbed continues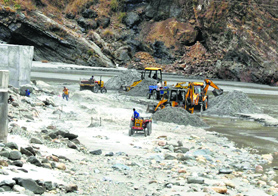 Thalot (Mandi), March 19
Though the Supreme Court has given directions to the state government to check illegal mining along riverbeds, large-scale illegal mining of sand from the Beas is going on unchecked from Jalogi to Thalot. Hundreds of JCBs and tractors have been engaged by local contractors to extract sand from the Beas riverbed along the national highway No. 21 near the Larji hydel power project.

JCB and tractors being used for illicit mining in the Beas.

One killed, three hurt in road accidents
Nurpur, March 19
In two road accidents reported in Nurpur subdivision yesterday, one person was killed and three others were injured. Raj Kumar (40) of Moti Haari (Bihar), an Army personnel from Pathankot Cantonment who was driving a motorcycle with pillion rider Dinesh Patel, died on the spot when his bike hit against a parapet near Damtal under Indora police station. The pillion rider, who is also an Army personnel, was injured seriously in the mishap. He was rushed to the Community Health Centre, Indora, and later shifted to the Military Hospital, Pathankot.
Doors open for rebels, says Shanta
Kangra, March 19
The political history of India will be rewritten with the BJP coming to power with a majority. Former Chief Minister and BJP Lok Sabha candidate for Kangra Shanta Kumar said this while addressing mediapersons here today. He expressed confidence that the BJP would get majority and come to power with Narendra Modi as the Prime Minister.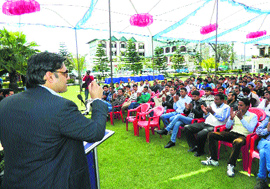 Youth Congress, NSUI gear up for Rahul rally
Kangra, March 19
All-India Youth Congress secretary and in charge for Himachal Pradesh Uma Shanker Panday and HPCC secretary RS Bali today geared up Youth Congress and NSUI workers and Kangra and Nagrota Bagwan block workers for the Rahul Gandhi's rally to be held tomorrow at Dharamsala.

RS Bali addresses Youth Congress and NSUI workers in Kangra on Wednesday. Photo: Ashok Raina

Religious heads 'to decide' on 15th Dalai Lama
Shimla, March 19
Whether Tenzin Gyatso, the 14th Dalai Lama, would be the last one or there would be a successor to the Tibetan spiritual leader is a question which haunts everyone. But the nobel laureate today said it were the high-ranking religious leaders and Tibetan people who will take a final call on it when he attains the age of 90.
Clear stand on hosting IPL matches, HPCA to govt
Dharamsala, March 19
The Himachal Pradesh Cricket Association (HPCA) has asked the state government to clarify its position over organising two IPL matches at Dharamsala during the current season. In a press statement here today, HPCA spokesperson Sanjay Sharma said the BCCI had written a letter to the state government expressing desire to organise two IPL matches between May 10 and 14 at Dharamsala.
Errors in cost accounting paper: B Com students
Kangra, March 19
Resentment prevails among B Com third-year students and their parents. The students, it is being stated, could be deprived of 15 marks due to mistakes in the cost accounting paper of Himachal Pradesh University (HPU). They sought 15 grace marks.
Children of Tibetan refugees can vote
Shimla, March 19
Chief Electoral Officer Narender Chauhan today said as per the clarification issued by the Election Commission of India, children born to Tibetan refugees would be eligible for enrolment in the electoral rolls, provided the applicant was born in India on or after January 26, 1950, but before July 1, 1987.
Cong leaders on toes on rally eve
Dharamsala, March 19
Congress leaders, including the Minister, Housing and Urban Development, Sudhir Sharma, and HPCC general secretary Harbhajan Singh Bhajji, took stock of the arrangements for the Rahul Gandhi's rally scheduled on Police Ground in Dharamsala on March 20.
2 killed as truck overturns
Solan, March 19
Two persons were killed and 40 others injured when a truck (HP-11-1640) they were travelling in overturned on National Highway number 105 this evening. While the exact cause of the accident was yet to be ascertained, police officials said rash driving might be the reason. A woman was crushed to death while another one received serious injuries due to the sudden overturning of the truck. Most of the passengers included women and children. Nisha Kumari (45) has been identified as one of the deceased while the identity of the other one was yet to be known. All injured were rushed to the Civil Hospital, Darlaghat, where two women were declared brought dead. Later, 10 injured were referred to the IGMC, Shimla. TNS
Briefing for new batch of forest guards
Chamba, March 19
Chief Conservator of Forests (CCF), Chamba, ARM Reddy addressed a batch of newly-recruited forest guards of 48 (14 females and 34 males) in the conference hall of the Forest Department held here today. The CCF gave a brief note on all forestry activities and achievements in Chamba district. The batch would graduate on April 9. — OC
Cong appoints in charges at booth level
Chamba, March 19
The Congress has gird up its loin for electioneering in favour of Chander Kumar, who is a Congress candidate from Kangra. As per Chamba Block Congress Committee president Yoginder Sharma, for Chander Kumar's triumph, party workers were being appointed as in-charges at booth-levels in Chamba block. — OC