HC sends defamation case against CM back to trial court
Shimla, March 21
The High Court today sent the criminal defamation case filed by former Chairman of the HP Subordinate Services Selection Board (HPSSSB) SM Katwal against Chief Minister Virbhadra Singh back to the Court of the Judicial Magistrate, Una, for trial.

Differences in Cong over Rana to fore
Shimla, March 21
With AICC vice-president Rahul Gandhi being questioned on the candidature of Rajinder Rana, an Independent MLA who resigned to get the Congress ticket from the Hamirpur Lok Sabha seat, doubts are being raised about the Congress being able to put up a united fight against the BJP.
Shanta Kumar blames UPA for corruption, rising inflation
Palampur, March 21
Former Chief Minister and senior BJP leader Shanta Kumar stated today that India was passing through a critical period owing to failures of the UPA government on all fronts in the past 10 years. He said the nation was facing problems like poverty, rising prices of essential commodities, corruption in public life, unemployment, poor economic growth and devaluation of rupee which had adversely hit the common man. Addressing mediapersons at his residence this morning, Shanta Kumar said the country could get rid of all these problems if a strong, stable and honest government was voted to power in New Delhi after the ensuing parliamentary elections in the country.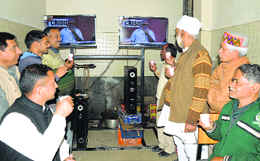 People interact with Narendra Modi through live chatting on a NaMo tea stall in Mandi. Photo: Jai Kumar

National conference on climate change ends
Kangra, March 21
A two-day national conference on "Implications of Climate change on Himalayan Environment" concluded here today. Inaugurated by Prof Timothy A Gonsalves, director, IIT Mandi, the conference was jointly organised by School of Earth and Environmental Sciences, Central University of Himachal Pradesh (CUHP), and Wadia institute of Himalayan Geology, Dehradun.
Suspense over BJP, AAP candidates
Poll buzz yet to pick up in Mandi
Mandi, March 21
Though political activity in the state has gained momentum during the last few days, it is still not visible in the Mandi parliamentary constituency. Party candidates for Kangra, Shimla and Hamirpur constituencies have launched their campaign but such activity is missing here. The suspense over the BJP candidate for Mandi has kept the political activity a low-key affair.
Karcham Wangtoo samiti submits memo to govt
Shimla, March 21
The Karcham Wangtoo Sangharsh Samiti, Kinnaur, yesterday submitted a memorandum to the state government. It demanded that the state government should not treat Rs 15.35 crore deposited under the environment plan by JP company as the Local Area Development Authority (LADA) fund as it would benefit the company rather than the project-affected people. The whole matter should be probed and action taken in this regard, the samiti demanded.
No HLP leader joining BJP, says Maheshwar
Shimla, March 21
Himachal Lokhit Party (HLP) chief Maheshwar Singh today trashed media reports that certain Himachal Lokhit Party leaders were joining the BJP. Maheshwar said that only Khushi Ram Balnata had been sacked for his anti-party activities while other office-bearers were united and planning the party vision for 2017 Assembly elections.
Cong indulging in vote bank politics: Dhumal
Shimla, March 21
Welcoming the High Court decision on making non-functional schools functional within six months, former Chief Minister and Leader of Opposition PK Dhumal said this highlights that the Congress regime was making such announcements only to woo voters.
'Rahul ignorant of real issues'
Dharamsala, March 21
Congress vice-president Rahul Gandhi is ignorant of the real issues being faced by people of the country. Former Chief Minister and BJP candidate from Kangra Shanta Kumar said this while addressing a press conference here today.
'Friend' remark by Anurag irks Sukhu
Hamirpur, March 21
Himachal Pradesh Congress Committee (HPCC) president Sukhwinder Singh Sukhu has taken strong exception to the comment of BJP MP and Hamirpur candidate Anurag Thakur calling him a friend.
2,557 vehicles challaned during Hola Mohalla fair
Una, March 21
The district administration challaned 2,557 vehicles and collected a sum of Rs 30.78 lakh during the ten-day Hola Mohalla fair held at Mairi village. The challans have been conducted with a view to discourage devotees from travelling to various religious places in the district on double-decked trucks.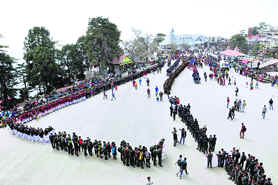 Students take part in poll awareness rally
Shimla, March 21
More than 2,000 school students and anganwadi workers and sahayaks here today participated in an awareness rally organised by the Election Commission to educate them on the importance of vote and how to use the electronic voting machines.

Students participate in voters' awareness rally on The Ridge in Shimla on Friday. photo: Amit Kanwar

Power project opposed
Chamba, March 21
The construction of the Bajoli-Holi hydroelectric project on the left side of the Ravi was opposed by local residents, especially women, living in the environs of the project yesterday, reports said here today.
Two arrested for abusing minors
Solan, March 21
The Kandaghat police today arrested two persons for abusing two minors over the past several months at their home in Kandaghat. DSP (headquarters) Hemant Kumar said the case came to light through an NGO Childline, which was approached by the teachers of a local school when the minors disclosed that two persons had been abusing them over the past few months.
Couple, newborn killed in accident
Nahan, March 21
As many as three persons were killed and two others injured seriously when the car (HP-71- 2181) in which they were travelling from Shimla to Gauth Lawandhar rolled down about 300 feet into a gorge late last night near Chauras village in Sangrah tehsil.
One dies of snakebite in Nurpur
Nurpur, March 21
Balbir Singh (38) of Jharad village in Jawali subdivision died of snakebite in his fields here yesterday. As per information, the victim was bitten by a poisonous snake when he was cutting grass in his fields. On hearing his screams, villagers reached there and rushed him to the Jawali Community Health Centre, where doctors declared him brought dead. The deceased was father of two children. Representatives of the local gram panchayat appealed to the administration to release adequate financial help to the members of the deceased. — OC
Three held with 250 gm charas
Chamba, March 21
The police seized 250 gm charas from three persons near Dhakiyaro Mor in the district last evening, a police report said here today. The accused had been arrested. The report said the vehicle (Gypsy) they were travelling in was intercepted by a team of police officials when they were patrolling the area. On checking, the charas was recovered from them. A case under Sections 20, 25 and 29 of the NDPS Act had been registered at the Tissa police station. Further investigation was on, it added. — OC
Dental college holds function
Sundernagar, March 21
Himachal Dental College held its annual prize distribution function here yesterday. Himachal Pradesh University Vice-Chancellor (VC) ADN Bajpai was the chief guest on the occasion. Addressing a gathering, the VC lauded the role of the college in providing basic dental services in the state and raising its standard. Students of the college were serving in various reputed organisations. He distributed prizes to successful candidates on the occasion. A cultural programme was presented by students on the occasion. Besides, it was the first private dental college in the state, he said. — OC