Shruti files papers
Bhiwani, March 21
The Congress put up a united show with rival factions sharing the stage for the filing of nomination papers by Bhiwani-Mahendragarh candidate Shruti Choudhry here today. Chief Minister Bhupinder Singh Hooda, Congress Working Committee member Satyavrat Chaturvedi, co-in charge of Haryana affairs Asha Kumari, Rajya Sabha member Birender Singh and all five Congress MLAs in the constituency, Satpal Sangwan, Rao Narender Singh, Rao Daan Singh, Anita Yadav and Ram Kishan Fauji, joined hands and assured Shruti of complete support in campaigning.
Filing of nominations gives tough time to commuters
Faridabad, March 21
Filing of nomination papers by various candidates seems to have become a cause of inconvenience to local residents and visitors to the Mini-Secretariat at Sector 12 here. A total of 15 nominations were filed for the Faridabad Lok Sabha seat till this evening.
Ranjit miffed over Speaker's remarks about Chautalas
Sirsa, March 21
Haryana Speaker Kuldeep Sharma's comments on the Chautala clan during Chief Minister Bhupinder Singh Hooda's rally in Sirsa yesterday have left Om Prakash Chautala's younger brother and Congress leader of the district Ranjit Singh fuming.
Haryana model of development better than Gujarat's: Hooda
Kurukshetra, March 21
Congress MP and candidate from Kurukshetra Lok Sabha constituency Naveen Jindal today filed his nomination papers before the Returning Officer while his wife Shalu Jindal filed her nomination as the covering candidate. Naveen was accompanied by Finance Minister Harmohinder Singh Chattha, Savitri Jindal, Sultan Singh Jadola and Anil Dhantodi.
No compensation for drunk driver's death: HC
Chandigarh, March 21
The Punjab and Haryana High Court has made it clear that compensation cannot be awarded for the death of a drunken driver. "If any person dies in an accident caused by his own fault, the insurance company or the owner, as the case may, cannot be held liable to pay compensation," the High Court ruled.
BJP plays Punjabi card in Karnal, HJC unhappy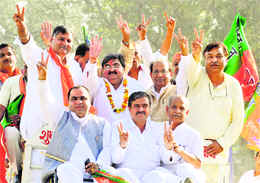 Karnal, March 21
To woo the Punjabi voters who have a considerable presence in Karnal parliamentary seat, the BJP played the Punjabi card as they fielded owner and editor of a Delhi-based Hindi daily Ashwini Chopra 'Minna' from this seat. However, allies HJC are unhappy with the decision.

Ashwini Kumar Chopra (garlanded), BJP candidate from Karnal, and Jagdish Mukhi, convener, hold a roadshow in Karnal on Friday. Tribune photo: Ravi Kumar

Education dept distributes funds for 2013-14 now
Sirsa, March 21
The Elementary Education Department in Haryana appears to be playing a bad joke on schoolchildren, as it is sending them funds to purchase schoolbags for 2013-14 now, when the academic session is already over.
Haryana's Shame
2 cases of rape reported in Faridabad
Faridabad, March 21
Two cases of rape have been registered in the town in the last 24 hours. One victim is a teenager and the other a mother of four. The teenaged minor was raped after being befriended by the accused. No arrest has been made in this regard so far. The incident of exploitation of the minor, aged about 14 years, surfaced today.
Flex boards put up in Sonepat to motivate voters
Sonepat, March 21
Giving further momentum to its campaign under the Systematic Voters' Election and Electoral Participation (SVEEP) for motivating voters to cast their votes on the polling day, the district administration has installed flex boards at different places, inviting voters to sign on the boards as their commitment to cast vote.
Substandard gunny bags
Chandigarh, March 21
The Ambala police today booked Kanpur-based JK Jute Mills for allegedly supplying substandard gunny bags to Hafed on the complaint of Anil Chauhan, Hafed District Manager. Hafed Managing Director Ashok Yadav said the supply of the substandard gunny bales seemed to be the tip of the iceberg and the government would go to the bottom of the alleged scam.
Bishnoi files papers from Hisar
Hisar, March 21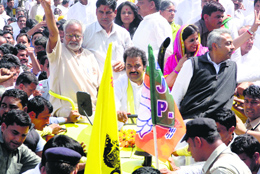 HJC chief Kuldeep Bishnoi's movable assets have registered an impressive increase in three years while his annual income too grew four times in the same period. In an affidavit submitted to the Election Commission while filing his nomination papers, Bishnoi revealed that his assets valued Rs 75,23,23,139, including movable assets worth Rs 58,70,73,139.

HJC chief Kuldeep Bishnoi leads a procession to the Mini-secretariat to file his nomination papers in Hisar on Friday. Photo:Banshi Lal

Inderjit files papers from Gurgaon
Gurgaon, March 21
Sitting MP Rao Inderjit Singh filed his nomination papers here today. "It is a new beginning for me. Leaving the Congress was tough. I am here to serve the people. This was in their best interest. We are looking forward to reaching out to voters and communicate with them," the BJP candidate said.
3-year-old girl falls into manhole, dies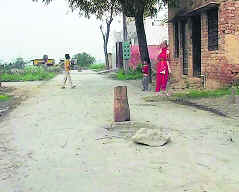 Sonepat, March 21
Divya, a three-year-old girl, was killed after she fell into an open manhole of a sewer pipeline in Saraswati Vihar locality late last evening. On the complaint of her family members, the police have started investigations. Investigating officer Jaiveer Singh said a case of negligence in duty would be registered against the concerned officials of the Water and Sanitation Services Department.

The open manhole from which Divya's body was recovered on late Thursday night. Photo: BS Malik
19 officers for fair poll
Chandigarh, March 21
Chief Electoral Officer Shrikant Walgad said 19 district control room officers (DCROs) had been appointed to ensure free and fair poll. He said Pooja Chanwaria had been appointed DCRO for Panchkula, Rajan Singla for Ambala, Gagandeep Singh for Yamunanagar, Jagram Mann for Kurukshetra, Surender Saini for Kaithal, Randhir Singh for Karnal, Mukesh Chawla for Panipat, Nishu Singal for Sonepat, Shriniwas for Jind, Om Parkash Indora for Fatehabad, Kulbhushan Bansal for Sirsa, Vinod Phogat for Fatehabad, Satbir Siwach for Bhiwani, Narender Phogat for Rohtak, Virender Singh for Jhajjar, Amit Sharma for Mahendragarh, Rajender Singh for Rewari, Tarsem Sharma for Gurgaon, Faridabad and Mewat and Pankaj Setia for Palwal. — TNS
INLD, AAP candidates file papers
Karnal, March 21
INLD candidate Jaswinder Singh Sandhu, AAP candidate Paramjeet Singh and eight other candidates today filed their papers. Jaswinder Sandhu and Paramjeet Singh separately held their roadshows and reached the Mini-secretariat, where they submitted their papers. Jaswinder's son Gaganjot Singh filed papers as a covering candidate. Davinder Jaglan from RPI, Khetab Singh from Bhartiya Shakti Chetna Party, Puran Singh from Rashtriyavadi Janta Party, Pale Ram Kashyap from Jan Shakti Party (Eklavya), while Ramphal Sharma, Jagdish Chand and Jagbir Rana filed their nomination as independent candidates. — TNS
Indora, Ratti file papers for Sirsa
Sirsa, March 21
HJC nominee Sushil Indora, AAP candidate Poonam Chand Ratti and three other candidates filed their nominations from the Sirsa parliamentary seat today. Indora is a two-time MP and Ratti a greenhorn in politics. Indora's wife Nirmal Indora filed her papers as covering candidate. Mewa Singh and Rajbir Singh filed their nominations as independent candidates. Indora went to the office of the returning officer with hundreds of HJC and BJP workers led by Kuldeep Bishnoi and Chander Mohan. Ratti's supporters kept away from the Secretariat building. Donning an AAP cap, Ratti said he was contesting the poll on the issue of corruption, for which Arvind Kejriwal had launched a countrywide campaign. Indora had movable assets worth Rs 28.37 lakh and his wife Indora possessed cash and movable property worth Rs 23.53 lakh. — TNS
Bail jumper held
Sonepat, March 21
The CIA unit of the Sonepat police have arrested Mange, a bail jumper, from the Kundli area in the district last evening. He was produced in the court today, which sent him to police custody. The police said Mange of Kheri Janardan under the Kairana police station in Uttar Pradesh was sentenced to life imprisonment for his involvement in cases of dacoity and loot in the Gannaur area. He was lodged in the Sonepat jail. He was released on parole for a period of four weeks in 2006, but he did not turn up after it. On the direction of the court, another case under Section 8 and 9 of the Prison Act was registered against him in 2010 for jumping the bail. He had confessed that after jumping the bail, he was actively involved in loot and snatching incidents. OC
Two workers killed in sewer line accident
Sirsa, March 21
Two persons died due to sudden discharge of sewage contents in the sewerage disposal pipes in which they were working near Natar village in Sirsa today. The victims, Kala Ram (45) from Shahidanwali and Sandeep Kumar (24) from Mangala, had been hired on daily wages to clean the sewage pipes near the disposal tank of the Public Health Department. As soon as they descended in the pipes, a strong current of sewage contents came from behind and the two were swept away. They died while being taken to the General Hospital in Sirsa. — TNS
10-year term for heroin smuggler
Kaithal, March 21
The court of Additional Sessions Judge RS Chaudhary awarded 10-year imprisonment to Dharmender and fined him Rs 1 lakh after holding him guilty of smuggling heroin here yesterday. He will undergo further imprisonment of one-year if he failed to pay the fine. His two accomplices had already been held guilty and were awarded 10-year imprisonment and a fine of Rs 1 lakh on February 3. Police spokesperson Roshan Lal Kahatkar said on June 28 , 2010, Dharmender of Sandhu Chatha of Kapurthala district was found carrying 400 gm heroin, Hardeep of Shanker in Jalandhar district carrying 400 gm and Hajoor Singh of Pbala in Kaithal district carrying 200 gm of heroin in a car. All the three were booked under the NDPS Act. OC
Judicial custody for three rape accused
Yamunanagar, March 21
The police produced three youths in a local court today in the rape case of a Class X student. The court sent them to a 14-day judicial custody. The HUDA police had arrested Krishn on rape charge and Raju and Neeraj on molestation charge. In her complaint, the victim had alleged that she was raped on February 14 when she had gone to a park with her friend. She alleged that the three accused came there, beat up her friend and forced him to leave the place. Then one of them raped her. The victim had narrated her ordeal to a friend who later told the victim's parents about it. OC
89 file papers
Chandigarh, March 21
As many as 89 candidates filed their papers today, taking the total number of candidates filing their nominations so far to 157, said Shrikant Walgad, Chief Electoral Officer here today. Tomorrow would be the last day for filing nomination papers. The maximum number of 18 candidates filed papers from Hisar today, followed by 17 from Kurukshetra,16 from Faridabad, 12 each from Ambala, Karnal and Rohtak, 11 from Bhiwani-Mahendragarh, seven from Sirsa, six from Gurgaon and three from Sonepat. — TNS
Not registered, HJP to stay out of LS fray
Kurukshetra, March 21
The Haryana Janshakti Party (HJP), led by Didar Singh Nalwi, would not be able to field its candidate for the Lok Sabha elections as their process of getting registered as a political party has not completed yet. The party was all set to field its candidate from the Kurukshetra and Hisar Lok Sabha constituencies. Talking to The Tribune, Nalwi said, "Due to some technical reasons, the party would not be able to field its candidate in the parliamentary elections. The party has some queries from the Election Commission of India and we have completed the requirements. It will take another one month to complete the process." "We will definitely field our 12 candidates in the Assembly elections," he said. — TNS
3 file papers from Sonepat
Sonepat, March 21
Ramesh Kaushik, Suman Singh Sharma and Jai Singh Thekedar today filed their nominations as candidates of the BJP, BSP and AAP, respectively, for the Sonepat constituency. Accompanied by MLA Kavita Jain, party's state vice-president Rajiv Jain and state spokesman Veer Kumar Yadav, Ramesh Kaushik handed over his nomination papers to Returning Officer-cum-Deputy Commissioner Samir Pal Srow. — OC