3 MC officers, Selvel Media under CBI scanner
Chandigarh, March 31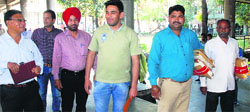 The CBI has registered a preliminary inquiry against three officers of the Chandigarh Municipal Corporation and a private firm, M/s Selvel Media Services Pvt Ltd, for allegedly favouring a private company in the maintenance of public toilets and advertising.
CBI sleuths come out of the MC office in Sector 17, Chandigarh, after conducting a raid on Monday. A Tribune photograph
SBI employee jumps to death
Panchkula, March 31
An employee of the State Bank of India (SBI) committed suicide by jumping from the fifth floor of the office building in Sector 5 here this evening.
Notice to Bansal for 'inciting' communal feelings
Chandigarh, March 31
Congress candidate for the Chandigarh Lok Sabha seat Pawan Kumar Bansal is in for fresh trouble as Returning Officer Mohammed Shayin has issued a show-cause notice to him for inciting communal feelings while seeking votes during a visit to Mauli Jagran on March 26.
Navratra fest: Over 1 lakh devotees throng Mansa Devi temple on Day 1
Panchkula, March 31
Over 1 lakh devotees thronged the Mansa Devi temple here on the first day of the Navratras today. There was no formal inauguration of the Navratra festival this year due to poll code.
Discount at PGI chemist shops: Truth remains far from reality
Chandigarh, March 31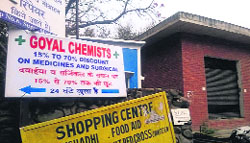 Fifteen days after the chemist shop, Shivangee Medicos, offered 57.2 per cent discount on medicines at the PGIMER, other chemist shops in the area are also in the fray to woo patients with discount claims as high as 70 per cent. The 57.2 per cent discount on medicines, so far, is being claimed as the highest in nation. Patients are, however, being disappointed upon bracing the reality.


Chandigarh Votes 2014
'UT residents should have a say in decision making'
What is your take on how the Union Territory is today? Should it remain a Union Territory or be transferred to either Punjab or Haryana, as was initially intended.
Chandumajra clarifies on remarks against Soni
Mohali, March 31
The issue of showing disrespect to Ambika Soni by Professor Prem Singh Chandumajra took a new turn when the latter clarified that the words "72 saal di buddhi" in respect of her age were said simply and with good intention.
Mohali election office launches toll-free helpline
Mohali, March 31
To check any violation or illegal activity relating to the election campaigns by any party leader or supporter, the Mohali district election office has launched a toll-free helpline here.
ambala votes 2014
Kataria's wife Banto leads election campaign
Panchkula, March 31
Banto Kataria, wife of BJP-HJC candidate from the Ambala Lok Sabha seat Rattan Lal Kataria, led the election campaign after senior BJP leader Ram Bilas Sharma failed to turn up in the Raipur Rani and Barwala areas.
Anandpur sahib votes 2014
12 Cong leaders join SAD
Mohali, March 31
Shiromani Akali Dal (SAD) candidate from the Anandpur Sahib constituency Professor Prem Singh Chandumajra got a shot in the arm when 12 Congress leaders of the Kharar area joined the party in the presence of Sukhbir Singh Badal this evening.
AAP candidate SP Singh interacts with residents
Panchkula, March 31 SP Singh, Aam Aadmi Party (AAP) candidate from the Ambala Lok Sabha seat, during a door-to-door contact programme, interacted with residents of various sectors and Abheypur village here today. Singh also shared the party's vision and ideology with the public.
Keep money, caste out of poll campaign, says Gandhian scholar
Chandigarh, March 31
The Department of Gandhian and Peace Studies today organised a special lecture on peaceful elections by Prof N Radhakrishanan, a renowned Gandhian scholar, activist and Chairman, Indian Council for Gandhian Studies.
Will probe Cong scams again if elected: BJP
Chandigarh, March 31
BJP city unit president Sanjay Tadon today said if the BJP came to power, it would reinvestigate all scams, which took place in the city during the last 15 years of the Congress regime.
Bansal threatens to take legal action against Jain, Tandon
Chandigarh, March 31
Reacting to the BJP's move, Congress candidate Pawan Kumar Bansal today threatened to take an appropriate legal action against BJP leaders - former MP Satya Pal Jain and the party's city unit president Sanjay Tandon.
Differences of opinion among BJP leaders
Chandigarh, March 31
Local BJP leaders have differences of opinion on key issues.
Jolt for BJP as senior leader joins Cong
Chandigarh, March 31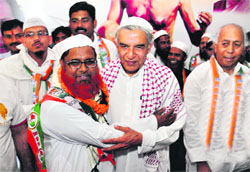 The local unit of BJP got a major setback today as its senior leader and a former chairman of the party's minority cell, Maulana Mohammad Kasim, along with 40 party workers joined the Congress. Kasim had been associated with the BJP for the last 15 years.

Congress candidate Pawan Bansal welcomes Maulana Mohammad Kasim of the BJP into the party fold as CTCC chief BB Behl (right) looks on, at the Congress Bhawan in Sector 35, Chandigarh, on Monday. Tribune photo: Parvesh Chauhan
Kirron, Gul outsiders, says Jannat
Chandigarh, March 31
BSP candidate Jannat Jahan today targeted BJP and AAP candidates during her election campaign.
Gul Panag says AAP aims at participatory democracy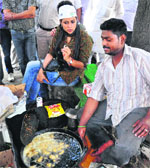 Chandigarh, March 31
Aam Aadmi Party (AAP) candidate Gulkirat Kaur Panag today said she would strive to ensure that spending of the allocated budget was planned in consultation with people. She added that execution of projects would be overseen by citizen committees.





AAP candidate Gul Panag speaks to a tea vendor during her election campaign in Sector 33 on Monday. Tribune photo: Parvesh Chauhan
Political parties lack vision for city
Chandigarh, March 31
Main political parties do not seem to have a vision for Chandigarh, opine city youth. Students of Post Graduate Government College for Girls, Sector 42, believe that most candidates in the fray for the Chandigarh Lok Sabha seat are 'paratroopers' and are clueless about the problems being faced by residents of the city.
Voters sensitised to EVMs, NOTA option
Chandigarh, March 31
The Election Department, Chandigarh, today conducted awareness about electronic voting machine (EVM) and "none of the above" (NOTA) option available to voters.
Working women face whom-to-vote dilemma
Chandigarh, March 31
The working women in the city seem to be facing a sticky dilemma on whom to choose among the candidates in the fray from the Chandigarh Lok Sabha constituency.
Cops check Guv's golf cart 15 times
Panchkula, March 31
It is an appropriate example of 'once bitten twice shy'. Before Haryana Governor Jagannath Pahadia and his wife Shanti Pahadia could sit in the golf cart at the Mansa Devi temple, here, police officials scanned the entire cart 15 times.
Poets leave audience in splits
Chandigarh, March 31
To mark Rajasthan Day, a Hasya Kavi Sammelan was organised at the Tagore Theatre today.
Ailing patient needs help
Chandigarh, March 31 Anil (11), who is suffering from blood cancer, is in dire need of Rs 3 lakh for his treatment. His father, Sita Ram, a resident of Mansa district in Punjab, is unable to make both ends meet.


GGDSD students stage protest
Chandigarh, March 31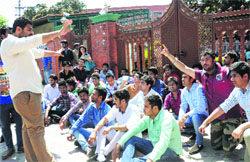 As many as 70 students of GGDSD College, Sector 32, today staged a protest against the college management for not issuing roll numbers to them for the academic session examination.




Students stage a protest oustide GGDSD College, Sector 32, in Chandigarh on Monday. Tribune photo: Manoj Mahajan
Differently abled await PU nod
Chandigarh, March 31
Physically-challenged and visually-impaired students of Panjab University are at the receiving end these days.
575 receive degrees at Dev Samaj convocation
Chandigarh, March 31
As many as 575 students received degrees at the 28th annual convocation of Dev Samaj College for Women, Sector 45, on the college premises here today. The students were from the 2011-12 and 2012-13 sessions.
Eminent educationist K Atma Ram passes away


Chandigarh, March 31
Eminent educationist and social activist, K Atma Ram (89), passed away following a brief illness today, in the morning. Her last rites were performed at the crematorium, Sector 25, in the evening. A former Director Public Instructions (DPI), Punjab, Ram was also a nominated councillor in the Chandigarh Municipal Corporation from 2002 to 2006.
K Atma Ram