On poll duty: Haryana candidates' mothers, wives
Geetanjali Gayatri
Tribune News Service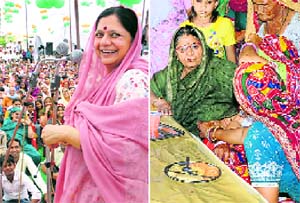 (Left) Haryana CM Bhupinder Hooda's wife Asha; and former MLA Jasma Devi interact with voters on Thursday. Tribune photos
Hisar/Chandigarh, April 3
Women may be contest-shy in poll-bound Haryana but when it comes to campaigning, they make the best "brand ambassadors" for candidates in the poll fray. The number of doting mothers, shy sisters and not-so-extrovert wives, out in the field this election season, whipping up support for candidates, wooing voters, managing election offices is evidence enough that their role has moved beyond door-to-door campaigning.
Halfway through her day's programmes, in Adampur's Bhana village in Hisar, septuagenarian Jasma Devi, a one-time "reluctant" MLA and wife of former Chief Minister Bhajan Lal, takes in her stride the excitement her presence generates among village women.
At a supporter's house, where she will have lunch, she urges the women to vote for her son, Haryana Janhit Congress chief Kuldeep Bishnoi. "Ours is the only family that will watch Hisar's welfare. Don't be taken in by empty words. The others will not come back," she emphasises, enjoying an occasional bite. Bishnoi, a sitting MP, is contesting from the Hisar seat and she wants to leave nothing to chance.
In Rohtak where MP Deepender Hooda is "comfortably placed", his mother Asha Hooda is campaigning for him. Deepender is indisposed on account of a severe back problem.
Accompanied by the local MLA, she seeks votes in the name of development he has ensured as also his honesty and commitment to work. She asks, "Ever since he has became an MP, he has always been there for his people of the constituency, working in Parliament or pursuing a project in one of the ministries. If his efforts are visible, please vote keeping in view his performance," she says.
In her 40s, Naina Chautala is quietly campaigning for her son Dushyant, contesting from the Hisar seat. She meets women according to the programme chalked out. Sources say that the Chautala clan in not too inclined to involve women in campaigning but with party chief Om Prakash Chautala and Dushyant's father Ajay in jail, Chautalas had to involve family women in the campaigning.
Haryana Excise and Taxation Minister Kiran Choudhry has been touring Bhiwani-Mahendergarh extensively to muster support for daughter Shruti. Aggressive in her speeches, she emphasises, "Shruti has inherited Chaudhry Bansi Lal's legacy. She's synonymous with development. The other candidates have nothing to show in terms of work done," she says.
Urban Local Bodies Minister Savitri Jindal is holding corner meetings in Kurukshetra for her MP son Naveen Jindal.
In contrast to Choudhry's style, Jindal believes in quietly associating with the electorate. Beginning her village tours at 9 am, she retires for the day by 8 pm.
In Sirsa, considered a Chautala bastion, Haryana Congress chief Ashok Tanwar's wife Avantika addresses meetings at Dabwali with ease.
BJP candidate Rattan Lal Kataria's wife Banto is very active and goes all out campaigning in Ambala, holding corner meetings with supporters.
Jindal's wife Shallu and his sisters have fanned out across the entire seat while Bishnoi's wife Renuka has a packed schedule.
Be it Sonepat, Karnal or Faridabad, these women have their hands full, campaigning with the specific aim of taking some message to women voters.
A welcome change from the days when, if at all, the role of women was confined to reaching out to those living in the neighbourhood!