Bajwa reaches out to dissidents, projects himself as next CM
Gurdaspur, April 1
Punjab Congress chief Partap Singh Bajwa, who was initially reluctant to re-contest the Gurdaspur parliamentary seat, is making efforts to reach out to dissidents.
Election panel shifts 'biased' Patiala DC
Patiala, April 1
Following complaints against the Patiala District Electoral Officer-cum-Deputy Commissioner Gopal Krishan Singh, the Election Commission today shifted him out of Patiala. The Congress and the Aam Aadmi Party (AAP) had alleged that he was biased. The Congress and the AAP have welcomed the decision, terming it "appropriate for a fair election process".
2 killed, 27 hurt as bus overturns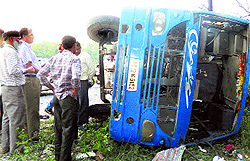 Nangal, April 1
Two people, including a nine-year-old girl, were killed, when the bus they were travelling in, overturned at Mojewal Road here today. The deceased were identified as Muskan and Krishna (47), both residents of Chhotewal village near Nangal. As many as 27 others were injured in the accident. The passengers were going to attend a wedding.

The overturned bus
Acid attack on Khanna girl, 3 booked
Khanna, April 1
The Khanna police have booked three youths for throwing acid on an 18-year-old girl here last night.The victim had severe burn injuries on her face and the neck. The girl, a resident of Uttam Nagar, was standing on the roof of her house when she was attacked.

Denied ticket, Libra may join SAD
Khanna, April 1
Denied ticket from Fatehgarh Sahib, sitting Congress MP Sukhdev Singh Libra may join the Shiromani Akali Dal (SAD), probably on Thursday. Libra is said to be annoyed with the party leadership ever since he was denied the ticket and he has reportedly taken the decision to change loyalty after consulting his supporters.


Fatehgarh Sahib MP Sukhdev Singh Libra
Jaitley a guest from New Delhi: Amarinder
Amritsar, April 1


Congress candidate Capt Amarinder Singh has revived the "outsider" debate by referring his BJP rival Arun Jaitley as "our esteemed guest from New Delhi" in his Facebook post.


Capt Amarinder Singh's Facebook page.
Captain woos ex-colleagues back into party
Amritsar, April 1
Former Chief Minister Capt Amarinder Singh today appealed to his former party colleagues to return to the party fold as "it is the right time to do so."



SAD files complaint
SAD wooing CPI leaders: Manpreet
Bhatinda, April 1
People's Party of Punjab-Congress candidate from Bathinda Manpreet Singh Badal today claimed that Deputy Chief Minister and SAD chief Sukhbir Badal was in "panic mode" and had allegedly contacted some CPI leaders to put up a candidate against him.
Angry voters will punish Khanna for his indifference: PPCC chief
Chandigarh, April 1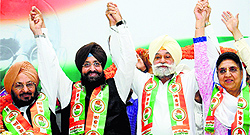 "Vinod Khanna, who did not bother to keep in touch with his voters after his electoral wins earlier, should be prepared to face "Punjabian da ghasun (fist)" this time," warned PPCC president Partap Singh Bajwa while addressing a press conference at the party office here today.


Laal Singh (extreme left), PPCC chief Partap Singh Bajwa, Bir Devinder Singh, who has joined the Congress, and Rajinder Kaur Bhattal at a press conference in Chandigarh on Tuesday. Tribune photo: Manoj Mahajan

Eying bigger role, Laal Singh not keen on 'interim reward'
Chandigarh, April 1
Senior Congress MLA from Sanaur Laal Singh is unwilling to accept an "interim reward" by being made acting president of the Punjab Pradesh Congress Committee (PPCC).

AAP, Cong in league says Sukhbir
Chandigarh, April 1
Shiromani Akali Dal (SAD) president Sukhbir Singh Badal has alleged that the Aam Aadmi Party (AAP) is deliberately delaying announcing its candidate for the Bathinda seat. And this was proof enough that it had reached a secret understanding with the Congress.
Sidhu's wife campaigns for Jaitley in Amritsar
Amritsar, April 1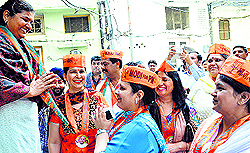 Arun Jaitley's wife Sangeeta Jaitley and daughter Sonali Jaitley campaigned for the BJP candidate in different parts of the city today. They were accompanied by sitting MP Navjot Singh Sidhu's wife Dr Navjot Kaur, who is Amritsar East legislator.



Arun Jaitley's daughter Sonali and Dr Navjot Kaur Sidhu campaigning in Amritsar on Tuesday. A Tribune photo

SAD, BJP both fooling voters, says Congress
Chandigarh, April 1
Sukhpal Singh Khaira, PPCC spokesman, today dared CM Parkash Singh Badal and senior BJP leader Arun Jaitley to spell out their stand on the ideological differences between the SAD and the BJP and not "fool the voters of the state."
Cong mother of all ills, says Sukhbir
Kartarpur, April 1
Deputy CM and SAD president Sukhbir Badal today addressed a series of election rallies in Jalandhar Lok Sabha constituency in favour of party candidate Pawan Kumar Tinu.
poll pot

AAP's Jalandhar candidate opts out

Jalandhar: Following widespread opposition from the party cadre over his candidature, Aam Admi Party candidate from Jalandhar (Reserved) constituency Rajesh Padam on Tuesday withdrew from the race. He said he was withdrawing due to "personal reasons". Padam's resignation finally ended speculations that the party might itself change the candidate. Hailing from the Valmiki community, Padam, a former Congressman, had been mired in controversy ever since his name was announced. Several AAP leaders were unhappy that a person with Congress affiliation was given the party ticket. Padam was the vice-chairman of the Congress SC/ST cell.




Govt teachers protest non-payment of salaries
Faridkot, April 1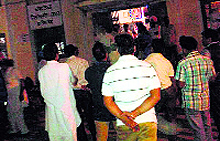 Peeved about not being paid salaries for the past three months, hundreds of government school teaches and other staff held a dharna outside the district treasury office (DTO) yesterday night.



Government school teachers outside the district treasury office in Faridkot on Monday night. Tribune photo

Not paid wages, teachers resume agitation in Bathinda
Bathinda, April 1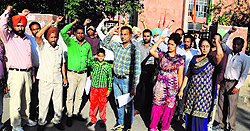 Not paid salaries for months, teachers staged a dharna outside the Treasury office late last night even as officials today claimed that pending wages "till January" had been released.


Unpaid teachers protest outside the Treasury office in Bathinda on Tuesday. Tribune photo: Pawan Sharma


Poll coverage on TV channel under lens
Chandigarh, April 1
Following a complaint by Congress spokesperson Sukhpal Khaira alleging that PTC channel was campaigning for the ruling SAD-BJP alliance in "clear contravention to the election rules", the Punjab Chief Electoral Office (CEO) today constituted a committee to scrutinise the election-related campaign being flashed on the television channels, and also the cost involved.

Set the reminder for April 30: Nawanshahr admn to voters


Nawanshahr, April 1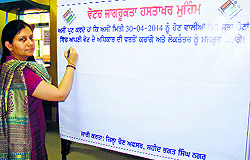 Nawanshahr Deputy Commissioner (DC) Anandita Mitra launched a signature campaign for voters' awareness at the Suvidha Centre here today.



Deputy Commissioner Anindita Mitra launches a signature campaign for voters' awareness at Suvidha Centre in Nawanshahr on Monday. A Tribune photograph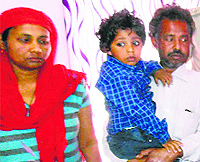 Kidnapped 3-yr-old found in Bareilly
Barnala, April 1
A three-year-old boy, Nikhil, who was kidnapped from Barnala three days ago has been recovered by the police from Bareilly, UP. The child was handed over to his parents here today. Deputy Superintendent of Police Harpal Singh said Nikhil's father Shanker, a resident of Astha Colony here, had lodged a complaint on March 29.


Three-year-old Nikhil wih his parents in Barnala on Tuesday

Anandpur Sahib has 2 lakh new voters
Ropar, April 1
New voters numbering nearly 2 lakh are likely to play a key role in the parliamentary elections to be held on April 30 in the Anandpur Sahib constituency.
Standing up for justice runs in her family
Chandigarh, April 1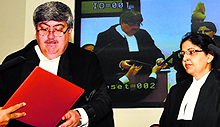 When Justice Harphul Singh Brar retired from the Punjab and Haryana High Court in July 1999, little did he realise that in about 15 years he would again be walking down the familiar corridors of justice, this time for the swearing in ceremony of his daughter Lisa Gill.


Sanjay Kishan Kaul, Chief Justice of the Punjab and Haryana High Court, administers oath to Lisa Gill in Chandigarh. Tribune photo

Cancel case against Chadha, demand lawyers
Ropar, April 1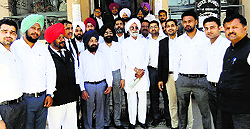 The lawyers at Ropar and Anandpur sahib today went on a two-day strike, demanding the cancellation of a criminal case registered against local advocate and RTI activist Dinesh Chadha. The local police had on March 21 booked Chadha and eight others for attempt to murder.

The lawyers go on a strike in Ropar on Tuesday. Tribune photo

More forces to be deployed on inter-state border posts
Abohar, April 1
Additional force will be deployed at the Punjab-Rajasthan inter-state border from April 15 to 17 in view of polling in the neighbouring state's Sriganganagar parliamentary constituency on April 17.
'Intimidation' of girls: Panel starts inquiry
Abohar, April 1 On the direction of the Rajasthan Women's Commission, a three-member panel today initiated inquiry into alleged intimidation of students of a girls' education college in Sriganganagar, 40 km from here. The college is run by a private management. The members of the panel visited the college.
Hoshiarpur ayurved university VC awarded Padma Shri
Hoshiarpur, April 1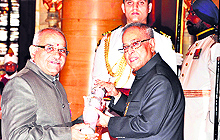 President Pranab Mukherjee has awarded OP Upadhyaya, Vice-Chancellor, Guru Ravidas Ayurved University, Hoshiarpur, Padma Shri for 2014. He was awarded yesterday for his contribution to ayurveda.



President Pranab Mukherjee awards Padam Shri to Guru Ravidas Ayurved University Vice-Chancellor OP Upadhyaya in New Delhi on Monday. Tribune photo

Punjabi politician in UK under fire over rifle pic
London, April 1
An Indian-origin magistrate and local politician in the UK is under pressure to step down from his posts after he was pictured holding an assault rifle.


Extension in service to Chief Pharmacists
HC declares govt's denial illegal
Chandigarh, April 1
The Punjab Government's action of denying extension in service to Chief Pharmacists working in the State has been declared illegal by the Punjab and Haryana High Court. At the same time, Justice Rajesh Bindal has rejected the claim of pharmacists for extension in service.
HC confident govt will decide on libraries Bill
Chandigarh, April 1
The Punjab and Haryana High Court has expressed confidence that the state government would form its opinion on enacting the "Punjab Public Libraries and Information Services Bill" after the elections are over.

Tarn Taran Valmiki leader booked for extortion, fraud
Tarn Taran, April 1


Akhil Valmiki Dharam Samaj Sangathan chairman Randeeep Singh Gill and his personal secretary (PA) Gurmit Singh have been booked on the charges of extortion and fraud. Gill had allegedly abducted a shopkeeper, Kala, of Sheron village in the district three days ago. The accused demanded Rs 10 lakh as ransom.


Valmiki leader Randeep Singh Gill being honoured by Chief Minister Parkash Singh Badal. A file photograph

Heroin worth Rs 135 cr seized
Fazilka, April 1
Thwarting an attempt by Pakistani smugglers to push contraband into the Indian territory in the run-up to the Lok Sabha elections, the BSF today seized 27 kg of heroin at Khanpur village in Fazilka sub-division.




The seized contraband in Fazilka on Tuesday. A Tribune photograph