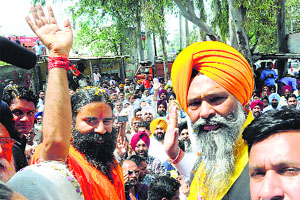 Ambika Soni's contribution nil, says Ramdev
Mohali/Ropar, April 2
Yoga guru Baba Ramdev, who campaigned for SAD nominee from Anandpur Sahib Prem Singh Chandumajra today, said "Indira Gandhi got what she deserved for attacking the Golden Temple".



Baba Ramdev campaigns for SAD candidate Prem Singh Chandumajra in Kharar on Wednesday. Tribune photo: Vicky Gharu

Jakhar files contempt petition against Principal Secretary
Chandigarh, April 2
Leader of Opposition Sunil Kumar Jakhar today alleged contempt of court a month after the Punjab and Haryana High Court disposed of a petition on inadequate firefighting services in the state. The court had directed the authorities concerned to deal with the matter within a month.
Khaira alleges Bibi encroached upon land, files complaint
Jalandhar, April 2
Congress spokesperson and former Bholath MLA Sukhpal Khaira today alleged that SAD legislator Bibi Jagir Kaur had attempted to encroach upon 22 acres of Nagar Panchayat land at Begowal. Khaira alleged the SAD leader, who was building a boundary wall around the area, was stopped after he complained to Chief Secretary Rakesh Kumar.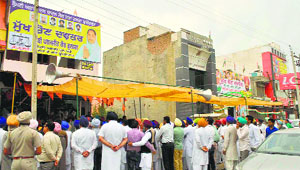 Proximity of Cong, SAD offices in Faridkot triggers tension
Faridkot, April 2
The opening of an election office by the SAD in a building adjacent to that housing the Congress' election office in Faridkot on Wednesday has triggered tension between the supporters of the parties.


Congress and Akali supporters gather in front of their respective offices, which are located in adjoining buildings, in Faridkot on Wednesday. Tribune photo

Hola Mohalla function: Poll panel serves notice on SAD
Chandigarh, April 2
Casting aspersions on the working of the Punjab Chief Electoral Office (CEO) who had forwarded two reports of the Ropar Deputy Commissioner (DC) giving a clean chit to the Hola Mohalla function at Anandpur Sahib in spite of an official ban, the Election Commission (EC) today issued a notice to the Shiromani Akali Dal (SAD) for organising the conference.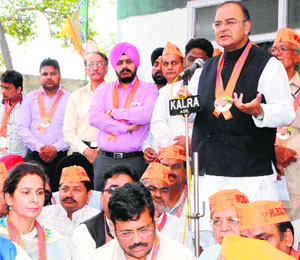 Amarinder accused of running away from national issues
Amritsar, April 2
BJP candidate Arun Jaitley today targeted his Congress rival, Capt Amarinder Singh, accusing him of running away from national issues like inflation, declining growth rate, shrinking economy, rampant corruption and national security.




Arun Jaitley, BJP candidate, addresses a gathering in a locality in Amritsar on Wednesday. Photo: Vishal Kumar

Jaitley presents his vision for Amritsar
Amritsar, April 2
With the nomination process for the Lok Sabha poll beginning in Punjab, BJP candidate Arun Jaitley has come out with his "Vision for Amritsar" on his Facebook page with emphasis on tourism and trade and industry.
Two dissidents back with Cong
Pathankot, April 2
Even as former Union Minister Vinod Khanna was addressing booth-level workers in the Gurdaspur parliamentary constituency, former Pathankot MLA Ashok Sharma, a Congress legislator from 2002 to 2007, was being cajoled by AICC general secretary Dr Shakeel Ahmed and PPCC chief Partap Singh Bajwa into rejoining the Congress.
SS Libra quits Cong; to meet Sukhbir shortly
Fatehgarh Sahib, April 2
Sitting Member of Parliament from the Fatehgarh Sahib (reserved) constituency Sukhdev Singh Libra today submitted his resignation to Congress president Sonia Gandhi and PPCC chief Partap Singh Bajwa.
Kejriwal's visit from April 11
Sangrur, April 2
To boost the campaign of Aam Aadmi Party (AAP) candidates, Arvind Kejriwal will be in Punjab for three days beginning April 11, holding road shows.
State didn't utilise central funds for Anandpur Sahib: Soni
Ropar, April 2
Ambika Soni, Congress candidate from Anandpur Sahib, said the SAD-BJP Government had failed to develop the area despite full cooperation from the Centre. She was addressing a rally organised by former Nagar Panchayat president Amarjit Singh Mangat at Chamkaur Sahib today.

(Clockwise from top) Ambika Soni, Congress candidate from the constituency of Anandpur Sahib, in Chamkaur Sahib ; Soni in a pensive mood during her campaign; the Congress leader's convoy passing through the fields on Wednesday. Tribune photos: Himanshu Mahajan
No need of acting chief, says Bajwa
Bhaini Sahib April 2
Punjab Congress President Partap Singh Bajwa has said that there is no need for an acting Congress President in the state as he is politically and physically fit. He said this while talking to media persons at Bhaini Saheb.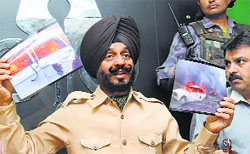 Grant me death wish, Bitta to SC
Chandigarh, April 2
Displeased with the Congress high command, including its president Sonia Gandhi, in not honouring party values by facilitating the death pardon of terrorist Devinder Pal Singh Bhullar, All-India Anti-Terrorist Front (AIATF) president Maninderjit Bitta today said he was writing to the Supreme Court to grant him death wish.

All-India Anti-Terrorist Front president Maninderjit Bitta talks to the media in Chandigarh on Wednesday. Tribune photo: Manoj mahajan

Election official in dock for not joining duty
Fatehgarh Sahib, April 2
The Deputy Registrar of Cooperative Societies, Naresh Goyal, is in the dock as Deputy Commissioner-cum-Returning Officer Arun Sekhri has asked the police to take strict action against him for not joining election duty.
Patiala school under lens as food samples fail test
Patiala, April 2
The local Health Department will register five cases against the authorities at Navjiwani School for Special Children, Sular Road, under the Food Safety and Standards Act, 2011. As many as five of the seven samples of juices, rice and 'karhi' collected by the Health Department during a recent raid failed the quality test.
Two Abohar youths clear PCS (Judicial)
Abohar, April 2
Two youths from this remote sub-divisional town have made it to the list of 70 successful candidates from Punjab who have been selected for PCS (Judicial).
New DC, SSP for Fazilka
Fazilka, April 2
S Karuna Raju and Jagdale Nilambari Vijay assumed charge of Deputy Commissioner (DC) and Senior Superintendent of Police (SSP), respectively, of Fazilka district today. The new postings come on the instructions of the Election Commission of India on Tuesday to replace DC Dr Basant Garg and SSP Ashok Bath in view of the ensuing Lok Sabha elections.
Jammu train chugs off amid mild response
Abohar, April 2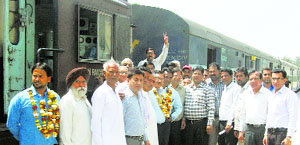 The much-awaited Jammu-Tawi weekly train got a lukewarm response on its inaugural run today. Barring some members of the Bharat Vikas Parishad (BVP), an NGO, none of the dignitaries turned up as the train left Abohar at 2.15 pm. Most of the present and former members of the Railway Users Consultative Committees, too, preferred to give the occasion a miss.

A thin attendance of people, mostly NGO workers, greets Jammu train staff in Abohar on Wednesday. Tribune photo

3 die as jeep rams into tree
Abohar, April 2
Three occupants of a jeep were killed when the driver lost control over the vehicle and it rammed into a tree on the mega highway near Hanumangarh in Rajasthan this evening. They worked at a toll tax barrier.
Teachers hold protest
Nawanshahr, April 2
Members of teachers' unions held a dharna in front of the office of the district treasury here on Wednesday. They were protesting against the non-payment of salaries. The protesters submitted memorandums of demands to the ADC, District Treasury Officer and the District Education Officer to be forwarded to the state government.
DNA test helps police nail rapist
Faridkot, April 2
A DNA test has helped the police in nailing the culprit in a rape case of a minor Dalit girl. The accused is a close relative of the victim.
University VC put on poll duty
Bathinda, April 2
In a goof-up, the officiating Vice-Chancellor (VC) of the Central University here has been put on election duty as district presiding officer. The VC is equivalent to state Chief Secretary.



High Court chides Special Secretary
Chandigarh, April 2
The Punjab and Haryana High Court has virtually indicted Punjab Special Secretary, Rural Development and Panchayats Department.
State rapped for not providing information in land grab case
Chandigarh, April 2
The state government today found itself at the receiving end with the Punjab and Haryana High Court virtually rapping the authorities concerned for not providing proper information in the land grab case.
2 held for murder of Sangrur panch
Sangrur, April 2
With the arrest of two persons, the police today claimed to have cracked the murder case of a panchayat member from Bhullarherri village near Dhuri in the district.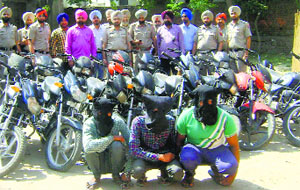 Robbers' gang busted; 3 held
Tarn Taran, April 2
The police have seized 1 kg of heroin worth Rs 5 crore on the international market and recovered 30 stolen motorcycles from a three-member robbers' gang active in this border area.




The accused in police custody in Tarn Taran on Wednesday. Tribune photo

Spurned, youth throws acid on girl
Raikot, April 2
A young girl of Bhaini Arora village was attacked with acid outside her house this afternoon. A student of Government High School, Andlu, she received injuries on her back and legs.
FIRs registered for violation of poll code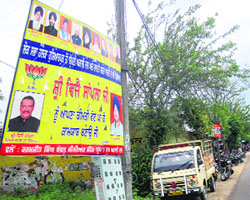 Hoshiarpur, April 2
The city police have registered two FIRs against unknown persons for violation of the model code of conduct. The FIRs have been registered with regard to two advertisements in support of BJP candidate Vijay Sampla, which appeared on March 26 and March 29 in a Punjabi daily newspaper published from Jalandhar without the approval of the Media Certification and Monitoring Committee.


Hoardings with pictures of SAD-BJP leaders put up on the Dasuya-Hoshiarpur road. Tribune photo: Malkiat Singh

Acid attack accused held
Khanna, April 2
The Khanna police claimed to have arrested the man responsible for the acid attack on a girl. The accused, Hari Nandan (24), was a relative of the victim and was staying with her family.
2 undertrials escape in Patti
Tarn Taran, April 2
Two undertrials escaped from police custody last evening at Patti, 25 km from here. Sukhdev Singh and Parjinder Singh of Sabhra executed the plan with the help of their motorcycleborne associate.
Former Block Cong Committee chief booked for rape attempt
Phagwara, April 2
Former president of the Block Congress Committee, Phagwara, Madan Mohan has been booked on the charges of threatening and attempting to rape a former president of the local Block Mahila Congress Committee.