ENTERTAINMENT

FOOD TALK

CONSUMERS BEWARE!

GOOD MOTORING

LIFE'S LESSONS

MUSIC ZONE

FRUIT FACTS

WEBSIDE HUMOUR

CROSSWORD

WEEKLY HOROSCOPE
EARLIER FEATURE

CHANNEL SURFER

ULTA-PULTA

TELEVISION

GLOBOSCOPE

GARDEN LIFE

NATURE

FASHION

BRIDGE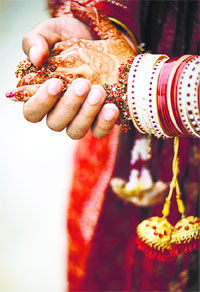 Marriage Made In India
As we stand on the cusp of a social flux, perceptions about love, marriage and sex are being recast. Twin revolutions of sex and love have led to the break-up of the arranged marriage system, as more people decide to marry for love rather than community or caste
Ira Trivedi
The relations between man and woman in this country have changed more in the past ten years than they have in the previous three thousand. Traditionally, the mating game began with marriage (arranged by the family based purely on caste and economics) was followed by sex (usually for the first time) and then blossomed into 'love' (if the couple was lucky). That convenient little formula is now being radically altered—from marriage, sex and then love, we are moving to love, sex (or vice-versa) and then, maybe, marriage. Many young Indians from the urban middle class are beginning to believe that love and sex are the only things that matter in relationships, particularly marriage.
---
ARTS
Society through her eyes
Artist Nalini Malani's oeuvre encompassing paintings, installations and moving images is as vast as her knowledge and concerns for women
Nonika Singh
Cassandra, the daughter of King Priam and Queen Hecuba of Troy, had the gift of prophecy yet no one would believe her. Today when artist Nalini Malani uses Cassandra's myth in her works, the world seems to be not only paying heed but also listening with awe and adulation.

Broad brush
---
SPORTS
The lone ranger battling the odds
Amit Kumar
It required the ignominy of the expulsion of Indian Olympic Association by the International Olympic Committee to bring him and Luge into public eye. The Winter Olympian from Manali, Shiva Keshavan, has been a silent hero. The game he represents can be fatally dangerous. Not only was Keshavan India's only Olympic representative in Nagano Games in 1998, the then-16-year-old was the youngest Luge entrant ever. Sochi performance might not have been up to the mark, but he had an eventful time with a near fatal crash in the practice run and nick-of-the-time recovery, the video of which went viral on the social media.
Partners beyond boundaries
Sabi Hussain
'Stop War, Start Tennis' — the Indo-Pak pairing of Rohan Bopanna and Aisam-ul-Haq Qureshi had launched a novel campaign in 2011, which earned them the Arthur Ashe Humanitarian Award, but little did they know that the same year would witness the end of their much-publicised partnership.
---
Society
A peep into the history of Ambala
The Ambala Cantt with tree-lined roads and open spaces owes its origin to Capt Robert Napier, a Bengal Sappers officer
Lt Gen Ranjit Singh (retd)
The genesis of Ambala Cantonment lies in the defeat of the Marathas in the IInd Anglo-Maratha War on September 11, 1803. On that day, Lord Lake defeated Maharaja Daulat Rao Scindia at the battle of Delhi. Marathas, who till then had controlled the territories North of Delhi, were forced to cede these to the British under the terms of the Treaty of Surji-Anjangaon on December 30, 1803. The Sikh chiefs, who had fought along with the Marathas, however continued their struggle against the British under the leadership of Sardar Gurdit Singh of Ladwa for their independence.
soul talk
Good news for active gaming fans
According to a recent study, active gaming adds to activity levels of kids, helping obese ones lose weight. Senior author, Dr Deneen Vojta says that it is doubly beneficial as the kids are interested in their screen time and instead of making it a stand-off between them and the parents, it can be turned into something favourable. Seventyfive overweight and obese kids were recruited from Massachusetts, Rhode Island and Texas and divided into two groups. Over a period of 16 weeks, they were put on a weight-management programme at YMCAs and schools. One group was also introduced to Xbox active games. They were given two active games and it was found that these kids added a few extra minutes of vigorous to moderate activity to their routine as a result of the game and they ended up losing weight.
---
Travel
Cruising in the Benz city
The Black Forest, vineyards and wineries, castles and the museums of Mercedes Benz and Porsche make Baden Wurttemberg in Germany an intriguing destination
Anand & Madhura Katti
The beautiful region of Baden Wurttemberg (also called the Swabian region) in South Germany is a lesser trodden place that's emerged as the fastest growing destination in Germany. Black Forest, vineyards and wineries, castles with baroque architecture and the museums of Mercedes Benz and Porsche make it an intriguing destination.
---
Entertainment
Teen queens
These actors as young as 14 years are already famous, rich, busy and enacting roles of charcters much older than them and they have no qualms about it
Surekha Kadapa-Bose
Kanchi Singh, Mahima Makwana, Avika Gor, Disha Parmar, Digangana Suryavanshi, and many more teenage girls have a couple of things in common. They are all well-known daily soap stars on Hindi channels and all of them are under 18 years of age! Some are as young as 14 years and are already famous, rich, busy and enacting roles much older than their age.
Nadia: The first global heroine
The history of Indian cinema is incomplete without highlighting the contribution of Fearless Nadia
Shoma A. Chatterji
Nadia of the famous Hunterwali series of films is back in the news. Select films featuring Fearless Nadia as she was known, were screened at the Kala Ghoda Festival in Mumbai. Her grandson, the late Riyad Vinci Wadia made a documentary Fearless — The Hunterwalli Story (1993).
---