M A I N N E W S
Bathinda gurdwaras beckon beneficiaries to collect atta-dal
Charanjit Bhullar
Tribune News Service
Bathinda, April 15
Gurdwaras in several Bathinda villages are making announcements of a different kind. They are beckoning beneficiaries of the Atta-Dal Scheme to collect ration from the village depots.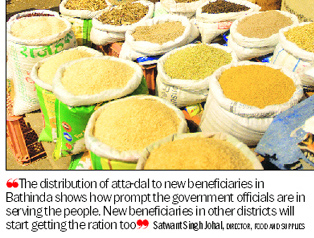 Department officials have been busy not only in Bathinda but also the adjoining Mansa district. The distribution of ration to the new allottees began in Kotguru, Kotshamirand Jassi Baghwali villages on April 8. New card-holders elsewhere are waiting for the scheme to resume after the elections.
Satwant Singh Johal, Director, Food and Supplies, said the Election Commission had allowed the department to distribute a month's ration among the card-holders. "The distribution of atta-dal to new beneficiaries in Bathinda shows how prompt the government officials are in serving the people," he said, claiming that new beneficiaries in other districts would start getting the ration too.
Akali leaders in the Malwa belt believe that atta-dal is the most effective way to woo voters in the rural areas. While SAD leaders see no wrong being done, Opposition leaders allege that the move has been initiated to benefit the CM's daughter-in-law, Harsimrat Kaur Badal. She is pitted against Congress-PPP-CPI candidate Manpreet Singh Badal.
The cards carry the photographs of the CM and his son-in-law Adesh Partap Singh Kairon, who is Food and Supplies Minister. It is believed that the number of new beneficiaries of the food scheme is the highest in Bathinda and Mansa districts. In the past two months, the Punjab Government has included 13.5 lakh families under the new Atta-Dal Scheme. Bathinda district, with about 90,000 new card-holders, has a lion's share. The total number of beneficiaries in the district is 8.13 lakh. Official data reveals that atta-dal was distributed among 1.64 lakh beneficiaries in Bathinda, 1.83 lakh in Mansa and 18,040 in Lambi, Muktsar, all part of the Bathinda parliamentary constituency, till April 14.
Sources said the state government had earlier planned to distribute six months' ration to all beneficiaries in Bathinda and Mansa districts. But the Election Commission objected to the move. The Food and Supplies Department has the target to distribute 20,000 quintals of wheat in Bathinda district before the polling day, the sources say.
On the sly
* The distribution of ration to the new allottees began in Kotguru, Kotshamir and Jassi Baghwali villages on April 8
* While SAD leaders see no wrong being done, Opposition leaders allege that the move has been initiated to benefit the CM's daughter-in-law, Harsimrat Kaur Badal
* The cards carry the photos of the CM and his son-in-law Adesh Partap Singh Kairon, who heads the Food and Supplies portfolio