Water pollution not on poll agenda
Moga, April 15
Environmental issues have largely been ignored in the Lok Sabha election campaign in Punjab at a time when the adverse impact of water pollution on people's health manifests in the significant increase in cancer deaths and incidences of water-borne diseases. None of the mainstream political parties have so far touched the issue in their speeches.


Punjabi singers change their tune
Chandigarh, April 15
Under fire from their fans, popular Punjabi singers Gippy Grewal, Diljit Dosanjh, Harbhajan Mann and Jazzy B have either given an explanation or apologised on their Facebook accounts for appearing in video-tapes to campaign for the ruling SAD. The Tribune had brought the matter to the fore yesterday.
Potholed patch work stuck in blame game
Moga, April 15
A 3-km stretch between Karahewala and Baghelwala villages on the road linking Kot Isse Khan in Moga with Makhu in Ferozepur was dug up for metalling around three years ago. But, the project still lies incomplete even as the residents have been gearing up for the second major election after the 2012 Assembly poll. The potholed patch continues to test the strength of the hundreds of commuters as well as their vehicles.
Badal on Jakhar's turf
Abohar, April 15
Chief Minister Parkash Singh Badal today addressed an election rally in CLP leader Sunil Jakhar's bastion after a gap of seven years. Jakhar, three-time MLA, is in the fray for LS polls from Ferozepur parliamentary constituency.
Why mum on state issues, Capt asks Jaitley
Amritsar, April 15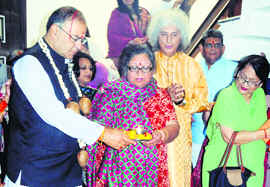 Former Chief Minister and Congress candidate Captain Amarinder Singh today questioned the "silence" of BJP candidate Arun Jaitley on crucial issues concerning Punjab, alleging that he was "trying to evade these issues deliberately". Captain said, "For the last two weeks, we have been reading your monotonous monologues that smack of self-righteousness and arrogance, touching almost everything under the sun, but Punjab."


Arun Jaitley and his wife perform a 'havan' at their new house in Amritsar on Tuesday. Tribune photo: Vishal Kumar

Supporters left high and dry as leaders shift loyalties
Faridkot, April 15
With many leaders shifting loyalties, their supporters are confused as to whom they should support these Lok Sabha elections.Two months ago, septuagenarian Congress stalwart Avtar Singh Brar joined the SAD. He was appointed PRTC Chairman.
Cong poll panel to chalk out action plan today
Chandigarh, April 15
To keep their flock together and to launch a concerted attack on the SAD-BJP alliance, the newly formed Punjab Congress' election campaign committee is scheduled to chalk out its action plan tomorrow. The two panels headed by former CM Rajinder Kaur Bhattal and former PPCC chief Shamsher Singh Dullo has invigorated the strife-torn Punjab Congress with most leaders sinking their differences, at least for the time being.
Surge in demand for poppy husk due to poll
Abohar, April 15
The body of Balkaran Singh (35) was found hanging from a girder inside his bedroom in Chak 8LL village, 5 km from Sriganganagar in Rajasthan, today. His brother Shrawan Singh told the police that Balkaran could not arrange poppy husk for the past four days and might have decided to end his life due to this.
Akali workers 'allow' vendors to encroach upon Faridkot market
Faridkot, April 15
Political leaders are going to any length to woo voters. In Faridkot, when some ruling party leaders "allowed a group of rehriwalas to encroach upon a main market" on Monday, it left the municipal authorities, police and residents shocked. A year ago, after a lot of public outcry, there were magisterial orders and police used force to remove encroachments on Thandi Sadak, a road in the heart of the town.
Will deregulate sand mining: Amarinder
Garshankar, April 15
Congress candidate from Amritsar constituency and former Chief Minister Capt Amarinder Singh today said if the party came to power in the state, it would deregulate sand mining in the state so that sand is easily available to people.
Preneet Kaur, Deepinder spar over Modi
Patiala, April 15
After a series of accusations over issues concerning Patiala, Congress MP Preneet Kaur and her SAD rival Deepinder Dhillon have now started sparring over national topics, mostly surrounding around NDA's prime ministerial candidate Narendra Modi and the Gujarat model of governance.
Poll pot
Protest trouble for SAD-BJP candidates
Muktsar: The troubles for SAD-BJP alliance candidates in Muktsar district are mounting day by day as a number of unions have been opposing them. The district having four assembly constituencies is divided into three parliamentary seats — Ferozepur (Malout, Muktsar); Faridkot (Gidderbaha) and Bathinda (Lambi). SAD-BJP candidate from Faridkot Paramjit Kaur Gulshan was shown black flags in a Faridkot village two days ago by the activists of Khet Mazdoor and Bharti Kisan Union (Ekta Ugrahan).
Candidates' wives enter Sangrur campaign ring
Sangrur, April 15
On campaign trail are the wives and women relatives of nominees for the Sangrur Lok Sabha parliamentary constituency to reach out to women voters. They, along with a small group of women, tour various parts of the constituency seeking votes. The nominees in the fray are SAD's Sukhdev Singh Dhindsa, Congress' Vijay Inder Singla, AAP's Bhagwant Mann and CPI's Sukhdev Sharma.
In affidavit, namesake gives cell no. of Dy CM's cousin
Muktsar, April 15
The ruling SAD leadership may not have been accepting that they have fielded People's Party of Punjab (PPP) chief Manpreet Badal's namesake from Bathinda but the nomination papers filed by the Independent candidate reveal it all.
HC Bar Association seeks NOTA option; elections on April 24
Chandigarh, April 15
About a fortnight before the Punjab and Haryana High Court Bar Association elections, the demand for including "None Of The Above" (NOTA) option in the ballot papers is being heard loud and clear.
Senior AAP leaders asked to canvass in state
Chandigarh, April 15
Encouraged by the people's response to his three-day roadshow in Punjab, Aam Aadmi Party (AAP) convener Arvind Kejriwal has directed senior party leaders to rush to the state to further boost the campaign of the party candidates.
Cong: Weird way to respect Ghadarites
Chandigarh, April 15
The Punjab Congress today hit out at the SAD-BJP government for allegedly insulting the martyrs and denigrating the freedom movement by allowing the branding of liquor marketed by a particular company as 'Ghadar Special'. In a statement, party general secretary, Rajanbir Singh, said the state government was allowing such names "only to earn more excise through an increased sale of liquor".
Cong leader Libra joins Akali Dal
Amloh, April 15
Congress leader and chairman of the Punjab Pradesh Congress Committee (PPCC) transport cell Amrinder Singh Libra today joined the SAD with hundreds of supporters at a rally here this evening. Son of late MLA Kripal Singh Libra, he had joined the Congress when Capt Amarinder Singh was Chief Minister.
Sukhbir : Sand crisis only a Cong hype
Khanna, April 15
Deputy Chief Minister Sukhbir Badal here today claimed that there was no sand issue in the state, and that it was only a Congress creation. The SAD president was replying to a recent statement by Congress leader Capt Amarinder Singh that the Congress would, once in power in the state, decontrol sand prices.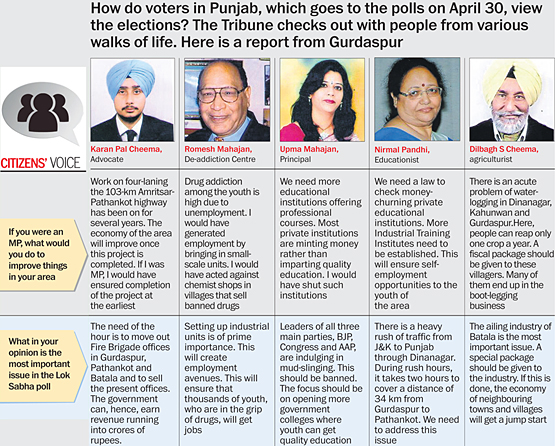 SAD: Bhattal patronised militants
Ropar, April 15
Akali leaders have criticised Congress leader Rajinder Kaur Bhattal for using unparliamentary language for SAD candidate Prem Singh Chandumajra. Karnail Singh Panjoli, SAD vice-president, at a press conference here today, alleged that several scams had occurred during Bhattal's tenure as CM. He alleged that she had embezzled Rs 20 lakh from the Chief Minister's Relief Fund and had to face a long court trial.


Army celebrates war veteran's 100th birthday
Jalandhar April 15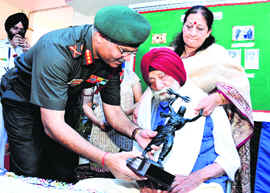 At 100 years of age, veteran war hero Major (retd) Kashmira Singh may not be as agile as he was during his service in the Indian Army, but he definitely is lively. In a rare gesture, the General Officer Commanding (GOC) of the Vajra Corps along with his team went to Major Singh's house in Model Town here today to celebrate his 100th birthday today. Lt General Ashwini Kumar Bakshi, GOC, and senior officers of the Vajra Corps presented Major Singh him a memento.


Felicitation: Vajra Corps GOC Lt General Ashwini Kumar Bakshi honours Major (retd) Kashmira Singh on his 100th birthday at his home in Jalandhar on Tuesday. Tribune photo
PU reschedules examinations
Chandigarh, April 15
Panjab University (PU) has rescheduled examinations of undergraduate classes. The datesheet has been uploaded on the PU website. The sociology paper-A and chemistry paper-V for B Sc (microbial and food technology) will be held on May 29, and paper-A of BA and B Sc second year will held on May 3.
Naming alcohol brand after Ghadar flayed
Jalandhar, April 15
The Desh Bhagat Yadgar Hall Committee today condemned the Punjab Government's move to name a brandy "Ghadar Special". Raghubir Kaur, general secretary of the committee, said the government approval was an insult to the martyrs of Ghadar Movement. "The name 'Ghadar' has a connection with the Indian freedom struggle and therefore it hurts our feeling," she said.


Charges framed against Chahal in assets case
Patiala, April 15
A local court today framed charges against BIS Chahal, former media adviser of Capt Amarinder Singh, and his family members in a disproportionate assets case registered six years ago. The court will now put up the case for evidence. The move came as a setback for Chahal as he had become active in politics ever since Capt's candidature from Amritsar was announced.

Gangster, accomplice held for threatening jail official
Amritsar, April 15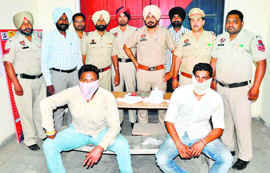 A notorious gangster, Jagtar Singh alias Boxer, and his accomplice were arrested today on the charge of threatening the Amritsar Jail Superintendent on phone. Jagtar is a proclaimed offender in several cases. The police have seized Rs 3.86 lakh in cash, a 315 bore pistol, two cartridges and 500 gram of intoxicant powder from the two.
In police custody: Gangster Jagtar Singh (left) and his accomplice Gurjit Singh in Amritsar on Tuesday. Tribune photo