Demand for ED probe into 'foreign accounts'
Amritsar, April 11
The BJP has given a representation to Deputy Commissioner-cum-District Electoral Officer Ravi Bhagat regarding the alleged foreign bank accounts of Congress leader Capt Amarinder Singh's wife and son. The party has sought a probe into it by the Enforcement Directorate. Sources said Bhagat had forwarded the request made by the BJP to the Chief Electoral Officer, Punjab.
Phoolka alleges hawala conspiracy
Ludhiana, April 11
Aam Aadmi Party (AAP) candidate from Ludhiana HS Phoolka has demanded a CBI inquiry into the alleged conspiracy to implicate him in a "hawala" scandal.
Jaitley will hold key ministry in NDA Govt, says Sukhbir
Amritsar, April 11

Former District Youth Congress president and ex-councillor Navdeep Singh Goldy joined the SAD in the presence of Deputy CM Sukhbir Singh Badal and BJP candidate Arun Jaitley here this evening.



From right: Deputy CM Sukhbir Badal, BJP leader Arun Jaitley and Navdeep Goldy in Amritsar on Friday. Photo: Vishal Kumar
Kejri's visit boosts Chhotepur's campaign
Gurdaspur, April 11
Arvind Kejriwal, AAP convener, arrived to a tumultuous welcome in the Gurdaspur parliamentary constituency this evening.
SAD's Delhi cadre reaches state to campaign, to focus on 4 seats
Jalandhar, April 11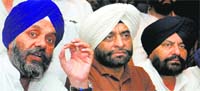 A day after the voting in Delhi, the SAD's Delhi unit led by its president Manjit Singh GK reached Punjab today to canvass for the SAD-BJP candidates.


DSGMC president Manjit Singh GK (left) talking to the media in Jalandhar on Friday. Tribune Photo: Malkiat Singh
Congress followed divide and rule policy: Vasundhara
Abohar, April 11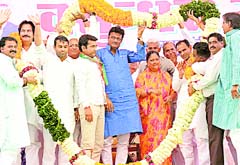 To ensure that the BJP wins the Lok Sabha elections with a record margin, Rajasthan Chief Minister Vasundhara Raje intensified the campaign by addressing two rallies in Sriganganagar today.






Rajasthan Chief Minister Vasundhara Raje at a rally in Sriganganagar on Friday. Tribune photo
Act against CM, Cong tells EC
Chandigarh, April 11
Accusing Chief Minister Parkash Singh Badal of "corrupting and polluting" the electoral system by openly seeking money from industrialists for SAD-BJP's Jalandhar candidate, the PPCC has urged the Chief Election Commissioner to take action against the Chief Minister to ensure fair elections.
Complaint against Preneet for concealing info on bank accounts
Patiala, April 11


Akali candidate Deepinder Singh Dhillon has approached the Election Commission against his rival, Congress candidate Preneet Kaur, for "concealing" information about her foreign bank accounts. Preneet has denied the allegation as "baseless and far from the truth."
Officers on poll duty, admn work takes a hit
Jalandhar, April 11
Call it a paucity of staff or aftermath of hurriedly made pre-election reshuffles, there are certain lapses in the administrative set-up which have been overlooked and are resulting in inconvenience to the public. With election duties binding the officers to their designated headquarters, many officers are not able to perform multiple duties vested with them.
Migrant labourers give voting a miss
Fatehgarh Sahib, April 11
The Chief Election Commissioner (CEC) of India may have failed to persuade migrant labourers to vote in the Lok Sabha election. The CEC has been running an intensive campaign, urging the people to vote.
PSPCL chief faces complaint for going 'soft' on power theft
Patiala, April 11
Punjab State Power Corporation Limited (PSPCL) is under the scanner for its alleged failure to cross-check meter reading and billing of domestic consumers "in politically sensitive areas".
At 106, Pakhar Ram to vote 16th time
Mahisampur (Jalandhar), April 11
At 106 years of age, Pakhar Ram of Mahisampur village in Jalandhar district is said to be India's "oldest" voter. Although he is "not happy" with the performance of various state governments since 1951, he is all set to cast his vote for the record 16th time in the Lok Sabha elections on April 30.
Labourers protest as admn digs up their plots
Sangrur, April 11
Several labourers of Chathe Sekhwan village (near Sunam) are up in arms against the administration for digging up plots that were allotted to them around 40 years ago. Their indefinite dharna outside the district administrative complex (DAC) entered its second day today.
Development in schools hit as panels not formed
Mohali, April 11
The developmental works in government schools across the state will get delayed as the school management committees (SMC) could not be formed due to the model code of conduct.


US House passes resolution to commemorate Baisakhi
Sacramento, California, April 11

American Gurdwara Parbandhak Committee (AGPC) today thanked the American Sikh Congressional Caucus as the United States' House of Representatives passed a special resolution to commemorate the festival of Baisakhi.


(From left) Harpreet Sandhu, Congressman Valadao, Congresswoman Chu, Congressman Garamendi and Pritpal Singh hold a copy of the resolution outside the US Capitol. Tribune photo

Legislation for religious workers introduced in US
Washington, Apr 11
Aimed at facilitating the immigration of religious workers, including those of Hindu and Sikh faith, a US lawmaker has introduced a legislation in the House of Representatives. Introduced yesterday by Congressman Mike Honda, the Freedom of Faith Act (HR 4460), will make permanent the special immigrant provision for non-minister religious workers. The current religious workers programme is set to expire in 2015. When passed by the Congress, the Act would cover religious workers, who provide a variety of services, such as translating for Korean Presbyterian churches, singing as cantors in Jewish temples, delivering sermons as mullahs (clerics) in Muslim mosques, and helping with Hindu pujas during Dussehra, Naimittika, Shivaratri, and Sikh ceremonies such as Akhandpath.


Couple booked for extortion
Sangrur, April 11
The police have booked a couple on the charge of extorting money from a man, whose naked pictures they threatened to upload on the Internet.