AAP's Jasraj overcomes hiccups to file papers
Bathinda, April 9
Electoral battle for the Bathinda Lok Sabha seat took an interesting turn with AAP candidate Jassi Jasraj managing to file his nomination in the nick of time.
Cong alleges violation of poll code
Faridkot, April 9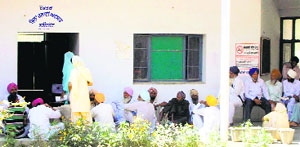 The distribution of Shagun Scheme cheques to over 100 beneficiaries in Faridkot today led to a complaint by the Congress accusing the state government of violating the model code of conduct for elections.
Shagun Scheme cheques being distributed in Faridkot on Wednesday. Tribune photo


the tribune special
Badal's friendly gesture costs state Rs 25 lakh a year
Killianwali (Muktsar), April 9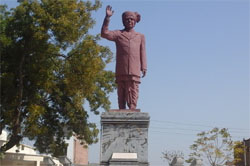 The memorial for former Deputy Prime Minister Chaudhary Devi Lal at Chief Minister Parkash Singh Badal's home-turf has become a liability for the cash-strapped state. This gesture of the Chief Minister costs the state around Rs 25 lakh annually. Badal, who is close to Haryana's Chautala family, had in July 2001 ordered that the state powercom's office be demolished so the memorial could be built. Norms were thrown to the wind to raise it on a six kanal, 12 marla plot.
Chaudhary Devi Lal's memorial in Muktsar. Tribune photo

Remark on INLD's Dushyant has CM on back foot
Patran, April 9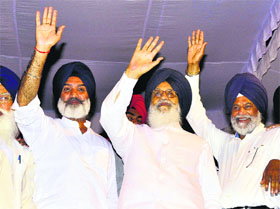 A day after he announced a post-poll alliance between the INLD and the BJP, and publicly promised a Cabinet berth for Devi Lal's great grandson, Dushyant Chautala, Chief Minister Parkash Singh Badal today backtracked and said he was "no one to decide on Cabinet berths and such political tie-ups". He clarified that his remarks in the Sirsa rally yesterday were only to boost the electorate.

CM Parkash Singh Badal with SAD candidate Deepinder Dhillon (left) in Patiala on Wednesday. Tribune photo: Rajesh Sachar

Battle for Patiala: Badal addresses 3 rallies in a day
Patiala, April 9
The SAD is going strong in Punjab and with Waheguru's blessings and we will continue with the good work to ensure NDA government, said Chief Minister Parkash Singh Badal in Punjabi as he readied himself to address a rally in Patiala in support of SAD-BJP candidate Deepinder Dhillon.
AAP numbers growing steadily
Amritsar, April 9

The anti-government sentiment among the voters is running high. But fearing a backlash, the people are hesitant to criticise the establishment. Interacting with voters on the streets, inside their homes and over lunch in dhabas, The Tribune team found that Aam Aadmi Party (AAP) supporters are on the rise. And this is bound to impact the election outcome in the state.
AAP candidate HS Phoolka campaigns in Ludhiana on Wednesday. Tribune photo: Himanshu Mahajan

Approached by BJP leaders, Salaria Ravi Dhaliwal
Gurdaspur, April 9
Industrialist Swaran Salaria, who had said he would contest the Gurdaspur parliamentary seat as an Independent, today succumbed to party pressure and will not be in the fray.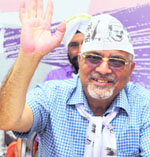 Kejriwal to give Patiala a miss; Gandhi unfazed
Patiala, April 9
In a setback for Aam Aadmi Party candidate Dr Dharamvir Gandhi, party supremo Arvind Kejriwal will not be visiting Patiala for campaigning. Earlier, the state leadership and local AAP leaders had claimed that Kejriwal would address rallies at Patiala, Rajpura and Samana.


Dr Dharamvir Gandhi, AAP's Patiala candidate

BJP resorting to economic fascism: Amarinder
Amritsar, April 9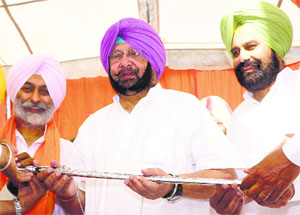 Claiming that after preaching "theo-fascism", the BJP was now resorting to "economic fascism", Congress candidate Capt Amarinder Singh today asked his BJP rival Arun Jaitley to explain how FDI in retail would hit the domestic retailer. In a statement today, he said: "Jaitley is so self-contradictory that on the one hand he welcomes FDI and at the same time, he opposes it in the retail sector. You can't practise partial-liberalism.

Capt Amarinder Singh being felicitated in Rajasansi on Wednesday. Tribune photo: Vishal Kumar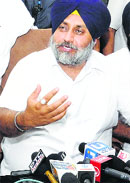 Work for BJP's win in Delhi: Sukhbir
New Delhi, April 9
Deputy Chief Minister Sukhbir Badal today asked party workers to work wholeheartedly to ensure the victory of BJP candidates in Delhi. Presiding over a meeting of party workers here today, Sukhbir said all issues pertaining to the people of Delhi, the Sikhs and Punjabis would be resolved on a priority if a Narendra Modi-led government came to power at the Centre.
Deputy CM Sukhbir Badal at a press conference in New Delhi on Wednesday. Tribune photo: Mukesh Aggarwal

Notice to state
Chandigarh, April 9
Taking note of the alleged plight of Pakistani prisoners in Amritsar's "transit camp", the Punjab and Haryana High Court today asked the State of Punjab to file an affidavit on the inadequacies.
Cong, BJP woo border area voters
Amritsar, April 9

Arun Jaitley, BJP candidate, and his Congress rival Capt Amarinder Singh today wooed voters in the border belt, promising adequate development in the area and compensation to farmers who own land across the border fence. Both addressed a series of meetings in the Attari and Rajasansi Assembly segments.
BJP leader Arun Jaitley (right) canvasses with party leaders in Amritsar on Wednesday. A Tribune photograph

Sonia may campaign for Ambika Soni
Ropar, April 9
Congress president and UPA chairperson is likely to address a rally at Ropar in favour of Ambika Soni, party candidate for Anandpur Sahib.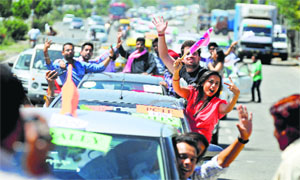 message on wheels: Students take out a car rally to create awareness about the importance of voting, in Ludhiana on Wednesday. Nearly 200 students registered their cars for the rally that went across the city to spread the message. Tribune Photo: Himanshu Mahajan
Over 30 per cent of food grain stored unscientifically: ASSOCHAM study
Chandigarh, April 9
More than 30 per cent of food grain procured by government agencies is stored in an unprofessional manner owing to lack of about 35 million tonnes (MT) storage space in warehouses. These are the findings of a recently concluded study by ASSOCHAM and Yes Bank.
Bogus votes case: Joshi, kin fail to appear in court
Amritsar, April 9
Local Bodies Minister Anil Joshi and his family failed to appear before the local court in connection with a criminal complaint filed in the dual vote controversy, the hearing for which was scheduled for today.
Won't go abroad again: Hoshiarpur youth
Hoshiarpur, April 9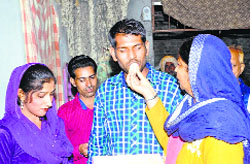 Jagjit Singh, who returned from Riyadh last night, vowed never to go abroad again today. His parents were relieved to see him at their house in Gokul Nagar in Hoshiarpur. The traumatised Jagjit advised the people gathered at his house never to go abroad and to instead try and find employment here. "The five months in Riyadh were a nightmare. I now want to start my life afresh," he said.


Jagjit Singh with his family at his house in Hoshiarpur on Tuesday. A Tribune photograph

Proceedings against SSP to be dropped, govt tells court
Chandigarh, April 9
Nearly a year after a youth was shot when the police opened fire to disburse a protesting mob in Gurdaspur, the state government has decided to drop proceedings against Gurdaspur's then SSP Varinderpal Singh and then DSP Manpreet Singh.
Sampla accused of illegally occupying NRI's house
Jalandhar, April 9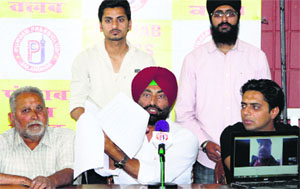 Relatives of an NRI, Vijay Kumar Tanday, have accused BJP candidate from Hoshiarpur Vijay Sampla of illegally occupying Tanday's house for over a year. Addressing a press conference along with PPCC spokesperson Sukhpal Khaira, Tanday's uncle Bakshi Ram said house number 115, Shalimar Nagar, Hoshiarpur, was owned by Tanday. Sampla has been operating from this house since he shifted his base to Hoshiarpur.

PPCC spokesperson Sukhpal Khaira addresses mediapersons and demands action against BJP candidate Vijay Sampla in Jalandhar on Wednesday. Tribune photo: Sarabjit Singh

Teachers' unions to hold meet to decide on voting
Bathinda, April 9
The teachers' unions in Bathinda said they would soon hold a meeting to decide whom they should vote for. These unions, which have held many protests, are considered to be one of the strongest pressure groups.
Work on Fazilka court complex begins
Fazilka, April 9
The work on the construction of the District Court Complex at Fazilka started today. Its foundation stone was laid on December 8, 2012, by the then Chief Justice of Punjab and Haryana High Court, AK Sirki.
Oak Creek shooting: US Sikhs to honour cop
Washington, April 9
Sikhs will honour US police officer Brian Murphy, who was struck with 12 bullets during the August 5, 2012, shooting at the Sikh gurdwara in Wisconsin, in Washington on Baisakhi (April 13).
Inmates attack jail officer
Ropar, April 9
Two brothers, serving life term for three murders in a local jail, attacked an Assistant Superintendent of Police (jail), injuring him seriously here yesterday evening. The injured jail official, Darshan Singh, was admitted to local civil hospital with injuries in the neck and the eyes.
Gang of car thieves busted, three held
Fatehgarh Sahib, April 9
The local police have busted a gang of car thieves with the arrest of three persons and seized two cars and a pistol from them.