Poll pot
SAD: It's electoral fraud by Manpreet
Chandigarh: The Shiromani Akali Dal (SAD) alleged that the People's Party of Punjab president, Manpreet Singh Badal, had filed his nomination papers on the Congress symbol (hand) and had committed an electoral fraud. It asked Manpreet to clarify if he had merged his party with the Congress. "As per the law, without a merger of two parties, how can the president of a political party get the membership of another party, which is a pre-requisite to getting a symbol of that party," the SAD asked. Dr Daljit Singh Cheema, SAD secretary said Manpreet's decision to contest on the Congress symbol had come as no surprise as it was clear from the beginning that he was only a 'B' team of the Congress.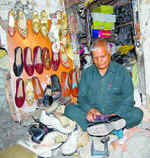 Cobbler files papers for his 18th election
Hoshiarpur: A cobbler, Om Prakash Jakhu, on Saturday filed his nomination papers from this parliamentary seat. He said: "If a chaiwala can contest to become the Prime Minister of the country, why can't I become an MP. I promise to give an LPG cylinder free of cost to every household each month." Jakhu said he would go door to door to seek votes. Jakhu has so far contested 17 elections. Earlier, he had been a candidate of the BSP and also of Ram Vilas Paswan's Lok Jana Shatki Party.
Jalandhar Congress candidate gets support
Jalandhar: PPCC general secretary Satnam Singh Kainth on Saturday went to the Jalandhar Congress candidate Chaudhary Santokh Singh's house to announce that issues between the two stood were settled. The U-turn came a day after he openly shared his grouse against Chaudhary and expressed his desire to quit as in charge of Adampur Assembly segment.
SAD, Cong hold rallies in same villages
Gidderbaha: The Gidderbaha assembly segment on Saturday virtually turned into a battleground with leaders of both the SAD and the Congress campaigning in same villages, apart from Gidderbaha town. Gidderbaha is part of Faridkot parliamentary constituency, where the SAD has fielded its sitting MP Paramjit Kaur Gulshan and the Congress has allotted ticket to its sitting Jaito MLA Joginder Singh Panjgraian. Leaders of both the parties held public meetings in Madhir, Buttar Bakhua, Kotbhai, Sahib Chand, Chottian, Bharu, Daula, Peori and Husnar villages and Gidderbaha town. Though they did not see each other in the eye in any village as there was some gap in the timing, they hit out at each other in their speeches.
Realtors threaten to oppose SAD candidates
Fatehgarh Sahib: The Colonisers and Property Dealer's Association on Saturday threatened to oppose candidates of the ruling alliance in view of a ban on the registration of land deals. Jagdeep Singh, district president, said the government had banned registration of land deals even in colonies where the developers had deposited 25 per cent regularisation fee. He said if the ban was not lifted, it would ruin the real estate business. He said they had been facing a recession for two years and were in dire straits since at that time they had deposited regularisation fee by borrowing money from various quarters.
Akalis shelved crucial project: Preneet

Rajpura: Union Minister of State for External Affairs Preneet Kaur on Saturday accused the SAD-BJP government of shelving a crucial anti-flood project. "When the Congress was in power in Punjab, we had spent crores on the embankment of the Ghaggar, its cleaning and deepening. The floods were checked to quite an extent. But as soon as the SAD-BJP alliance came to power, they shelved the project," she alleged.
AAP nominee takes bus ride to file papers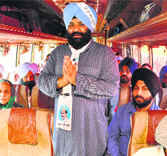 Ropar: Aam Aadmi Party candidate Himmat Singh Shergill and an Independent, Davinder Kumar Verma, filed their nomination papers for Anandpur Sahib constituency in Ropar on Saturday. The total number of candidates who have filed papers from the constituency has reached four, including Balbir Singh Jadla (CPM)and KS Makhan (BSP). Shergill, a Chandigarh-based advocate, reached Ropar with his supporters in a bus from Mohali. Shergill has been fighting the legal battle for the rights of Sikh farmers in Gujarat.

Himmat Shergill (AAP) on his way to Ropar to file nomination papers, in Mohali on Saturday. Tribune photo: parvesh chauhan