West Delhi candidates on their toes to woo voters
Syed Ali Ahmed
Tribune News Service
New Delhi, April 5
Playing the honesty card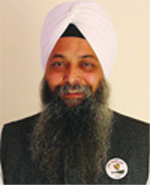 Candidates of all the political parties have intensified their campaigning in Delhi as only four days are left for the Lok Sabha elections. The candidates are devoting 17-20 hours every day in road shows, meeting people door-to-door and organising corner and public meetings.
In the West Delhi Lok Sabha constituency AAP leader Jarnail Singh, who is a journalist turned politician, starts his campaigning from 6 am and ends about 10 pm. A cavalcade of vehicles, with a party song - "Insan ko insane se ho bhai chara", a few patriotic songs - moves from posh localities to slum clusters and JJ colonies.
During road show, AAP activists distribute caps written with "main hoon Aam, hamen chahiye swaraj" that attracts children in colonies.
Moving in an open jeep with his supporters he appeals to the people to vote for the party. He also gives a pamphlet as declaration of his party that Jarnail is an honest man. The pamphlet also appeals to people if any case is registered against the AAP candidate, kindly inform the office, his candidature will be cancelled.
Wooing Jat, Sikh voters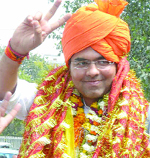 BJP candidate Parvesh Verma, son of former Chief Minister of Delhi late Sahib Singh Verma, is concentrating on door-to-door meeting along with a strong team of party workers, including municipal councillors and MLAs. He campaigns strategically in Jat dominated areas, in colonies where the Sikh community is in majority, slums and other localities. Being a Jat leader he is being welcomed in villages. In white kurta payajam with party's ribbon that has printed lotus flowers, he contacts Sikhs along with the Shiromani Akali Dal (SAD) leaders. The SAD is in power in Delhi Sikh Gurdwara Management Committee.
Verma, who is a BJP MLA from the Mehrauli Assembly constituency, starts his campaigning at 7 am and ends after 10 pm in which a number vehicles with party workers moves along with him. With a smile on his face, Parvesh appeals to electorates to make him emerging victorious. Today he did road show in an open jeep in Uttam Nagar, Vikaspuri, Hari Nagar.
He visited door-to-door in Nand Vihar, Om Vihar, Nawada and Bhagwati Garden. While talking to voters he mentions the development work done by his late father to take their sympathy.
Turning over every stone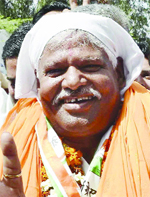 Mahabal Mishra, sitting MP from West Delhi, is not leaving any stone unturned during his election campaigning. In a big company of the Congress Party workers Mishra visit door-to-door. In the colonies where Poorvanchalis are in majority he asks vote in the name of their leader. He claimed to be the leader of Poorvanchalis in Delhi. In the last election poorvanchali voters supported him blindly. Besides poorvachalis, he does road show in villages, in Punjabi dominated areas. He asks for vote in the name of development done in the area. Mishra, who is senior in age than the AAP and BJP candidates, also devotes 15-17 hours every day. During his road show the party workers chant the slogans of the Congress party.
In a public meeting and road show Mishra took Sikh leaders, who have the Congress Party leaning, along with him. He asked the Sikh community electorates to vote for him as he helped them in getting the citizenship to Sikhs who migrated from Afghanistan. He said that he had worked other issues of sangat in West Delhi.
He took a round of Dwarka, Janakpuri, Matiala, Uttam Nagar, Vikaspuri, Tilak Nagar, Madipur and Rajouri Garden.