Badal's skills at work to quell dissidence
Chandigarh, April 6
Initially faced with widespread dissidence over ticket allotment for the Lok Sabha elections, the Shiromani Akali Dal (SAD) seems to have managed to silence all dissenting voices within the party.



Told to fall in line or quit
Chandumajra holds meeting in gurdwara
Ropar, April 6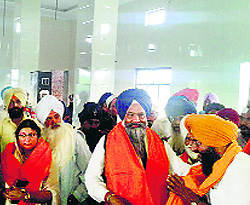 Even as the controversy over SAD political conference at Hola Mohalla is yet to settle down, the party candidate from Anandpur Sahib Prem Singh Chandumajra allegedly violated the code of conduct by holding an election meeting at a gurdwara in Chaunta village near here today.




SAD candidate from Anandpur Sahib Prem Singh Chandumajra with his supporters inside the gurdwara hall in Chaunta village near Ropar on Sunday. A Tribune photograph

BJP's Salaria to contest as Independent
Gurdaspur, April 6
Raising a banner of revolt, BJP leader Swaran Salaria today decided to contest the Gurdaspur seat as an Independent. He said he would file his nomination papers on April 9, the day when official BJP nominee Vinod Khanna is scheduled to file his papers.
Former Mayor stays away from Preneet's rally
Patiala, April 6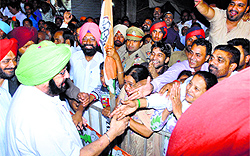 The first election rally addressed by Capt Amarinder Singh in support of his wife Preneet Kaur today revealed the deep fissures within the local Congress. Disgruntled party leaders stayed away from the rally.



Capt Amarinder Singh meets party workers during an election rally in support of his wife Preneet Kaur in Patiala on Sunday. Tribune photo: Rajesh Sachar

PPCC president dares CM for debate on central funds
Gurdaspur, April 6
Debunking criticism of the UPA Government on the issue of assistance to the state, PPCC chief and Gurdaspur candidate Partap Bajwa today challenged Chief Minister Parkash Singh Badal to a debate.
Kaka, Kiki, Kuku… nicknames catch leaders' fancy
Muktsar, April 6
Lally, Kaka, Kiki, Kuku, Tikku, Teenu, Nannu... These are not children studying in some village school but the nicknames of Punjab's politicians.



Punjab's who's who

Jaitley to skip manifesto release
Amritsar, April 6
Arun Jaitley, BJP candidate from Amritsar, has chosen not to attend the party's manifesto release in New Delhi tomorrow.


Dismissing the SAD-BJP claim of a Modi wave in Punjab, Congress MP and candidate from the Ludhiana Lok Sabha seat Ravneet Singh Bittu today said that local issues would dominate the poll in Punjab.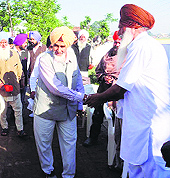 AAP may eat into Cong votes in Gurdaspur
Gurdaspur, April 6
Aam Aadmi Party workers in the Gurdaspur parliamentary seat are preparing for party convener Arvind Kejriwal's visit to the constituency on April 11. The visit is being planned by senior Supreme Court advocate and party candidate from Ludhiana HS Phoolka.




AAP candidate ss chhotepur campaigns in Gurdaspur
Corrupt netas in league with bureaucrats: Bains
Ludhiana, April 6


Simarjit Singh Bains, contesting as an Independent from the Ludhiana Lok Sabha constituency, today said the nexus between corrupt politicians and bureaucrats must be broken if change was to be brought about. He was answering questions by Mahasabha Ludhiana, an NGO.


Simarjit Singh Bains addresses a gathering in Ludhiana on Sunday.
SAD-BJP terrorising voters: Dharamvir
Patiala, April 6 Accusing the SAD-BJP alliance of terrorising voters in villages, AAP candidate Dr Dharamvir Gandhi said yesterday that a large section of people in the state were unhappy with successive Congress and SAD governments and were determined to vote for the fledgling AAP.
BJP's Hoshiarpur unit stands united during Vijay Sampla's roadshow
Hoshiarpur, April 6

Setting aside differences, leaders of the BJP's faction-ridden district unit were present during party's Hoshiarpur nominee Vijay Sampla's roadshow here yesterday. Rajya Sabha MP Avinash Rai Khanna and Chief Minister's adviser Tikshan Sud, leaders of the two factions, were by Sampla's side to boost his campaign.


Rajya Sabha MP Avinash Rai Khanna and CM's adviser Tikshan Sud share the vehicle with
BJP nominee Vijay Sampla in Hoshiarpur on Saturday. A Tribune photograph

CPM-Punjab, CPI (ML) name candidates
Jalandhar, April 6
The CPM (Punjab) and CPI (M-L) would jointly contest the parliamentary election in Punjab.
Bhakra canal bridge collapses in Anandpur Sahib
Ropar, April 6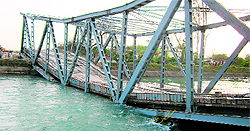 A Bhakra canal bridge on Naina Devi Road at Lamlehri village in Anandpur Sahib collapsed today. The bridge was under construction and its 70-metre-long slab of steel structure was cast merely 10 days ago.



The collapsed bridge on a Bhakra canal in Anandpur Sahib on Sunday. A Tribune photograph

Undertrial gives cops the slip in Fazilka
Fazilka, April 6
Kulwant Singh (21), an undertrial in a rape case, escaped from Fazilka Sub-Jail on Saturday. Kulwant of Ghubaya village had been booked for allegedly abducting and raping a minor girl on November 17, 2013.
38 years on, justice eludes woman left by NRI husband
Hoshairpur, April 6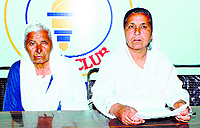 The 38 years of legal battle for justice has not drained Bakhshish Kaur (74), who was deserted by her NRI husband after giving birth to a girl, and her daughter Kuldeep Kaur.




Bakhshish Kaur (left) and her daughter Kuldeep Kaur at a press meet in Hoshiarpur. A Tribune photograph

Executive's failure triggers judicial activism, says former SC judge
Faridkot, April 6
Justice GS Singhvi, who recently retired as a judge of the Supreme Court, said the judiciary was not guilty of overreach as it was merely "discharging its constitutional duty".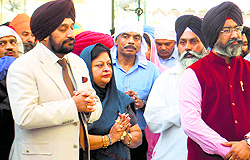 seeking blessings: General Bikram Singh (left), Chief of Army Staff, pays obeisance at the Golden Temple in Amritsar on Sunday. A Tribune photograph

Web of information on Punjab
Ludhiana, April 6
To preserve the state's heritage and literature, old manuscripts, documents, drawings and pictures related to Punjab are being digitised. The relevant information is being uploaded to provide online access to rare writings on Punjab.
Powerful bomb found in Fazilka village
Fazilka, April 6
Tension gripped Pakka Chisti village, as the panchayat members recovered a powerful live bomb, while levelling panchayat land near the barbed wire fencing. Soon the panchayat members informed the BSF and the Army authorities. The bomb was first noticed near the Sadiqi Border Outpost (BOP) on Saturday evening. Surender Tokas, Commandant 90 Battalion of BSF, said, "We have recovered a huge bomb that is 5 feet long, has a circumference of four-and-a-half feet and weighs around 30 quintals."
Bomb found near rail track
Abohar, April 6
An old bomb was found near the rail track in Suratgarh segment of Sriganganagar in Rajasthan today.
Farmers 'damaged' canal valves to draw more water
Abohar, April 6
A team led by Central Water Commission Director HK Meena inspected Gang (Bikaner) canal near Khuikhera village on the Abohar-Fazilka today and found pressure-release valves damaged.
Hailstorm, heavy rain lash Sriganganagar
Abohar, April 6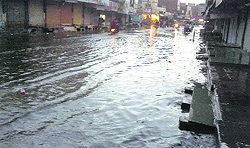 Heavy rain preceded by hailstorm lashed Suratgarh and Srivijaynagar segments of border district Sriganganagar in Rajasthan today evening. All meetings and mass contact programmes of Lok Sabha candidates were cancelled. Locals said most of the markets were closed due to Sunday.


A market in Sriganganagar district of Rajasthan flooded after heavy rain on Sunday. A Tribune photograph

Family files suit against police
Sacramento (California), April 6
The family of Parminder Shergill, an Army veteran, who was shot dead by police officers on January 26, has filed a civil rights lawsuit against the city and the police.

Parminder Shergill
Gang of highway robbers busted
Fatehgarh Sahib, April 6
The Fatehgarh Sahib police has busted a gang of highway robbers and recovered arms and ammunition from them.
Landlord's son mows down farm workers, kills one
Abohar, April 6


A landlord's son in Khatwan village of Balluana segment allegedly ran over a few protesting farm workers yesterday evening. Anant Kumar died on the spot, while his cousin Daleep Kumar was critically injured.


Farm workers protest outside the Abohar Civil Hospital on Sunday. A Tribune photograph

LPG cylinders missing; man, son held
Abohar, April 6
The Sriganganagar police have arrested a man and his soon for failing to produce 43 domestic cylinders, of which they were appointed custodians in 2005.