Gender sensitive men of Indian villages
Men need to be involved if gender equality is to be achieved. They grow up believing that dominant behaviour towards women is part of being a man, which needs to be changed. As head of the community, they are the ones who control access to resources
Usha Rai
Can the violence perpetrated on women and children in the country end by just empowering women? By making them stronger to confront the abuser or, by making our laws more stringent? While all that is necessary, it is equally important to work with men, change their mindset as well as the dominant patriarchal traditions in the country. Only then would women be on the highway to gender equality.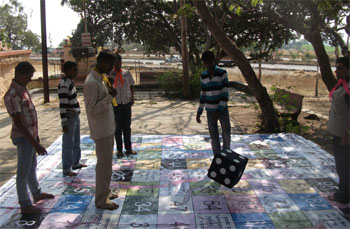 Support women to climb a ladder: Men playing a game of snakes and ladders during a campain launch activity in Pune, Maharashtra.
Gender and development discourses, since the 1990s have sought to establish an alternative perspective on women's empowerment, shifting the emphasis from an approach that is women-centric to one which is more relational and includes men and their role and response to various issues.
In UP, an initiative called MASVAW (Men's Action for Stopping Violence Against Women) was started in 2002 by 'Sahayog'a voluntary organisation, to understand men, their vulnerabilities and anxieties that made them subjugate women in society as well as discriminate against them. It forced men to reflect upon their use and abuse of patriarchal power against women. Through workshops, trainings, community action and then reflection in groups, change was ensured and a cadre of model activists called MASVAW men was created in various parts of UP. These are men who are interested in stopping violence, creating awareness on the sexual and reproductive health of women, promoting education for girls, addressing equal opportunity and property rights for women.
Losing male friends
Men who adapted to the changes have counted several gains, the most significant being they are closer to their wives and children though they lost some male friends. The changing dynamics of men's behaviour to prevent violence and promote gender equality have achieved two goals — improved women's status without significantly compromising the 'masculinity' of men involved.
Even while working in UP, Dr Abhijit Das, a medical doctor and currently Director of Centre for Health and Social Justice (CHSJ), Delhi, and Satish Singh, a school teacher and currently deputy director at CHSJ, came across similar initiatives in Brazil, several African countries and Nepal called Promundo, Engender Health and Save the Children respectively. With the support of the International Centre for Research on Women, US, a collaborative project was initiated with Promundo to replicate MASVAW's experience in three different locations, including new areas in UP. Ten men and 10 youth were trained in 20 villages to form MASVAW-like groups working with the community on violence against women.

Allies of women

In 2002, a small project MASVAW was initiated in UP to understand men, their vulnerabilities and anxieties that make them subjugate women.

Similar initiatives were started in Brazil, several African countries and in Nepal, the project was called Promundo.

Ten men and 10 youth were trained in 20 villages of UP initially to form groups that worked with the community on violence against women.

The success of the programme in UP spread it to 1500 villages in 50 districts of four states -- UP, MP, Maharashtra and Jharkhand, where it is currently going on.

With the support of the Institute for Development Studies, UK, MASVAW experimented with building individuals to challenge gender-stereotypical arrangements in institutions.

With UNFPA support, the programme to improve gender relations has reached its fifth year.
Honour and masculinity
In the process they learnt about 'hegemonic masculinity,' an idea of domination that pervades male thinking. In South Asia's culturally conservative gender regimes, they found that notions of izzat or honour sanctify honour killing, son preference had led to sex selective practises and men whose advances have been spurned by women consider it their right to attack them with acid.
Currently the programme to change male thinking is on in 1500 villages in 50 districts in four states — UP, MP, Maharashtra and Jharkhand. Some excellent research based papers have been published in international journals by Das, Singh and Ahona Roy as the international community re-looks at engaging and changing men.
With support of the Institute for Development Studies, UK, MASVAW also experimented with building individuals to challenge gender-stereotypical arrangements in institutions. Some 10 champions for gender equality were groomed in a five-star hotel, a trade union, a state level political party, a university, a students' union, a few panchayats, a Dalit organisation and a group of transgenders.
With UNFPA support the programme to improve gender relations has been taken to 100 villages in three districts of Maharashtra and is currently in its fifth year. In Madhya Pradesh gender sensitisation work is on in 30 villages.
Empathising partner
In 20 villages of Solapur Distirct, near Sangola town an intervention called Samajhdar Jodidar (Marathi phrase meaning 'understanding partner') was initiated by the NGO 'Astitva' to reduce domestic violence and gender discrimination and increase women's decision-making and autonomy. The project was coordinated by CHSJ. At the end of three years, a study showed substantive improvement in women's status without compromising men's 'masculinities'. However, in two villages of wrestlers, the epitome of masculinity, the project did not get a positive response. The tradition of wrestling had led to hegemonic masculinity with the male identity related to body-building, creating a sense of dominance and gender superiority.
Change makers are people like Mahadev, one of the leaders of the Samajhdar Jodidar project of Solapur district. He comes from the OBC community and lives in a semi-constructed mud house with his wife Lata, his mother, four children of two to nine years and members of his extended family. He cultivates pomegranates on his farm and his wife assists him watering and caring for the plants, picking and selling the fruit at the city market. Though in the drought-like summers, Mahadev has to buy water from tankers, profit is good and is now equally divided between Mahadev and Lata. He values her hard work and is happy to share the profits of farming.
Changing perceptions
He admits that the changes in his perception about gender relations are due to his training and campaigning as a Samajhdar Jodidar. Discussing stories and case studies from the adjoining villages helps men understand the discrimination that women face and they want to create new relationships with those in their lives. Defining gender in a different way forms the basis of the gender equality programmes.
Before the gender workshops, Mahadev admits his behaviour was similar to that of other men in the village. He was aggressive, violent and abused his wife and children and had little interest in domestic affairs. He would return home drunk and physically abuse his wife often coercing her to have sex. Consent was never sought. He also had no interest in the welfare or education of his children.
Equality is infectious
As the 'animator' of his village for the project he was expected to lead the 'gender equality' programme by creating solidarity among other men in the village. Initially Mahadev had to face huge criticism from men, who argued that gender equality and women's empowerment would lead to shame for the village. These men also said if women were empowered, they would not listen to their fathers and husbands and lead independent lives. Despite these challenges, Mahadev went ahead. In the beginning it was Rs 1000 honorarium given to the animator that attracted him. Genuine interest developed slowly because of the kind of issues being discussed. He developed a bond with other 'animators' from nearby villages and they formed an informal group that debated issues related to gender and the prospects and challenges of engaging men in the project.
Today a transformed Mahadev takes his children to school every morning, and plays games with them. He takes his family to visit relatives or to the mela(fair). His relationship with his wife has become cordial and household decisions are taken jointly. The house too is registered in both their names and he has succeeded in encouraging other men and families in his village to do the same.
Community check
A mid-tern review of the project by Manisha Gupta and David Kadam showed that more than half the respondents registered their houses in the joint name of themselves and their spouse. The birth of daughters was celebrated and villagers did not spare those who bullied and harassed girls on their way to school reversing the concept of honour.
In the study done by Das and Roy, Mahadev says that previously he had little information about the reproductive health of women, but the trainings gave him a greater awareness of women's sexual and reproductive health. He feels he now has a better understanding of women's health issues.
Samajdar Jodidar's stories of change called "yes we can" can be seen on Utube. Vilas Dalvi, father of five girls and a son, recounts how he would shout at his daughters and not send them to school. He was tense about getting five girls married. Now a member of the empowered group of men, he does not differentiate between his daughters and his son and the girls have started going to school. "I have changed," he admits.
Dadasa Nathuram ensured that his wife had iron tablets, calcium and milk and ate on time through her pregnancy. He would get her fresh coconuts from the market and spent Rs 170 a week on flavoured milk. He even shared with his wife all the information the doctor gave him on pregnancy. When they had a girl he loved her and would come rushing to pick her up when she cried.
Farmer Atul K Desmukh from Malegaon too is a changed man and a caring father. An atmosphere of friendship prevails in the house because he chats and plays with his daughters of five and eight years. He helps his wife in the housework and now she no longer objects to his help in the kitchen and in filling water. She in turn helps him with farm work.
All these testimonies illustrate ways in which they subvert the conventional system of hegemonic masculinity and turn towards a gender relationship based on equality. It demonstrates the change among men and their perception and use of power in relationships— from violent, abusive and aggressive husbands, to non-violent and collaborative partners, sensitive to the needs of their wives and to the importance of equality within the relationship. It highlights the importance of developing a 'social movement' as mobilised men and young boys participate and take action to address violence against women.
By sharing income with their wives, they acknowledge their labour in the field. Recognising and respecting their contribution creates awareness among other village men, leading to a shared sense of gender(ed) empowerment.

The writer is a well-known environment journalist.