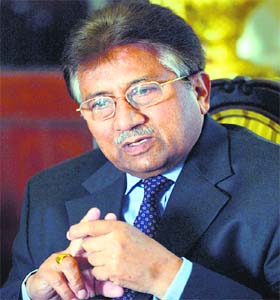 1947: General Pervez Musharraf's family moves to Pakistan when India is portioned. His family gets settled in Karachi.
1949-1956: His father is assigned to Ankara where he spends his early childhood in Turkey.
1964: Musharraf is commissioned second lieutenant in an artillery regiment in the Pakistani Army
1971: Becomes a company commander in a commando battalion during the second war with India.
1991: Gets promotion as major general.
October 7, 1998: Musharraf is appointed chief of army staff with the rank of general.
April 9, 1999: He becomes chairman of the joint chiefs of staff.
October 12, 1999: Musharraf leads a coup against Prime Minister Nawaz Sharif and becomes head of government. He was fired by Sharif after the Pakistani army's failed invade Kargil.
June 20, 2001: Becomes the self-appointed president of Pakistan while remaining the head of the army.
April 30, 2002: A referendum is passed by a huge margin on whether Musharraf will hold office for another five years.
August 2002: Musharraf implements 29 amendments to the constitution, granting himself the power to dissolve parliament and remove the prime minister.
December 15 and 26, 2003: Two assassination attempts held on Musharraf's life.
January 1, 2004: A vote of confidence in is passed in Pakistn parliament. It allows Musharraf to remain in power until 2007. He gains the two-thirds of votes in parliament that he needs by promising to step down as head of the army at the end of 2004.
September 25, 2006: His autobiography, In the Line of Fire, is released.
October 6, 2007: According to an unofficial vote count Musharraf won by a landslide in a presidential election. Many parliamentarians boycotted the vote in both houses.
November 3, 2007: President Musharraf declares a state of emergency in Pakistan. He suspends Pakistan's constitution, postpones January 2008 elections, and imposes restrictions on the media. Government authorities arrest 1,500 people who protest against the emergency.
November 28, 2007: He steps down as leader of army, a day before he is to be sworn in as president.
November 29, 2007: Takes the presidential oath for the third time.
December 15, 2007: The state of emergency is lifted.
February 18, 2008: In parliamentary elections, Musharraf's party, the Pakistan Muslim League-Q, finishes third, behind the PPP and the Pakistan Muslim League-N.
August 18, 2008: He resigns as president.
July 22, 2008: Pakistan Apex Court issues notice that Musharraf is to defend himself on charges of violating the constitution by unlawfully declaring emergency rule on November 3, 2007.
July 31, 2009: The Supreme Court rules that Musharraf violated the constitution on November 3, 2007. The court gives him seven days to appear and defend himself.
August 6, 2009: He refuses to answer the charges against him and flees to the UK.
August 11, 2009: An official announcement says that Musharraf faces arrest if he returns.
March 16, 2010: Opposes U.S. President's plan for U.S. troops to pull out of Afghanistan by July 2011. He believes the troops should fight until the Taliban is defeated.
May 21, 2010: Musharraf announces plans to re-enter Pakistan politics.
October 1, 2010: Launches a new political party, the "All Pakistan Muslim League".
February 12, 2011: An arrest warrant is issued by court, in for his involvement in the assassination of Benazir Bhutto.
May 24, 2011: In an interview to a media house, Musharraf condemns the raid that killed Osama bin Laden in Pakistan. Calls it an act of war.
January 8, 2012: Musharraf pledges to return to his country, despite the authorities threatening to arrest him for the assassination of Benazir Bhutto.
March 16, 2013: Musharraf announces his plans to return to Pakistan to lead his party in the upcoming elections.
March 23, 2013: The Pakistani Taliban says that it will assassinate Musharraf if he returns.
March 24, 2013: Musharraf returns to Pakistan after four years in exile. He is granted bail in advance of his arrival. There are three court cases pending against Musharraf.
April 18, 2013: A Pakistani court rejects Musharraf's request for a bail extension and orders his arrest in a case he is facing over the detention of judges in 2007.
April 20, 2013: Put under house arrest.
March 31, 2014: A Special Court charges Musharraf with high treason: a crime that carries the death penalty or life imprisonment. — Agencies