Students still feel unsafe in Australia
The country continues to be ranked among the favourite top four for the Indian student community. The inconclusiveness of the motives behind the incidents of violence of the past few years continue to raise concerns of security though
Simon Bronitt and Ashutosh Misra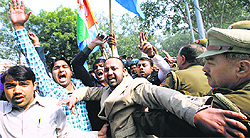 Student organisations in India held protests against the violent attacks on Indian students outside the Australian Embassy in New Delhi in 2009-2010. Tribune file photo: Mukesh Aggarwal

The safety of Indian students in Australia has been a major issue for the Indian government ever since it began to make headlines in the domestic media in 2009-2010. This was preceded by a spate of attacks on Indian students which occurred mainly in New South Wales and Victoria and raised questions on the integrity of the entire international student immigration processes and the experience of the students when they landed in Australia to pursue studies.
There was a range of reasons identified, underpinning students' safety in Australia ranging from dodgy institutions, to lax visa rules for securing enrolment in vocational training institutes which compelled many students to live in unsafe localities to subsidise their living and work at odd hours to earn their pocket expenses. With subsequent tightening of the visa rules and crackdown on the dubious institutions and students immigration agents on both ends, the number of Indian students interested in pursuing higher degree programmes in universities has now surged to over 4,000 in 2013, marking a 7.3 per cent increase in visa lodgments from previous years.
Rising concern
Although the overall experience of the majority of international students in Australia remains very positive, the recent attacks on some international students in Australia have again raised concerns among not only the international students' community but also the Australian Commonwealth and state governments, law-enforcement and higher education sectors. The recent tragic murders in Brisbane of three international students, including one from, Griffith University in recent days, has placed the spotlight once more on the safety and security of the international student community. A question must be arising among international students and their families about their specific vulnerability to these crimes, and also what appears to be motivating these heinous crimes – is it random or are these groups being targeted under a pre-meditated plan? Criminal justice research offers some, but not all answers.
Vulnerability and violence
The Australian Institute of Criminology (AIC), the premier national criminal justice research agency, published a study of crimes committed against international students in 2011. Based on reported crime to police, victimisation studies and homicide monitoring data, as well as the data-matching of visa records from the Department of Immigration, the AIC report paints a picture of the scale and profile of crimes of violence (robberies and assaults) against international students in Australia. The impetus for the report stemmed from the series of attacks on Indian students in 2009 and 2010 that had received extensive media coverage in Australia and India and which became the focus of political and diplomatic exchanges between the respective governments.
The report has some reassuring 'take home' messages for international students. First, Australia, compared to other destinations is a relatively safe place for international students, with lower levels of crime targeting them than other popular student destinations, such as the UK and the USA. Homicide is relatively rare in Australia compared with other destinations, and from the AIC's National Homicide Monitoring Program, it appears that of the 'eight Indian students killed since 1990, none involved racial vilification or discrimination'. The profile of the crimes reported in the AIC study also showed that international students were vulnerable to attack at certain times and certain places – often working late in service industries (such as taxi driving and fast food outlets) and they are exposed more frequently to intoxicated clients. These insights from the research allow safety messages for students to be targeted by universities and local police. But the key question, which raised the initial concerns of the Indian students in 2009 was, whether the crimes committed on internationally students were racially motivated?
Ambiguity on racial issue
Sadly, on this critical issue, the AIC study sheds little or no light. The principal reason is that relevant data are simply not available. Why is this so? Policing and government agencies do not collect these data. Victims are not questioned about the racial or ethnic aspects of their victimisation. There are clearly sensitivities on this issue, with the AIC study suggesting 'direct questioning of victims on these matters may intimidate victims from coming forward and therefore reduce reporting'. With respect, we doubt that such a line of questioning would have that impact – indeed, existing crime victimisation studies suggest that 'overseas-born' respondents are more likely than their Australian-born counterparts to report to police when they were the victim of an assault or threat, robbery and theft of personal property.
This reason, we suspect, is likely to be related to consular advice encouraging reporting and/or the insurance obligation to obtain an official police report in order to make a lodge a claim. Indeed, international students do not seem to be reticent in coming forward to police, and would not likely to be deterred if police explain that the purpose of asking questions related to race and ethnicity are important to collect data, and may form part of 'brief of evidence' that might establish a racial motivation for the offence. This may lead the prosecutor to choose a more serious charge or the judge to impose a heavier penalty on the offender.
Delayed response
Perhaps, the most depressing aspect for researchers working in this field is that the failure to collect the data on racial profile of victimisation was highlighted more than two decades ago in the National Inquiry into Racist Violence by the Human Rights and Equal Opportunity Commission (HREOC). The Inquiry, chaired by the distinguished human rights lawyer, Ron Castan, recommended with exceptional foresight, that data from victims on racial motivation must be collected nationally. Like the 2011 study by the AIC, the 1991 HREOC study into racist violence revealed the lack of data collected on the topic, and made the following recommendation: "Data on racially motivated offences should be collected and analysed at a State and Federal level. Both the United States at State and Federal level and the British experience indicate that the collection of such data is feasible and necessary. There are no technical reasons why such data could not be collected by Australian jurisdictions ... The inquiry believes that 'uniform national procedures' for the collection of statistics on racist violence, intimidation and harassment need to be developed ... the collection of such statistics has a number of advantages including the provision of accurate public information and assistance to police managers in developing appropriate strategies to deal with racist violence".
Sadly, the HREOC recommendation was ignored. The collection of such data would inform debates about the changing profile of racial violence against Australians, as well as members of our international student community. Such data would also have important legal purposes. The legal landscape since the 1991 HREOC report has changed significantly – many Australia jurisdictions have new crimes of racial vilification with enhanced penalties for racially motivated crimes. Without gathering these data from victims, the true gravity of racially motivated crimes, which are rarely prosecuted, would not come to light.
Motivation remains elusive
The deficiencies in our state of knowledge about the motivation behind crimes against international students should not detract from the 'take-home' message. As the 1991 HREOC Inquiry concluded "racist violence on the basis of ethnic identity in Australia is nowhere near the level that it is in many countries. Nonetheless it exists at a level that causes concern and it could increase in intensity and extent unless addressed now". This concern is as true now, as it was then. The AIC study has revealed that more research is required to uncover the nature and extent of racism in attacks against international students (being only one subset of a larger ethnic minority living in Australia).
The question that needs addressing is not solely whether international students are attacked more or less than their Australian or overseas counterparts, or the Australian population generally, but to gather qualitative data on whether or not the attacks were racially motivated. This would require researchers to analyse court transcripts to conduct interviews with victims as well as with the key criminal justice professionals (police, prosecutors and judges). Certainly this requires a larger and more challenging study for the AIC, but is absolutely essential in our view. Two decades ago, the holes in our knowledge were identified by HREOC. Two decades on it seems we are still grappling for answers because of gaps in our data. It is clearly time to face the facts!
Facing the facts
Taxi driver's protests: On April 29, 2008, in Melbourne an estimated five hundred Indian taxi drivers protested following the stabbing of a taxi driver. A similar protest was held on May 19, 2008, in Adelaide, where about fifty taxi drivers protested after an assault on an Indian taxi driver. The Victorian Government brought in mandatory safety shields later that year, but this was met with protests because of the costs involved.
Student's protests: In the year 2007-2008, 1,447 Indians had been victims of crime including assaults and robberies in the state of Victoria. However, the statistics reportedly show that Indians were not over represented in the assaults. Victorian police refused to release the data for public scrutiny, the stated reason being that it was "problematic as well as 'subjective and open to interpretation."
2009: An investigation carried out by Indian Government concluded that out of 152 reported assaults against Indian students in Australia that year, 23 such incidents involved "racial overtones". There were 120,913 Indian students enrolled to undertake an Australian qualification in 2009 and India was the second top-source country for Australia's international education industry.
Rallies were organised in Melbourne and Sydney by Indian and other Asian students, and intense media coverage of the perceived hate crimes commenced in India, which were mostly critical of Australia and Victoria Police.
Australian government called for calm as it began an investigation into the crimes. In June 2009, the Victoria Police Chief Commissioner, Simon Overland, stated that some of the crimes were racist in nature, and others were opportunistic.
In response to the issue, Bollywood star Amitabh Bachchan turned down an honorary doctorate from the Queensland University of Technology.
Multiple factors
An Australian Council for Educational Research study found higher education visas for Indian students fell from 34,200 in 2007-08 to 9750 in 2011-12.
Many reasons were attributed; a steep rise in the value of the Australian dollar, attractiveness of relative competitors in Britain and the United States enhanced; a tightening of government regulation of the education and of visa requirements in Australia and reported concerns over safety.
In 2010, Federation of Indian Students in Australia (FISA) stated that 30,000 Indian students left Australia in the past year, and claimed "race attacks" to be one of the major reasons behind the exodus.
Other significant factors include lack of jobs and students could not survive without part- time jobs.
The number of applications for student visas by Indians rose from 4000 in 2011 to 7700 in 2012 but there was a downturn on successful applications.
Simon Bronitt is Director and Ashutosh Misra is Associate Investigator at Centre of Excellence in Policing and Security (CEPS), Griffith University, Australia