(1) Congress candidate Pawan Kumar Bansal at a rally; (2) BJP candidate Kirron Kher canvasses on the last day of campaigning and (3) AAP candidate Gulkirat Kaur Panag went door to door at Sectors 2,3,4,5,6 and 7, urging residents to fight corruption.
Freebie bonanza for colonies, villages
Chandigarh, April 8
From matchboxes carrying currency notes of Rs 1,000 to various brands of liquor, political parties have flooded colonies and villages with "election gifts" to woo voters ahead of polling for the Chandigarh Lok Sabha seat.
As poll din ends, focus shifts to social networking sites
Chandigarh, April 8
With the campaigning for the Lok Sabha elections coming to an end in the city today, candidates, their family members and party workers have now switched over to social networking sites such as Twitter and Facebook in a big way for campaigning. They are also relying on WhatsApp and SMSes to reach out to the voters.
Hit by vehicle, motorcyclist dies in city
Chandigarh, April 8
A 36-year-old man was killed in a road accident after being hit by an unidentified vehicle at the light pint intersecting Sector 31 and the Industrial Area, Phase II, last night.
OPDs closed tomorrow
All OPDs in the PGI will remain closed on April 10 on account of the Lok Sabha elections, a public holiday. Emergency services will, however, function as usual.


Chandigarh votes 2014
Going gets tough for Cong, BJP
Chandigarh, April 8
With the Aam Aadmi Party (AAP) emerging as the deciding factor on the political horizon of the city, it will be tough going for traditional political rivals, the Congress and the BJP.
Money plays a major role in poll
Chandigarh, April 8
While candidates fielded by the national parties have spent lakhs on election campaign, the lesser-known faces who are in the fray, have managed to conclude their poll campaign by restricting their expenditure to less than Rs 1 lakh.
Security stepped up as poll draws near
Chandigarh April 8
The UT police will be on their toes to ensure fair, free and smooth conduct of the elections on April 10.
Country's salvation depends on Modi: Ram Jethmalani
Chandigarh, April 8
"Narendra Modi should be elected the Prime Minister of India as the salvation of the country depends on him," said Supreme Court lawyer Ram Jethmalani while interacting with mediapersons during a session on 'Modi's relevance in today's political scenario'.
P'kula society residents to boycott poll
Panchkula, April 8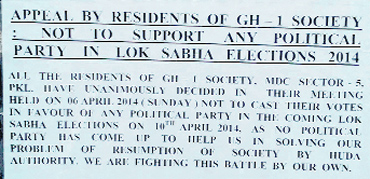 To vent their anger against political parties for not extending a helping hand in their time of need, residents of the Haryana Employees Welfare Organisation (HEWO) Society in Mansa Devi Complex (MDC), which saw an outbreak of typhoid last month, have decided to boycott the ensuing Lok Sabha elections.
A poster urging residents of the GH-1 Society not to support any political party in the Lok Sabha elections, at Sector 5, Panchkula. A Tribune photograph
Mock polling session today
Panchkula, April 8
After three rounds of rehearsals, the election staff will hold a mock polling session at the Mini-secretariat here on Wednesday. The exercise will be conducted in the presence of political agents.
Panchkula gets 2 companies from Gujarat to intensify vigil
Panchkula, April 8
Two companies of the special force of Gujarat Border Wing have arrived here to intensify vigil in the district.
Liquor vends to remain closed in tricity
Panchkula, April 8 In view of elections in Chandigarh and Panchkula, liquor vends in the tricity will remain closed till 6 pm on April 10.
Newly dug 25-foot-long tunnel found near Kauna village
Pinjore, April 8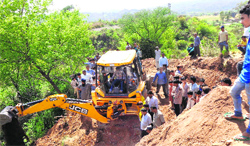 Panic gripped the residents of scores of villages in the Doon belt as a newly dug tunnel was found on the outskirts of Kauna and Rampur Jhangi villages on the Pinjore-Nalagarh road last evening.




An earth mover at work to widen the tunnel near Kauna village. A Tribune photograph
Nine duty magistrates appointed
Panchkula, April 8
To maintain law and order on the polling day, District Election Officer (DEO) Dr SS Phulia today appointed nine duty magistrates for different police stations across the district.
Navratras: Over 9 lakh pay obeisance at Mansa Devi temple
Panchkula, April 8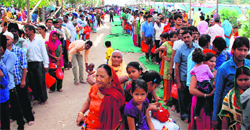 Over 9.7 lakh devotees offered prayers at the Mansa Devi temple during the Navratras. Cash donations of Rs 1.5 crore were received as offerings during the nine-day fest that concluded today. Besides, 121 gold and 1,698 silver items along with foreign currency were received at the temple.
Long queues of devotees at the Mansa Devi temple in Panchkula. Tribune photo: Nitin Mittal
Prices of eggs, chicken come down
Chandigarh, April 8
With summer setting in, prices of eggs and chicken have come down in the city. The per dozen cost of eggs has reduced from Rs 60 to Rs 50 on retail counters, while the per kg cost of chicken has come down by Rs 20 (from Rs 140 to Rs 120 now).
Savita Bhatti highlights corruption through satire
Chandigarh, April 8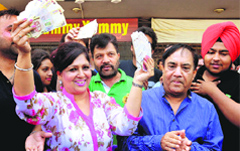 Savita Bhatti, the first choice of the Aam Aadmi Party (AAP), raised various issues such as corruption and violence through a satire on politics here today.





Savita Bhatti with the members of the Nonsense Club at Sector 17, Chandigarh, on Tuesday. Tribune photo: Manoj Mahajan
Scrub typhus leading cause of kidney dysfunction: Study
Chandigarh, April 8
While World Health Day celebrations that began yesterday are dedicated to reducing the scourge of vector-borne diseases this year, researchers at the Post Graduate Institute of Medical Education and Research (PGIMER) have found scrub typhus infection as an emerging, yet neglected, public health concern in the region. A study conducted at the Department of Nephrology, PGIMER, found scrub typhus - a life-threatening infection due to mite bite - a leading cause of renal (kidney) dysfunction in most of the patients.
Poll team seizes Rs 4.34 lakh
Chandigarh, April 8
The Static Surveillance team today recovered Rs 4,34,400 from various nakas. Under the guidelines of the Election Commission regarding the upcoming Lok Sabha elections, three flying squad teams and three Static Surveillance teams, along with executive magistrates, are functioning in the city.
Mohali SSP marks inquiry against SP
Mohali, April 8
The role of SP (City) Swarndeep Singh is under the scanner as Mohali SSP Gursharan Singh Sandhu has marked an inquiry against him following directions from the Election Commission.
Police hold flag march
Kalka, April 8
In wake of the forth coming elections on April 10, a flag march of police personnel headed by ACP Purnima Singh was organised in Kalka, Pinjore. The flag march was organised to make sure the elections will be conducted peacefully. The flag march included Kalka Police and other police personnel of Traffic police, CIA staff and ITBP.
PU forwards complaint to subject experts
Chandigarh, April 8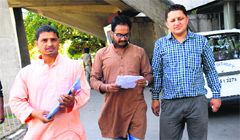 The Panjab University (PU) authorities today forwarded the complaint of BCom first-year students to the subject experts to verify the fact that the English paper held on April 5 was not as per the set pattern of the university.


ABVP activists on way to submit a memorandum to Panjab University Vice-Chancellor AK Grover on Tuesday. Tribune Photo: Pradeep Tewari