Sukhbir: No takers for Capt's vendetta politics
Chandigarh, April 13
Deputy Chief Minister and SAD president Sukhbir Singh Badal accused former Chief Minister Capt Amarinder Singh of sticking to his "age-old vendetta politics". He said Amarinder seemed to have forgotten that the election was not taking place to send anyone to jail, but it would be a "referendum" on the Congress-led UPA's policies.
Cong, BJP failed to help riot-hit: Kejri
Sangrur, April 13
Concluding his roadshow by raising slogans such as "Jo bole so nihal, Sat Sri Akal", and "Waheguru ji ka khalsa, Waheguru ji ki fateh", Aam Aadmi Party convener Arvind Kejriwal termed the Lok Sabha elections a "dharam yudh". He called upon the people to participate in this "war" in a big way to defeat the Congress and the BJP with a record margin.







AAP chief Arvind Kejriwal and party nominee Bhagwant Mann in Malerkotla on Sunday. Tribune photo

Remains of Ajnala martyrs immersed
Amritsar, April 13
The "blood-soaked soil" and the mortal remains (small bones) of martyrs of the 1857 uprising excavated from the historic Kalianwala Khu in Ajnala were immersed in the Ravi river at Dadian village today.



The remains of the 1857 martyrs of Ajnala being immersed in the Ravi on Sunday. A Tribune photograph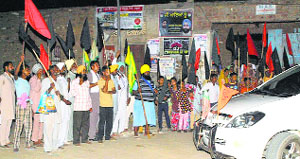 Gulshan faces ire for 'not' reaching out to rape victims
Faridkot, April 13
Peeved about SAD candidate from Faridkot Paramjit Kaur Gulshan's alleged insensitive attitude towards rape victims, farmers and agricultural labourers showed her black flags during her campaigning in the district's Nangal village today.

Protesters show black flags to SAD candidate Paramjit Kaur at Nangal village in Faridkot district on Sunday. TRIBUNE PHOTO

Former Cong unit chief to join SAD today
Bathinda, April 13
Anil Bhola, former president of the District Congress Committee (DCC) here and a right-hand man of ex-Rajya Sabha MP Surinder Singla, is all set to join the SAD tomorrow. He was a Congress ticket aspirant from the Bathinda parliamentary seat.
Delhi leaders make beeline to Amritsar
Amritsar, April 13
With campaigning for the Lok Sabha elections entering into its last leg, Sikh leaders from Delhi have arrived in the state to support their respective political parties.
Kaypee not informing me about campaign programmes: Santosh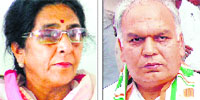 Phagwara, April 13
Union Minister of State for Health and Family Welfare Santosh Chowdhary, who is the sitting MP from Hoshiarpur Lok Sabha seat, today said though she had been denied party ticket this time, she would not take any step which could be harmful for the Congress.


Sitting Hoshiarpur Congress MP Santosh Chowdhary (left) is not campainging for party candidate from the seat Mohinder Singh Kaypee (right)

ICP expansion plan in final stages: Port authority
Amritsar, April 13
On the second anniversary of the Integrated Check Post (ICP) at Attari, VS Sherawat, chairman, the Land Port Authority of India (LPAI), said the proposal of expanding the ICP was in its final stages. After the expansion, trade between India and Pakistan at the ICP would carry on round the clock. The traders would get additional facilities with the construction of railway terminals.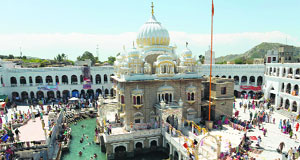 A gathering of the pious:

Around 2,500 Sikhs from India and 4,000 from Pakistan visit Gurdwara Panja Sahib in Hasan Abdal in Pakistan during the three-day Baisakhi festival. AFP photo
13 crushers sealed in Ropar
Ropar, April 13
The District Mining Department today sealed 13 crushers that were allegedly operating illegally. District Mining Officer Dharampal Bhagat said nearly 100 such crushers had been identified and the process of sealing such crushers was on.
22 years on, Fatehgarh Sahib district lacks basic facilities
Fatehgarh Sahib, April 13
Even after 22 years of coming into existence, Fatehgarh Sahib district lacks basic facilities. Successive governments have done little to develop the district that was carved out of Patiala. With Sirhind, Bassi Pathana, Amloh, Khamano, and Mandi Gobindgarh as the main towns of the district, it was created keeping in view the sacrifices of the younger sons of Guru Gobind Singh and Mata Gujri.
Migrants not issued ration card in Ropar
Ropar, April 13
More than 200 families of migrant labourers in Nurpur Bedi have not been able to avail any of the government schemes ever since they moved here over 10 years ago. None of them has a ration card or a voter card. The mistake these migrants made was setting up their huts on Army land.
Sluggish start to season for harvester owners
Muktsar, April 13
The demand for combine harvester owners this harvesting season has been sluggish. Since the wheat crop will take at least another week to ripen, the harvester owners are charging farmers at last year's rates. A farmer can hire one of these machines by paying anywhere between Rs 1,000 and Rs 1,100 per acre.
Rid us of wild animals, get votes: Hoshiarpur farmers
Hoshiarpur, April 13
This election season, people of the kandi and bet areas of Hoshiarpur district, which falls under Hoshiarpur and Sri Anandpur Sahib Lok Sabha constituencies, have come up with an agenda. They said they have for long been distressed over wild animals damaging their crops.
Tributes paid to Jallianwala Bagh martyrs
Abohar, April 13
Rich tributes were paid to martyrs of Jallianwala Bagh massacre, at a function held at Shaheed Chowk here today. The function was organised by the Punjabi Sabhyachar Manch, headed by former SDM BL Sikka. After observing a two-minute silence, the gathering garlanded the statues of Bhagat Singh, Udham Singh and other revolutionaries.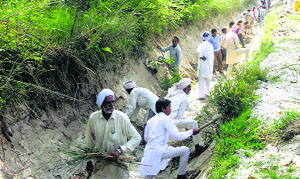 Delay in funds mars canal repair in Abohar
Abohar, April 13
The Irrigation Department has deployed hundreds of workers under the Mahatma Gandhi National Rural Employment Guarantee Act for cleaning half a dozen sub-canals in the Abohar circle.

Villagers employed under the Mahatma Gandhi National Rural Employment Guarantee Act remove wild growth from the Panjawa sub-canal near Abohar. Tribune photo

Political tug-of-war over medical college intensifies
Abohar, April 13
The political tug of war over the medical college in the neighbouring Sriganganagar in Rajasthan, has become more intense. "Guar king" and Zamindara Party (ZP) supremo Bajrang Dass Aggarwal reacted sharply to Chief Minister Vasundhra Raje's remark at an election meeting on April 4 at Padampur. She had sarcastically said, "Medical college ban gaya kya?" (Has the medical college been built?)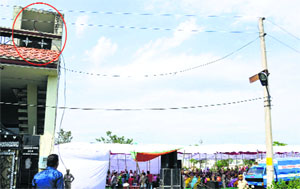 SAD at it again: 'Kundi' connection for CM's rally
Dakhoa (Jalandhar), April 13
Second time in the last two days, electricity supply for Chief Minister Parkash Singh Badal's rally was managed from a "kundi" connection here today.



The 'kundi' connection at Dakhoa village. Tribune photo: malkiat singh

Engineer 'turns blind eye' to power thefts to favour Akalis in Majha
Patiala, April 13
A senior PSPCL officer has come under the scanner for allegedly patronising power theft to favour the ruling SAD-BJP leaders in Amritsar. A fellow power official has written to the power corporation CMD in this regard.



Armyman booked for wife's death
Abohar, April 13
The police in Lalgarh Jattan, 45 km from here, in Rajasthan, have booked Lalgarh Military Station resident Jitender Kumar for his wife's death. Station House officer Gulab Singh said Babita's body was found hanging inside the Army quarters yesterday.