In AP, parties grapple with rebel trouble
Suresh Dharur
Tribune News Service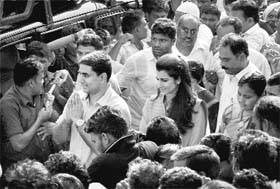 TDP chief Chandrababu Naidu's son Nara Lokesh with his wife Brahmani in Krishna district of Andhra Pradesh. PTI
Hyderabad, April 13
Rebel trouble has hit all major parties in Andhra Pradesh. As the last date for withdrawal of nominations in Telangana region ended yesterday, several rebels stuck to their guns and remained in the fray, defying their party bosses.
All major contenders for power--- the Congress, Telugu Desam Party and Telangana Rashtra Samithi - are grappling with the rebel menace. As many as 51 rebel candidates, across the political spectrum, are in the fray in 119 Assembly constituencies of Telangana region, going to polls on April 30.
The disgruntled ticket-aspirants are in such large numbers that they might play spoilsport and influence the poll outcome in many constituencies. More than the rival candidates, the parties appear to be more worried about the impact of rebels within their ranks and how much damage they can do to the official nominees.
Though Union Rural Development Minister Jairam Ramesh camped in Hyderabad for a couple of days to persuade party rebels to withdraw from the race, several refused to pull out of the race. Telangana PCC chief Ponnala Lakshmaiah himself is facing a rebel candidate Bakka Jadson, one of the secretaries of the PCC, in Jangaon Assembly constituency in Warangal district. Incidentally, Lakshmaiah is one of the contenders for the Chief Minister's post in the new state of Telangana.
TRS chief K Chandrasekhar Rao, being projected as the architect of the successful Telangana statehood movement, is also facing rebel trouble. In Medak, TRS rebel Beeriah Yadav has refused to withdraw his nomination. He even lodged a complaint with election authorities, alleging that TRS legislators KT Ramarao and T Harish Rao were threatening him. Even in Gajwel Assembly constituency where TRS chief is contesting the election, a party rebel K Linga Reddy is in the fray.
Warangal DCC president D Madhava Reddy, who filed his nomination in Narsampet against the party's official candidate Katti Venkataswamy, too remained defiant. The Congress could not convince its rebels from withdrawing in constituencies allotted to its ally the CPI either. Former MLA M Rangareddy remains in the fray in Maheswaram Assembly constituency in the neighbouring Ranga Reddy district though the seat was allotted to CPI as part of an alliance.
Similarly, at Munugodu in Nalgonda district, Congress Rajya Sabha member P Govardhan Reddy's daughter Sravanthi remained in the poll fray as a rebel against CPI's official candidate.
The much-hyped poll-eve alliance between TDP and BJP too appears to be facing a rough weather as rebels in both parties continue to stay in the fray in several constituencies. BJP leader Sankineni Venkateswara Rao, who had quit the TDP and joined the party a few days ago, refused to withdraw his nomination against TDP?s official candidate in Suryapet Assembly seat in Nalgonda district.
As many as 19 seats shared by both parties are now facing rebel trouble in Telangana. TDP rebels had filed nominations in 12 Assembly segments that have been allotted to BJP as part of electoral alliance whereas the BJP rebels filed nominations against the official TDP candidates in seven Assembly seats.
An overwhelming majority of BJP leaders in Telangana have steadfastly opposed the alliance with TDP. As a result, there are doubts over mutual vote transfer at cadre-level during the elections.
Telangana accounts for 17 Lok Sabha and 119 Assembly seats. A total of 267 candidates for LS seats and 1669 candidates for Assembly seats are in the fray.
Fighting their 'own'
All major contenders for power --- the Congress, Telugu Desam Party and Telangana Rashtra Samithi - are grappling with the rebel menace. As many as 51 rebel candidates, across the political spectrum, are in the fray in 119 Assembly constituencies of Telangana region, going to polls on April 30
The disgruntled ticket-aspirants are in such large numbers that they might play spoilsport and influence the poll outcome in many constituencies
More than the rival candidates, the parties appear to be more worried about the impact of rebels within their ranks and how much damage they can do to the official nominees