Cause and effect
Popular television actor, Rithvik Dhanjani will be seen in the coming episode of MTV Webbed Season 2. The episode will revolve around one of his obsessed fans, who will be webbed in the world of cyber by people who will misuse her love for her icon, who is Rithvik Dhanjani.
Rithvik says, "When I got to know about the episode and I immediately said yes because I wanted to do it for my fans. I want them to know that there are many in the internet world who want to use their weakness against them. I really love all my fans and would never want anything wrong happening to them."
The story will portray a young girl, who wants to meet her dream man through a concert organised by the star, and a group of miscreants misuse her love and take undue advantage of her by claiming to get her an entry in the concert. "It was heartbreaking to know about such things are happening out there. I would request all my fans to stay away from such people. The episode will definitely help as a learning measure for them and protect them from such future crime," concludes Rithvik. The episode will air on April 18.
Five hundred and counting…
These days, television shows have a short shelf life and are taken off air quickly, when given a lukewarm response. It's time for a big celebration on the sets of the show, Sapne Suhaane Ladakpan Ke, as it completed a glorious run of 500 episodes on Zee TV. The story of the show is about young girls, Gunjan and Rachana.
Namit Sharma, programming head, Zee TV said, "The show is a fine narrative of love, everlasting friendship, the joy of sharing and caring, fights and making up between sisters, who may not be related by blood but form a special connection that completes the two of them."
The show has beautifully depicted the finer nuances of life like hope, aspirations, love, togetherness, emotional turmoil, rebellious feelings, etc. "As the show reaches a significant milestone of 500 episodes, we're certain that the show will keep the dedicated fans engrossed with the twists and turns in the protagonists' lives and Gunjan-Rachana will continue to inspire thousands of girls across India," he adds.
Producers of the show, Shyamashish Bhattacharya and Neelima Bajpa of Shakuntalam Telefilms said, "It's a proud moment for us. The show has touched the hearts of millions of viewers with its relatable characters, realistic scenarios and topical tracks that move people."
In the up and coming episodes, even as Gunjan scales unimaginable heights as an active social worker, will she be able to finely balance her roles as Mayank's wife and the bahu in the Garg family?
Even as Rachana and KT grow closer, will Vihan re-enter her life, leaving her in a dilemma of the heart? Stay tuned!
While fans fanned her flames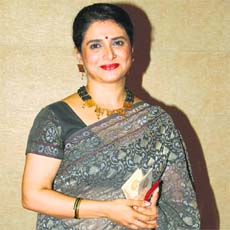 Actress Supriya, who played the lead, Amoli, in Balaji Telefilms' show, Bairi Piya, which was on Colors, is all set to make a comeback in the industry. Her fans missed her on television and she was flooded her with requests to comeback. Touched and moved by the love of her fans, she is now making a re-entry with a new show, Anudamini with Sachin Shroff playing opposite her. The show will be telecast on DD National. Excited about her new show, Surpiya says, "It feels really good to get back from where you started after 3 years. My fans really missed me, and through various mediums, they told me that want to see me back on television, which made me come back. There are the ones who brought me back on telly."
Debina stuns Sumit with her taandav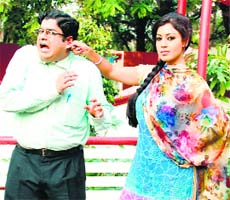 In a recent track of Chidiya Ghar, Debina was supposed to do an angry dance performance.
Sumit felt that Debina would find it difficult to perform as she is a very pleasant person in real life. However, he was pleasantly surprised. "I told Debina that it might be a challenge for her. However, she pleasantly surprised me, along with other members on the set."
Divine dance: Debina and Sumit of Chidiya Ghar
Meanwhile, Debina said, "I dancing and have learnt it professionally as well. I took it up as a challenge as not everyone gets an opportunity to do a modern 'taandav'."
Sick leave
Kushal Tandon, who recently exited form the show, Khatron Ke Khiladi, will soon be operated for his shoulder. He was given physiotherapy for the shoulder before leaving the show, but the stunts aggravated it. He will have to take precautions for the coming few months.
Back with a bang
Amitabh Bahchchan will soon be back on television. He recently shot for the promos of Kaun Benga Crorepati and his blog read- "The early morning shoot for the promos of the fresh season of KBC were accomplished." Get set for yet another round of quiz coming your way soon.
Dancing his way into shows
Buzz is that Kiku Sharda, who plays the role of Palak in the show, Comedy Nights With Kapil, might participate in the up and coming season of Jhalak Dikhhla Jaa. He has been approached for the reality show and has proved his dancing talent in Nach Baliye too.
Time to celebrate
Yeh Rishta Kya Kehlata Hai completed 1,400 episodes and its cast and crew celebrated the event with a huge cake-cutting ceremony. The producer of the show, Rajan Shahi, and actors, Hina Khan and Karan Mehra, attended the party.
When work takes precedence
Salman Khan's father Salim Khan was down with fever and he was diagnosed with malaria. Now he is in hospital and is recovering. Meanwhile, Salman is in Warsaw, Poland shooting for Kick. It is for the climax sequence and Randeep Hooda is also a part of it.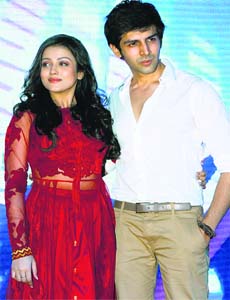 Reel turns real
It seems that Kaanchi's lead pair Mishti and Kartik Aaryan is in love and their romance is blossoming even more. This is Mishti's debut in Bollywood while Kartik has done a couple of films earlier.
In love: Mishti and Kartik Aaryan
Parental guidance!
Filmmaker Anurag Kashyap's parents will make an appearance in his next film Bombay Velvet. It so happened that when they dropped in on Anurag's set; he urged them to come in front of the camera.
A leaf from the past
Arjun Kapoor feels that the character of Krish in 2 States is close to him. His mother had the book on her shelf and she wanted him to do the movie and now that wish has been fulfilled.
Ifs and buts
Anil Kapoor is keen on making a movie version of his TV show 24, but the makers of the original haven't granted him the permission.