Anurag Thakur plays Modi card
Bilaspur, April 27
Even as the state government has tried to turn the heat on him by filing the chargesheet in the HPCA case in the court, two-time BJP MP Anurag Thakur, remains unfazed.
Dhumal: Voters have right to oust anti-people Congress govt
Shimla, April 27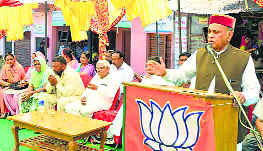 Former Chief Minister and senior BJP leader PK Dhumal today said the Congress government would be ousted after the Lok Sabha polls. He said: "People of Himachal have an unchallenged right to oust the anti-people Congress government led by Virbhadra Singh and they will dump it in the dustbin after the Congress loses all four parliamentary seats."

Leader of the Opposition PK Dhumal at a public meeting in Haroli Assembly segment on Sunday. Photo: Rajesh Sharma

Leaders eye floating votes in Kangra
Dharamsala, April 27
Political parties in Kangra are concerned about the floating vote of Gujjars. Sources here said there were about 15,000 Gujjar votes in Chamba district and 5,000 in Kangra. These areas are the part of the Kangra constituency.
BJP is Dhumal-Anurag private firm: CM's son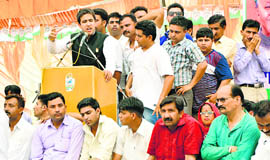 Haroli (Una), April 27
Vikramaditya Singh, president, state Youth Congress, today said the Himachal BJP had virtually turned into Dhumal-Anurag Private Company. Addressing an election meeting in Haroli, he said the party organisation started with Prem Kumar Dhumal and ended with Anurag Thakur.

State Youth Congress president Vikramaditya Singh addresses a public meeting at Haroli in Una on Sunday. Photo: Rajesh Sharma

'Achievements will change the tide in our favour'
Shimla, April 27
A strong organisational background is his biggest strength. A relatively young 50-year-old state Congress president Sukhwinder Singh Sukhu is trying to bridge the generational gap in the party by encouraging a perfect blend of experience and youth.
Lok Sabha Poll
EC has surveillance teams in place
Shimla, April 27
Carrying out the Election Commission of India's (ECI) mantra of greater participation of voters for a strong democracy, state Chief Electoral Officer (CEO) Narender Chauhan says the stage has been set for fair and free elections by putting in place flying squads (FSs), static surveillance teams (SSTs) and Central expenditure observers (EOs) for all four Lok Sabha constituencies.
Poll boycott threat takes political turn
Shai Ropa (Kullu), April 27
Those living near the Great Himalayan National Park (GHNP) have decided to boycott polls as they are against the move to declare the park as UNESCO's World Heritage site. The area falls under the Mandi parliamentary constituency and the threat has now taken a political turn, as in a meeting held at Shakti village recently, they decided to reconsider their decision only after the candidate fighting the election promises to protect their rights.

Lok Sabha Poll: Tribal Areas
Forest Rights Act, hill ecology key concerns
Reckong Peo (Kinnaur), April 27
Implementation of the Forest Rights Act, 2006, and threat to the fragile hill ecology due to indiscriminate construction activity have emerged as key issues in the Lok Sabha polls in tribal areas.
Ramdev not allowed to hold yoga camp
Kangra, April 27
Kangra sub-divisional authorities today withdrew the permission granted to Patanjali Yog Samiti Kangra district for holding a yoga diksha mahotsav in the local municipal ground tomorrow at 1 pm.
VIGNETTES
Through the lens of Mela Ram Sharma
A photographic exhibition showing the physical, cultural and spiritual segments of Himachal Pradesh was held at the Tavern Hall of the Gaiety Complex recently. Vivek Mohan, a film director, wrote in the visitors' book: "A photograph says more than 1,000 words, but each photograph here says more than 10,000 words."
Campaigning fails to pick up in Solan district
Solan, April 27
Campaigning has failed to pick up momentum in the five constituencies of Solan district, as small groups of political parties are seen attending corner meetings only. The markets wear a deserted look as against the blitz of posters, banners and other modes of publicity, which is often seen in the run up to the elections.
High Court tells HPU to decide on pensionary benefits
Shimla, April 27
Taking note of the issue of the non-release of pensionary benefits to some retired employees of Himachal Pradesh University (HPU), the High Court has cautioned officers of the university that in case the executive council does not take any decision in this regard within two weeks, salaries of all the statutory officers will not be drawn till the court order.
Lok Mitra Kendra operators up in arms
Kullu, April 27
Lok Mitra Kendra (LMK) operators and Village Level Entrepreneurs (VLE) of Kullu have decided to halt the services being rendered at the Lok Mitra Kendras and stage a protest against the state Department of Information and Technology (DIT) at the block office at Dhalpur here on Wednesday.
BCS wins inter-school debate
Shimla, April 27
The 19th Revd Dr Samuel Slater Memorial Invitational Inter-School English Debates contest was won by host Bishop Cotton School (BCS) here yesterday. As many as 18 schools from across the country and Aitchison College, Lahore, took part in the event. It was for the second consecutive year that BCS won the prestigious debate that was started in 1996. Last year, BCS shared the honours with Vasant Valley School, New Delhi.
At Chamba shop, Modi tea at premium
Bhanjraru (Chamba), April 27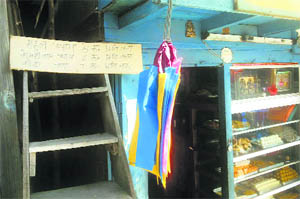 Sikandar, a tea shop owner in Bhanjraru, a remote area of Chamba district, is giving his business an election high. His tea shop bears a small cardboard hoarding declaring rates of various cups of tea. The tea cup varieties have been named after political leaders of three parties in the Lok Sabha elections this year. The Rahul cup of tea costs Rs 5, while the Kejriwal tea comes for Rs 6 per cup and Modi tea is priced at Rs 7 per cup.

A tea vend at Bhanjal in Chamba district where 'political tea' is sold during elections. Photo by writer

Cong has not kept words: Anurag
Dharampur (Mandi), April 27
Anurag Thakur said today that the election had become a fight between alleged misuse of the state government machinery and Modi's agenda of development for the next five years. Addressing public meetings in this Assembly segment, Anurag said, "While we are going to voters with Modi's agenda for development which has perturbed Congress leaders, they are now resorting to the misuse of the government machinery and money power."
'Leaders should answer questions about their business empire'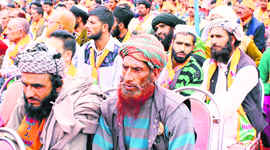 Mandi, April 27
National vice-president and in charge of Himachal BJP Balbir Punj said the ruling party leaders in Punjab should reply to questions being raised about alleged increase in their business empire with political power.


People of the Gujjar community attend an election rally. A file photo

Former NGO leader arrested from Amritsar
Shimla, April 27 Gopal Dass Verma, former president of the Himachal NGO Federation, who had been absconding for one and a half months after a case of cheating was registered against him, was nabbed by the Shimla police from Amritsar early morning today.
Only Cong can provide a secular govt, says CM
Kullu, April 27
Himachal Pradesh Chief Minister Virbhadra Singh addressed a public meeting at Banjar, 45 km from here, today. He said only Congress could provide a secular government, adding that promoting specific religion would lead to communal violence and hatred.
Mandi BJP candidate holds meetings
Kullu, April 27


Ram Swaroop Sharma, BJP candidate from the Mandi constituency, held meetings with party members of Bandrol, Patlikul, Jagatsukh and Buruwa in the Manali Assembly constituency in Kullu yesterday. Sharma continued attacking Congress candidate Pratibha Singh and the Chief Minister. He said if he was voted to power, he would provide new opportunities to youth in the tourism sector. He said he would ensure better road connectivity and raise basic infrastructure to support the tourism industry. During the BJP tenure, various development projects were initiated in the district, he claimed. National treasurer of BJP ST Morcha Yuvraj Bodh, Durga Thakur, Reshma Thakur, Arvind Chandel and BJP office-bearers and members were present during his campaign. OC
3,000 notebooks distributed
Una, April 27
The Shiksha Sudhar Samiti, a voluntary organisation headquartered at Ispur village, distributed 3,000 notebooks to students belonging to economically weaker sections at a programme here. It was organised at the village Shiv temple under the chairmanship of the samiti's chief patron OP Dogra. Samiti president Chitt Vilas Pathak said it had adopted 28 government schools in the district, which were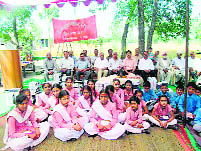 suffering from a shortage of teaching staff. The samiti had deputed trained teachers at the schools and their salary expenses were borne by them. Besides financial support of NRI OP Dogra, the samiti received free service and support from retired school principals and teachers, who trained their staff members and kept a check on the standard of teaching. OC

Students with notebooks given by the Shiksha Sudhar Samiti at Ispur village in Una on Saturday.

'Seized cash belonged to Kangra bank'
Una, April 27
A sum of Rs 30 lakh, recovered by a Static Surveillance Team of the Election Department from a private car yesterday, reportedly belonged to the Panjawar branch of Kangra Central Cooperative Bank. An inquiry conducted by Additional Deputy Commissioner (ADC) Darshan Kalia revealed that the cash was being transported from the Panjawar branch to the Gagret branch. Bank manager Baldev Singh was also in the vehicle, along with a bank peon, but in the absence of any valid documents, the cash was seized. The money would be handed over to the bank, said the Additional Deputy Commissioner. The Election Commission had also taken cognisance of the report.
NSS volunteers distribute clothes
Sundernagar, April 27
Students of the National Service Scheme (NSS) unit of Jawaharlal Nehru Government Engineering College (JNGEC) yesterday distributed clothes to residents of slum areas in the town. Dr PC Chopra, coordinator of the unit, said a group of National Service Scheme volunteers distributed clothes among 50 inhabitants of slum areas in the first phase. And this type of donation would continue in future, he added. The unit would soon organise a free dental check-up camp for underprivileged people of slum areas in association with the local Himachal Dental College. It would also launch a tree plantation drive in the vicinity of the college, he said. RL Sharma, Director, JNGEC, congratulated the National Service Scheme unit and said it was doing a noble work. OC
29 crates of liquor seized in Una
Una, April 27
The Excise and Taxation Department today seized 29 crates of liquor of different brands from a liquor vend at Bangarh village in the Una sadar Assembly segment. Assistant Excise and Taxation Commissioner Ujjwal Singh Rana said a verification of the stock in the vend revealed that the stock exceeded the quantity mentioned in documents. The Election Department had identified the vend, besides 24 others in the district, as "sensitive" in the wake of the elections. It is alleged that parties distribute liquor to voters in connivance with vend staff. Rana said the case had been forwarded to the Deputy Excise and Taxation Commissioner, Palampur, for further action. — OC
Complaint against Ramdev
Shimla, April 27
Taking strong exception to the derogatory remark reportedly made by yoga Guru Ramdev that Congress vice-president Rahul Gandhi visited Dalits for "picnic and honeymoon", Karam Chand Bhatia, state president, Sant Shri Ravidass Dharam Sabha, lodged a complaint against him in the Sadar police station here today. In his complaint, Bhatia said the derogatory language used against Dalits by Baba Ramdev was punishable under the SC/ST Act. Referring to the news published in newspapers carrying Ramdev's statement, Bhatia urged the police to take strict action.
Ex-minister, ex-MLA's death condoled
Shimla, April 27
Chief Minister Virbhadra Singh has condoled the death of former minister Kunj Lal Thakur, who died today at his native place in Kullu district after a prolonged illness. He prayed for peace of the departed soul and expressed his sympathies with the bereaved family. He mourned death of Nand Kumar Chauhan, a former MLA from the Rajnagar Assembly constituency in Chamba. He expressed sympathies with bereaved family. — TNS