T H E T R I B U N E I N V E S T I G A T I O N
THE TRIBUNE INVESTIGATION: PART-I
Badal-Kairon-Majithia clan's growing biz empire
The list of assets filed by the members of the extended family of Punjab Chief Minister Parkash Singh Badal at various times of nominations in polls, including recently by his daughter-in-law Harsimrat Kaur Badal, gives a glimpse of their vast business empire spread across transport, hotels, media, power, and non-conventional energy. In this first of a series, The Tribune checks out on their companies and intertwining of shareholdings and directors that hints at a conflict of interest.




The maze of business links among Badal-Kairon-Majithia parivars

Sukhbir: No conflict of interest


The family loyalists
THE TRIBUNE INVESTIGATION: PART-II
Badal govt's 'power' boost for Kairon companies
Chandigarh, April 26
While Punjab Chief Minister Parkash Singh Badal's daughter Parneet Kaur is not visible on the state's political scene, her company Shivalik Telecom Limited is among the beneficiaries of the works allotted in the state's power sector. Parneet Kaur is married to Adesh Partap Singh Kairon, grandson of Punjab's former Chief Minister Partap Singh Kairon and Food and Civil Supplies Minister in the Badal government.
THE TRIBUNE INVESTIGATION: PART-III
Badal govt's 'energy' link with the Majithias
With the renewable energy sector in Punjab becoming a major thrust area of the SAD-BJP government, among the beneficiaries in the Badal extended family were the Majithias. Here is the third in the series of reports.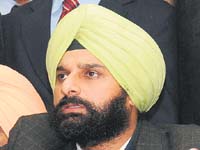 Chandigarh, April 27
Besides the Badal and Kairon families, the Majithias, too, have had business dealings with the Punjab Government headed by Parkash Singh Badal. The Badals came closer to the Majithias after Punjab Deputy Chief Minister Sukhbir Singh Badal married Harsimrat Kaur. While Harsimrat Kaur is an MP, her brother, Bikram Singh Majithia, is currently Punjab Minister of Revenue, Information & Public Relations and Renewable Energy.
THE TRIBUNE INVESTIGATION: PART-IV
Badal luxury bus fleet's phenomenal growth continues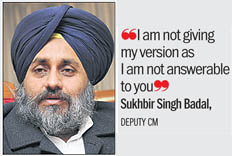 Private transport companies in which Deputy Chief Minister Sukhbir Singh Badal has direct and indirect interests dominate the state transport sector in the luxury segment. The Tribune checks out the situation in the fourth of the series of investigative reports.

Petrol bomb hurled at The Tribune staffer's house

Sukhbir attacks The Tribune


The Tribune refutes SAD chief's charges
SAD moves EC against Tribune
Chandigarh, April 30
The Shiromani Akali Dal (SAD) has complained to the Election Commission that The Tribune and Punjabi Tribune have launched a campaign against it and its president Sukhbir Singh Badal by publishing surrogate advertisements/paid news in the garb of news reports.
SAD charge of 'paid news' absurd
After accusing The Tribune of doing its investigative series on Punjab's first family under the influence of the Congress, the Shiromani Akali Dal in a petition to the Election Commission has now made the preposterous charge that it was also 'paid news.'