Khushpreet's Murder
Lure of quick buck led to crime: Court
Chandigarh, April 28
Increased materialism and decline in social values have been highlighted in the court judgment sentencing the three convicts to life imprisonment in the Khushpreet murder case.


Gill is new Golf Club president
Chandigarh, April 28
In an evenly contested election, senior advocate Birinder Singh Gill (Gilly) recorded victory over his lone rival agriculturist Tegvir Singh Sibia (Gogi), to become the new president of the Chandigarh Golf Club.
The newly elected members of the Executive Committee with elected president Birinder SIngh Gill (extreme left) in a jubilant mood at Chandigarh Golf Club. Tribune photo: Pradeep Tewari

City records highest minimum temperature in April
Chandigarh, April 28
The city recorded the highest minimum temperature in April this year. As per the Met report, the minimum highest temperature recorded in the last 10 years was in April 2012, which was 18.8°C but this year it touched 21.2 °C.
To beat the heat, a child enjoys ice-cream at Sector 17, Chandigarh, on Monday. Tribune photo: Pradeep Tewari


Better Chandigarh
Annual maintenance of tracks must to promote cycling
Chandigarh, April 28
While the UT Administration and the Municipal Corporation (MC) are still considering ways to promote cycling, city residents believe that the annual maintenance of cycle tracks, illuminating these and restricting motorists from driving on these can encourage the cycling and provide a safe ride for cyclists.
The newly installed electric poles at the road separating Sectors 10 and 9 on the Sector 10 side in Chandigarh; and (right) Jeesu Jaskanwar Singh, assistant professor, Panjab University, pedals his way to work from Mohali. Tribune photos: S Chandan & Pradeep Tewari

Ramdev's barb against RaGa rocks MC House
Chandigarh, April 28
Yoga guru Baba Ramdev's controversial remarks targeting Congress vice-president Rahul Gandhi in Lucknow a few days ago rocked the General House meeting of the Municipal Corporation (MC), Chandigarh, today.


Deputy Mayor and BJP councillor Davesh Maudgil shows a copy of the MC Act to Mayor HC Kalyan asking him to regulate proceedings in the House properly after the issue of Baba Ramdev's remarks cropped up during a meeting on Monday. Tribune photo: Pradeep Tewari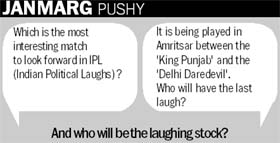 Dalits flay yoga guru
Mohali, April 28
Shri Guru Ravidass Naujawan Sabha, Mohali, has condemned Baba Ramdev's derogatory remarks relating to Rahul Gandhi's visit to houses of Dalits. Sabha president RA Suman and general secretary JR Kahal said the remarks were unethical and had hurt the feelings of the entire Dalit community.
meeting demand for water
MC Commissioner proposes revision of tariff
Chandigarh, April 28
To meet the gap between demand and supply of potable water by reducing its consumption, the Municipal Corporation (MC) Commissioner today proposed to revise the water tariff.


Sector 6 in Panchkula lacks civic amenities
Panchkula, April 28
Senior bureaucrats, police officers, top brass of the Army, businessmen and other VIPs are staying in the neglected part of the city. Broken roads, loose electricity wires and non-functional streetlights are what the 'Paris of Haryana' (Panchkula) offers to its VIPs residing in Sector 6.
A potholed road in Sector 6, Panchkula. Tribune photo: Nitin Mittal

3 runaway couples put up in one-room protection home
Panchkula, April 28
Three days after a surprise inspection at the Panchkula Bal Niketan, a District Legal Services Authority (DLSA) team today found three runaway couples huddled in a small room inside the police post at Sector 15 here. Stolen items recovered by the police were also found dumped in the room.
Three couples staying in a room at the police post in Sector 15, Panchkula, after they were granted police protection by the Punjab and Haryana High Court. A Tribune photograph
Maintenance of toilets
Tender allotted to Selvel Media cancelled: MC
Chandigarh, April 28
The Municipal Corporation (MC) today clarified that the fresh tender allotted to M/s Selvel Media Services Pvt Ltd for operation and maintenance of public toilets in the city, has been cancelled and a new tender would be floated.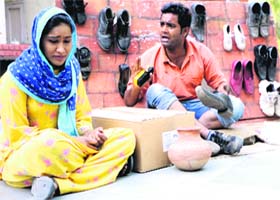 Thoughts in sync: Artistes stage a play, "Mochi Da Putt," at Punjab Kala Bhawan in Chandigarh on Monday. Tribune photo: Pradeep Tewari
Inquiry module for PGI patients soon
Chandigarh, April 28
To bring respite to the attendants of patients —who shuttle between several wards to trace their family members admitted at PGIMER — the IT wing of the institution will soon launch an inquiry module.
Anomalies in purchase of mobile mammography van
Probe moves at snail's pace
Chandigarh, April 28
Even though a year has passed, the inquiry marked into the alleged anomalies in the purchase of a mobile mammography van for Government Medical College and Hospital (GMCH), Sector 32, is moving at a snail's pace.
Micro-observers to be deputed at polling booths
Mohali, April 28
The General Election Observer for the Anandpur Sahib constituency, Sanjay Dixit, and the General Election Observer for Patiala, Ram Vishal Mishra, reviewed the randomisation of micro-observers and polling staff for the SAS Nagar, Kharar and Dera Bassi segments here today.
| | |
| --- | --- |
| | |
| Supporters of the BJP distribute pamphlets of Narendra Modi in Mohali on Monday. Tribune photo: Vicky Gharu | Police personnel stage a flag march in Phase VII, Mohali, on Monday. A Tribune Photograph |
Seminar on aerospace quality control at 3 BRD
Chandigarh, April 28
A two-day seminar on Aerospace Quality Perspective to address issues relating to quality control in the aviation industry was inaugurated at 3 BRD (base repair depot) here today.
Mansa Devi resident falls to death from building
Panchkula, April 28
Ajay (24), a resident of Bhainsa Tibba in the Mansa Devi area, died after falling from the fourth floor of a house, this evening. According to the police, the Ajay accidentally slipped and came crashing down to ground.
BIZ NEWS
Priority Occupation List
The Priority Occupation List (POL) corresponding to the Federal Skilled Worker Program (FSWP) of Canada was released on Thursday by the Citizenship and Immigration Canada (CIC). It carries 50 occupations which are in demand in Canada. The number of eligible occupations has more than doubled from just 24 last year.
REPORTERS' DIARY
EO drive keeps building owners, architects on edge
As the UT Estate Office (EO) has launched a drive against violations in commercial buildings in the city, owners and architects of such buildings who had submitted the building plan to the office, are in panic. To save themselves from inspections by EO officials, building owners are now approaching higher-ups.


No end to controversy over appointment of PU VC's wife
Chandigarh, April 28
There seems to be no end to the controversy over the appointment of Panjab University (PU) Vice-Chancellor's wife Neera Grover in the Music Department. Today, a complaint was made to PU Chancellor Dr Mohd Hamid Ansari that Neera Grover had misinformed her parent university in Mumbai to get herself transferred to Panjab University.
NCC to conduct aptitude test for enrolling cadets
Chandigarh, April 28
The growing number of National Cadet Corps (NCC) aspirants from the city has made the authorities to conduct an aptitude test for the enrolment of cadets from this academic session.
Recovery of EPF amount
PEC workers hold protest at Sector 17
Chandigarh, April 28
Workers of Punjab Engineering College (PEC) today held a dharna in front of the Employees Provident Fund (EPF) office at Sector 17 here in favour of their demands. The dharna was held under the banner of the All-India Central Council of Trade Unions (AICCTU). It was presided over by Kanwaljeet Singh, secretary, CPI.


FROM SCHOOLS
Printing workshop
Chandigarh: A one-day screen printing workshop by artists Nisha and Amar Nath was organised by Tribune Model School on the school campus on Monday. Around 100 students of Classes IX and X took part in the workshop. Students learnt screen-making technique, colour mixing and stencil making during the workshop.
Students attend a workshop at Tribune Model School in Sector 29, Chandigarh, on Monday. Tribune photo: Manoj Mahajan