Red carpet welcome wins hearts
Neeraj Bagga
Tribune News Service
Amritsar, April 30
Red carpet welcome, courteous staff, cold potable water amidst playing of patriotic songs won the hearts of the electorate at the 182 model polling booths in the Amritsar Lok Sabha constituency.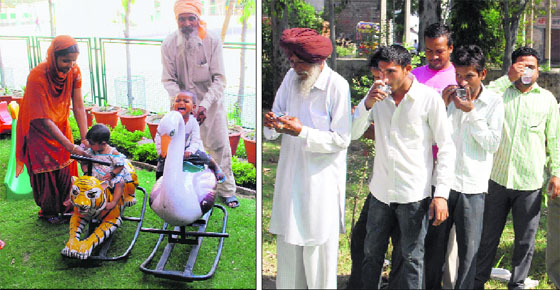 Children enjoy themselves; and (right) voters drink cold water to beat the scorching heat while waiting for their turn at a polling booth in Amritsar.
A voter, Kiranjot Kaur, 48, said she has been casting votes for nearly three decades and has seen the transition from casting slip ballots in boxes to the EVMs. However, it was for the first time that she saw red carpet treatment given to the electorate with all basic amenities. Her polling booth was housed in the super model polling booth at Manav Public School.
She was surprised to see the children accompanying their parents and enjoying and playing with toys. They were also given candies by the staff.
Another voter Harkanwar Singh, an engineer, said he did not attempt to know the status of the rush of voters at his polling booth. However, he liked the arrangements made at the polling booth. "It was all convenient and smooth walk in and out of the polling booth," he said.
With the district electoral authorities setting up model polling booths in Amritsar North Assembly segment, equipped with a string of facilities and ready to roll out a red carpet welcome to the electorate, we spoke to the voters to find out their take on the EC move.
Another voter Romit Seth, a businessman, said sufficient supply of cold potable water was made available at the polling booth which was vital in the scorching heat. He said it was convenient to cast the ballots as the chairs were made available for the aged and infirm.
DEO-cum-DC Ravi Bhagat said in all, 182 model polling booths were set up in the Amritsar North Assembly constituency of the Amritsar Lok Sabha constituency.
In these model polling booths, voters were given a red carpet welcome with red roses, tilak, wheel chairs were available and so were candies and toys for kids with caretakers.
Besides, some super model polling booths were also installed. Super model polling booths differed from model polling booths as the former were situated in the air-conditioned polling booths.
He said as per the Election Commission of India (ECI) directions, certain model polling booths were to be set up in each Lok Sabha constituency but playing a very pro-active role, each polling booth of this Assembly segment was turned into a model polling booth.
This segment has 65 polling locations with 182 polling booths all of which have been transformed into model ones. The transformation entails creation of an array of facilities for the voters, including a complete festive environment in the polling station. Extending a red carpet welcome, rangoli, balloons, proper whitewash, room fresheners, lime lining, satin flags on poles, toy section, candies, chocolates and caretaker for babies, welcome banners, facilitation centres, direction signage, proper lighting, clean toilets with running water, volunteers with arm bands to assist and facilitate voters, queue managers with nylon separators in place of traditional coir ropes, drinking water chabeels, glass packs of mineral water, priority voting for blind, infirm, old voters, pregnant women and lactating women.