Complaints of money, liquor distribution, faulty EVMs flood complaint centre
Megha Mann
Tribune News Service
Bathinda, April 30
Complaints of distribution of money and liquor, faulty electronic voting machines, allegations of favouritism and the ruling SAD members bullying others marked the day in the Bathinda parliamentary constituency today.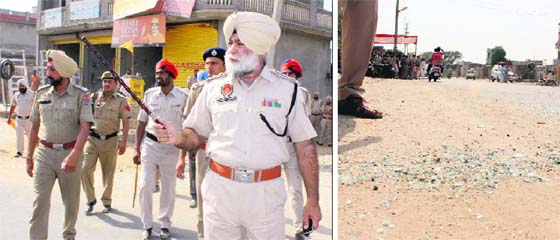 DSP Gurjit Romana; and (right) pieces of broken glass outside a polling booth at Multania Road in Bathinda on Wednesday. Photos: Vijay Kumar
Movement of SP CM security, AIG intelligence tracked
On the directions of the Election Commission of India (ECI), the movements of SP Chief Minister's security Joginder Singh Golu and the AIG intelligence Sulhdev Singh Kahlon was video tracked. Returning Officer-cum-Deputy Commissioner Kamal Kishore Yadav said the video-tracking of activities of these two officers had started on April 29 evening and continued throughout the polling day today.
Problems in EVMs
To start with, at the time of mock polling in Mehraj village, the EVMs developed some fault and had to be replaced. At one of the polling booths, the presiding officer pressed the close button mistakenly leading to the EVM getting locked up. Following this, a new EVM machine was roped in. Similarly, it was reported that the polling started late at Kotshamir, Gehri Bhagi, Sardargarh and Deon.
During the election procedure, the EVM installed at booth number 62 in Bathinda urban at Dasmesh School, suddenly went out of order around 3 pm. This particular booth had around 1,300 voters of which 700 had cast their vote when the EVM developed some technical problem. Polling at the booth remained suspended till 4:15 pm and could be resumed only after the engineers restored this machine.
"We stood in the queue for more than an hour in such sweltering hot weather to cast our vote. An alternate machine could have been put up to resume voting so that voters did not have to bear the brunt of heat," said Rajwinder Kaur Brar, a resident on Ajit Road, who cast her vote at this booth.
Allegations of distribution of liquor, money
Alleging the village sarpanch of distributing money today, villager Harbans Singh from village Tarkhanwala alerted the election complaint cell. However, when contacted by the Bathinda Tribune in the evening, he alleged that no action was taken on his complaint.
A villager from Pitho village called up alleging the SAD panchayat members of being present inside the polling booth as the people cast their votes. Members of the Aam Aadmi Party (AAP) alleged that booths around MSD School and Government Rajindra College were covered with the posters of the SAD. They also alleged that the SAD had held a tea-langar outside the government college to woo voters.
A complaint was received against a company named Stelco in Rampura that has around 150 employees and hadn't declared paid holiday today on the day of voting, despite the instructions of the Election Commission of India (ECI).
Two incidents of fake vote registered
Two incidents of fake voting were reported in Bathinda city today. In the first incident, Bhushan Kumar, a resident of Calcutte Wali Gali, said when he reached his polling booth at SSD Girls College, he was surprised to find that his vote has already been cast. "I was surprised to know that my vote was already cast," he said.
The polling officer SDO Nirbhai Singh got his tender vote form filled. The tender vote form records vote in paper ballot. The vote is counted only when during result there is a tie between two candidates and the tender vote acts as deciding factor. However, this hasn't happened often. Similarly, Kuldeep Singh, a resident of Mehna Chowk, complained that when he reached at MSD School to cast his vote at around 5.30 pm, his vote has already been cast. He claimed that his tender vote was also not taken at the booth.
In yet another incidence of voting scam, Pawan Kumar, a resident of Kheta Singh Basti, alleged that a woman SAD worker did not let the area residents vote today. "We were to cast our vote at the office of the thermal plant. A female SAD worker came to us today morning and collected voters' slips of around 35 of the voters from our area. She said that she would take us to polling booth in a vehicle. But till 6 pm, neither had she arrived nor did we get our voter slips back. We could not cast our vote due to her," he said demanding inquiry into the matter.
Appreciation certificate not given on time
First time voter, 20-year-old Sanha Arora, who cast her vote at the polling booth number 76 in office of XEN sanitation in Model Town Phase I alleged that she was not given an appreciation certificate awarded to first time voters. "It was only after I argued with the officials that they gave me the certificate," she said.
Employees on poll duty paid honorarium
All the members of polling parties were paid honorarium today for their poll duty leaving no dues uncleared. The presiding officers were paid Rs 2,050 per head, while assistant presiding officers were paid Rs 1,550 per head.
Fake complaints
Field staff of election braved fake complaints too. In an interesting case, there were allegations of money being distributed at Mehma Bhagwana village. However, when the ARO Rajiv Prashar inquired into the matter it was found that the presiding officer was distributing honorarium to the election staff.
In another incidence, the election cell got a call alleging booth capture in the Raman area. Bathinda Municipal Commissioner Vipul Ujwal and SP (headquarters) Jasvir Singh Khanna, who were in nearby area, reached the aforesaid booth within few minutes. The team called up at complainant's phone number. Though at first call, the complainant said that he would reach the booth soon, thereafter, he switched off his phone.