Jatt in time!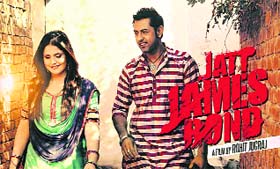 The nearly de-railed train carrying the 'jatt' could have fallen off the track any moment, but by stroke of 'some' good luck - one of the 'jatt' got drunk on Ishq Brandy, performed some 420 tricks here and there, joined another Bond, who also managed to pull in another friend in the orchestra business to generate all the pyar vyar – it chugs along.

Jatt James Bond - Rs 7 crore gross (approx)

Of love & humanity
He reserves his renditions miles away from the clutter of entertainment and slots them as meditative pursuits; as deep engagements with the philosophy and thoughts of Saint Kabir, one of the greatest and the most secular saints India has had. For Padma Shri singer Prahlad Singh Tipanya, his life-long affair with the saint and the singing started with the captivating sound of tambura.
Eat, pray and cheer
Raise the toast to the blazing six. The loud cheer followed by celebrations. Indian Premier League (IPL) has become a part of the Indian sports culture and restaurants are showing the matches live to let the fans relish the flavour of cricket.
GYAN ZONE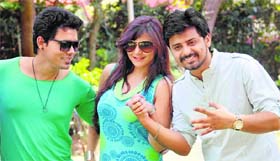 A date with myself!
Sitting under the shade of a tree, his eyes focused on the laptop, this young-looking boy, oblivious to a group of people curious to know him, is busy tapping his fingers on the keyboard.



fresh take: (L-R) Banny Chouhan, Dolly Sidhu & Akashdeep

Master Chef
Visual treat
The proof of the dish is both in tasting it and viewing it both. Here we have tried to combine spices and fruit to give you a visual treat besides a yummy dessert with the goodness of apples intact.
Ready for Paris?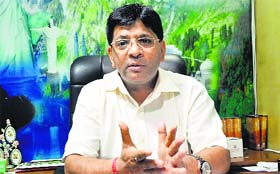 It's surely going to be a once in a lifetime treat for the region's would-be fashion designers with Chandigarh's prominent travel agency tying up with a French fashion house. Chandigarh-based American Travels and Tours Pvt. Ltd., a travel management company, has come up with a customized study tour which will help fashion designing students to get a one-week exposure in world's fashion capital Paris, which comes at an affordable fee of Rs 1.5 lakh per student, all inclusive.
Celebrate motherhood
Make this Mother's Day the most memorable one for your mother at The Lalit Chandigarh. The Lalit offers a lavish multi-cuisine Mother's Day brunch with live stations. A delectable display of brunch favourites with an emphasis on home style cooking and live music is sure to impress your mom.
Dress like a Latino
Latin Quarters, a leading women's wear clothing brand announces the launch of its High Summer 2014 Collection. The collection features a mélange of floral, lace and laser cut designs which creates an interesting mix of dramatic atmosphere and varied styles.
star track


Addicted to food


Beauty with heart


Delhi flavour


Kirron's Punjabi venture
chatter box


Apara to play granny


No dance please!


Fatherhood calling


New Releases