Bar Association calls off strike
Jammu, May 9
The Bar Association of Jammu (BAJ) has officially called off its strike today, a day after the suspension of three police officials, who allegedly misbehaved with some lawyers violating traffic norms. The work will be resumed from Monday at the Jammu High Court after a gap of 25 days.
Hike in hostel fee by Jammu University
Fasting ABVP activist admitted to hospital
Jammu, May 9
As the stand-off between striking students and the Jammu University administration over the rollback of hike in hostel fee continues, an activist of the Akhil Bharatiya Vidhyarthi Parishad (ABVP) was today admitted to Government Medical College and Hospital (GMCH) after his condition got deteriorated on the campus.
Government urged to pay 10 per cent DA
Jammu, May 9
President of the National Mazdoor Conference (NMC), Subash Shastri yesterday appealed to the state government to pay 10 per cent DA, due from January, to its employees and pensioners.

Valley goldsmith pledges to donate organs after death
Srinagar, May 9
A 56-year-old goldsmith, Showkat Ahmad Zarabi, from Budshah Mohalla, Lal Bazaar, Srinagar, has become the first Kashmiri to take a pledge to donate his body organs post death, raising eyebrows in conservative Kashmir where organ donation is frowned upon by religious scholars.
Hold judicial probe into killing of panches: AJKPC
Jammu/Srinagar, May 9

A day after a panchayat member was shot dead in south Kashmir, the All Jammu and Kashmir Panchayat Conference (AJKPC), a frontline organisation of elected panches and sarpanches, today demanded the setting up of a judicial commission "to unmask the killers" who were selectively targeting panchayat members in the state.

Security personnel inspect the spot where militants killed panch Gul Muhammad Bhat at the Wanpoh area of Kulgam district on Thursday. Tribune file Photo

Gadkari for peace with Pak, Hurriyat
Srinagar, May 9
On his maiden visit to Kashmir, former BJP president Nitin Gadkari today batted for peace with Pakistan and Hurriyat leaders and insisted that Jammu and Kashmir would be among the top priorities of the party if voted to power. Interacting with the media, Gadkari exuded confidence that the BJP would form the next government in New Delhi and said the party will take forward former prime minister Atal Bihari Vajpayee's peace process.
As polls in state end, security forces heave sigh of relief
Srinagar, May 9
After being on tenterhooks for more than a month to maintain tranquillity in embattled Kashmir valley, the police and security forces heaved a sigh of relief after the completion of the final phase of polls in the state on May 7. Scores of police and Central Armed Police Force (CAPF) personnel were deployed into stressful duty in the wake of upsurge in militant activities and threat perception to the poll process in the three Lok Sabha constituencies of the Valley.
Lingshed villagers defy odds to cast their votes
Leh, May 9
People at Lingshed village in Leh braved extreme weather conditions and severe shortage of food grains to cast their votes for the Ladakh Lok Sabha seat on May 7. The villagers, who didn't had enough stock to feed their children and livestock, were planning to shift their families to some suitable place but remained stationed at their native village to exercise their right to franchise.
Srinagar-Leh national highway to reopen soon
Srinagar, May 9
After remaining closed for nearly five months, the strategic Srinagar-Leh national highway is likely to be thrown open for vehicular traffic within the next few days. Though the date for the reopening of the highway is yet to be officially announced, it is expected that it would be thrown open by May 12, depending upon the weather conditions.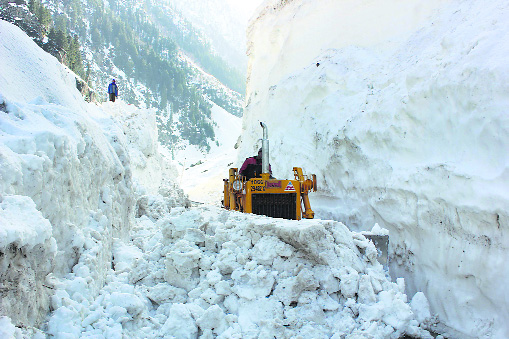 A snow-clearing machine at work on the Srinagar-Leh highway.
A Tribune photograph

Shutdown in Baramulla, Sopore
Baramulla/Kupwara, May 8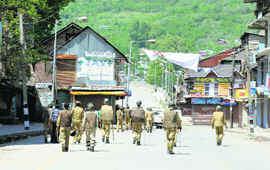 A day after voters were harassed by pro-boycott youth in Baramulla and Sopore towns, a spontaneous bandh and protest demonstrations were held in Baramulla today against alleged police action in which some arrests were made. Heavy deployment of police and CRPF enforced shutdown in Sopore town, reports said.

Security forces put on high alert in Baramulla town after youth came out on roads and damaged dozens of vehicles and shops on Friday. Tribune Photo: Amin War

50 donate blood at camp on Thalassemia Day
Jammu, May 9
The J&K Thalassemia Welfare Society celebrated Thalassemia Day by organising a blood donation camp at Blood Bank, SMGS Hospital. Medical Superintendent, SMGS Hospital, Dr Dara Singh, Head od Paediatrics Department Prof Dr Rekha Harish and Head of Blood Bank Dr Vijay Sahani inaugurated the camp in which more than 50 volunteers donated blood.
Padshahi Bagh residents sans water supply for 20 days
Srinagar, May 9
Residents of Padshahi Bagh here are irked with the Department of Public Health Engineering (PHE) for failing to repair the fault in the water supply pipeline. The residents alleged that there was no water supply for the past 20 days.
Deputy CM's security reduced
Srinagar, May 9
Deputy Chief Minister Tara Chand's security has been reduced by the security wing of the state police as it has withdrawn one bulletproof sports utility vehicle (SUV) alloted to him earlier. His safety and security are being compromised as the security wing has also not replaced his two rickety Gypsies. They were allotted to him in 2002 when he became the Speaker of the Legislative Assembly. These two vehicles have outlived their mechanical life and often break down.
SC stays HC order on allotment of MBBS seats
New Delhi, May 9
The Supreme Court here today stayed an order of the Jammu and Kashmir High Court directing the state government to offer the MBBS seats vacated by students involved in the question paper scam to those pursuing dental (BDS) and veterinary science (BVSc) courses.
MHRD joint secretary interacts with Central Kashmir varsity faculty
Srinagar, May 9
Joint Secretary, Department of Higher Education, Ministry of Human Resources and Development (MHRD), Jagmohan Singh Raju today interacted with the faculty of the Central University of Kashmir (CUK) at its Zainakote academic block. Vice Chancellor Mehraj-ud-Din, Registrar M Afzal Zargar, deans of schools, heads of departments and other administrative heads were also present on the occasion.
Water-borne diseases on the rise in Poonch
Poonch, May 9
As the Public Health and Engineering (PHE) Department has failed to maintain pipes supplying drinking water to households across Poonch city, lives of thousands of residents are at risk in Poonch town as the leaking pipes are causing rise in various water-borne diseases.
Mother's Day celebrated at Kunjwani school
Jammu, May 9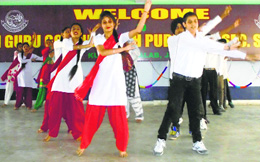 Mother's Day was celebrated at SGGS Public Higher Secondary School, Kunjwani, with fervour and gaiety. A grand function was organised by the school. A large number of students, teachers and parents participated in the programme. The function was stated with the welcome address by administrator of the school Charanjeet Kour and later "Ganesh vandana" was done by students of senior classes.

Students perform during the Mother's Day function at SGGS Public Higher Secondary School, Kunjwani, Jammu, on Friday. A Tribune photograph

Kendriya Vidyalya No 2 celebrates annual day
Srinagar, May 9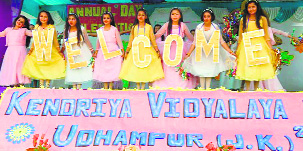 Kendriya Vidyalya (KV) number 2, Srinagar, celebrated its 37th annual day today. Various dignitaries who attended the function included B Balachandran and AK Arora. The programme was started by lightening of the lamp followed by "Ganesh Vandana" and welcome dance by tiny tots.

Students perform during the annual day function at Kendriya Vidyalaya No 1, Udhampur, on Friday. A Tribune photograph


Massive search launched for missing boy
Srinagar, May 9
The police today said it had launched a massive search to trace a three-year-old boy, who went missing three days ago from Nowpora area of Khanyar in the city here. A police spokesman said the minor boy, Fahim Asgar, a resident of Nowpora area of Khanyar, had been reportedly missing from his home since May 6.
Shopkeepers criticise Bar Association
Jammu, May 9
The Nai Basti Bazaar Association (NBBA) criticised the J&K High Court Bar Association (JKHCBA) for threatening and forcing shopkeepers to close their shops during the Jammu bandh call given on May 5. Association members expressed their anger against the alleged unlawful behaviour of the JKHCBA during the Jammu bandh call. Madan Lal Dogra, president, NBBA, said on May 5, the JKHCBA called for a Jammu bandh and the association also extended full support to them. "In the evening when some of the shopkeepers opened their shops, members of the Bar Association reached Nai Basti Bazaar in a huge number and harassed shopkeepers," he alleged. Dogra demanded action against the members of the JKHCBA for threatening and harassing the shopkeepers during the Jammu bandh call. TNS



Ice halo: A rare celestial phenomenon, known as nimbus, icebow or gloriole, was witnessed in Srinagar on Friday. It is produced by ice crystals that create coloured or white arcs and spots in the sky. PTI

Prez to address JU convocation on Sept 1
Jammu, May 9
President Pranab Mukherjee will visit Jammu on September 1 to address the convocation of Jammu University. The President will also pay obeisance at the Vaishno Devi shrine in Katra town of Reasi district during his visit to Jammu. The convocation of Jammu University will be held after a gap of almost seven years. The last convocation of the university, which was held on July 15, 2007, was addressed by Prime Minister Manmohan Singh. Sources said the state administration was finalising the schedule of the President's visit to Jammu. The President will visit Jammu University on September 1 and address the convocation. He will also visit the Vaishno Devi cave shrine in Katra during his visit," the sources said. — TNS
2 held with 17-kg poppy straw
Udhampur, May 9
Two persons were arrested and 17 kg of poppy straw recovered from their possession on the Jammu-Srinagar national highway here today. According to report, a truck on its way from Srinagar to Jammu was intercepted by the police at the Jakhani naka, Udhampur. On thorough checking of the vehicle, the police recovered 17 kg poppy straw from it. A case has been registered. — OC
Cross-country run organised
Srinagar, May 9
Tyndale-Biscoe Boys Higher Secondary School, Sheikh Bagh, conducted the annual cross-country run today. Divisional Commissioner, Kashmir, Shailendra Kumar, who was also the chief guest, flagged off the race and handed over tickets to students at Shankaracharya Temple. Over 2,577 students and 200 staff from Class nursery to Class XII participated in this event under the overall command of Principal and Director Parwez Samuel Kaul. — TNS
Guv briefed on Amarnath Yatra preparedness
Srinagar, May 9
Kishore Jha, Additional Director General (ADG), CRPF, Delhi, along with PK Singh, Inspector General (IG), CRPF, Kashmir, called on Governor NN Vohra at Raj Bhawan here today. Jha briefed the Governor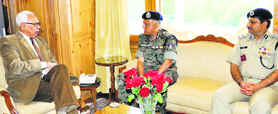 about issues relating to maintenance of law and order and CRPF's preparedness for the conduct of Amarnath Yatra in the state this year. The Governor appreciated the good work being done by the Central Reserve Police Force (CRPF) in Jammu and Kashmir.

Governor NN Vohra interacts with Kishore Jha, Additional DG, CRPF, Delhi, and PK Singh, IG, CRPF, Kashmir, at Raj Bhawan in Srinagar on Friday. A Tribune photograph