Punjab

More grain than bowl can hold

By Sarbjit Dhaliwal and Ruchika M Khanna
Punjab, the granary of India, is virtually choked with food grain. One finds huge stacks of food grain stored in the open and in roofed warehouses across the state. The Green Revolution has clearly left behind challenges for policy makers to deal with. Most important among those is the post-harvest management of food grain, especially that which is procured for the central pool.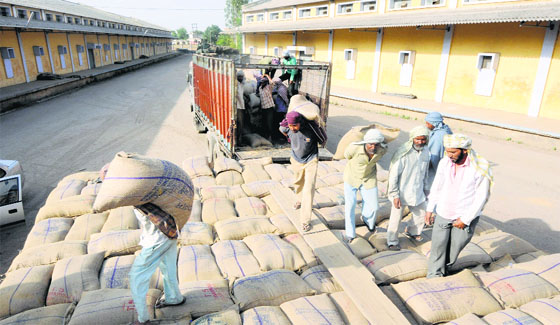 Annually, Punjab has to make storage arrangements for over 210 lakh tonne of fresh stock of wheat and rice, besides carry-over stock to the tune of 60-80 lakh tonne. Photo: Pradeep Tewari
Though initiatives have been taken over the years to stack food grain in a scientific manner, these are falling short due to failure at the policy and planning levels, besides the rapid increase in food grain production. While millions of people sleep hungry, million tonnes of food grain rots in unscientifically stored stacks.


Wheat movement in 2013-14
(to consumer states from Punjab)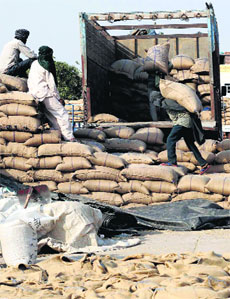 FCI stocks: 14.48 lakh tonne
State agencies: 109.64 lakh tonne
Total: 124.12 lakh tonne
Monthly average: 10 lakh tonne


Wheat procurement
(in lakh tonne in Punjab)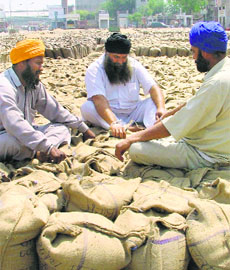 In 2013: 109.6
Expected this year: 120
Arrivals so far: 110
Procured by govt agencies: 107.5
Procured by private millers: 2.6


Loss percentage
(in production process)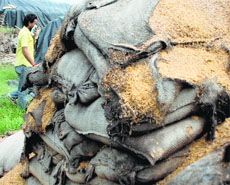 Total: 9.33%
Transportation loss: 0.15%
Due to moisture: 0.68%
Because of bird pickings: 0.85%
Processing: 0.92%
Threshing: 1.68%
Rodent attack: 2.5%
Insects: 2.55%
(Source: Study commissioned by the Union Ministry of Food)


Produce increase
(in Punjab)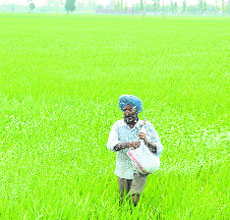 Wheat
1980-81: 76.77 lakh tonne
2014-15: 180 lakh tonne
Rice
1980-81: 32.33 lakh tonne
2013-14: 90 lakh tonne
Hundreds of thousands of tonnes of food grain continue to be stored in the open, in cover and plinth (CAP). This storage facility is basically an earthen or wooden platform of a specific size in any available open area, where stacks of jute bags filled with wheat are stored after being covered with tarpaulin sheets. Officially, this is a scientific method of storing wheat, never mind that the practice dates back to the British rule. Wheat stored in these storages is susceptible to a high rate of loss because of exposure to moisture, rodents and lack of aeration.
Storage issues
Punjab is a food surplus state. This year, it is expecting the total wheat production to the tune of 180 lakh tonne. Of this, about 120 lakh tonne is likely to be procured for the central pool. Punjab also contributes about 85-90 lakh tonne rice to the central pool every year. With only 1.5 per cent geographical area of the country, Punjab produces about 20 per cent wheat and 11 per cent rice in the country. Arrangements have to be made annually to store over 210 lakh tonne of fresh stock of wheat and rice in the state, apart from the carry-over stock of the previous year to the tune of 60-80 lakh tonne.
There is a capacity to store 150 lakh metric tonnes of food grain in covered godowns. While almost 90 lakh tonne rice is stored in covered storages, most of the wheat — from the previous three years and this year's expected bounty of 120 lakh tonne — will be kept in CAP storages.
Food agency officials, however, insist that these are not vulnerable storages, and with an addition of 21 lakh metric tonnes (LMT) of new covered storage facility in the state this marketing season, no wheat will be stored at places where it is at the mercy of the elements. Wheat stocks in CAP storages are regularly subjected to prophylactic treatment which ensures that the quality remains good, they insist.
Frantic disposal
However, they fail to explain why the state is trying to dispose of 3.86 lakh tonne wheat (procured in 2009-10 and 2010-11) kept in CAP storage, and which is now rotting. Tenders for the disposal of this wheat, worth crores, have been floated. It will be disposed of as cattle and poultry feed, industrial starch or manure, depending on the damage in the grain. A large part of wheat this year will have to be stacked in the grain markets. Clearly, it is an unscientific method of storing wheat. For the past few years, the state government has been going in for unscientific storage because of shortage of space. Government food procurement agencies maintain that CAP storage is scientific. A set of practices has been formulated to treat the wheat stored in open storages. "It's only when procurement agencies, which hold wheat stocks on behalf of the Food Corporation of India (FCI), default in using these standard treatment practices that the quality of wheat is affected. In such a scenario, the FCI declines to make any payment to the state agencies responsible for the storage of these stocks," says Aseem Chabbra, AGM, FCI Punjab region.
In Punjab wheat damaged annually due to antiquated storage methods is estimated to be worth crores of rupees. Last year, even the CAG report had pointed out that wheat worth Rs 30 crore had rotten in Punjab and Haryana in the past three years due to poor management by government agencies. The report stated that Punjab State Civil Supplies Corporation Limited (Punsup) failed to maintain food grain stock due to which 17,423 MT of wheat was damaged from 2008 to 2011. The damaged grain was worth Rs 20.3 crore. Poor management of the Punjab State Warehousing Corporation (PSWC) also resulted in the damage of 666 MT of wheat from 2008 to 2011.
The state procures almost 110 lakh tonne of wheat and 130 lakh tonne of paddy each year from which about 90 lakh tonne rice is prepared. While wheat stored in the covered storages is considered safe for almost three years, the wheat stored in CAP storages starts rotting within a year. It is thus that FCI first transfers the wheat stocks in CAP storages to the recipient states in North East, Maharashtra, Tamil Nadu, Jammu and Kashmir, Himachal Pradesh, Karnataka, Gujarat and Jharkhand.
Only wheat is stored outdoors in CAP storages. In most states, government agencies do not hold paddy but purchase or collect as levy payments sacks of milled rice which are kept in warehouses or in rice shellers. After each harvest, space shortage means that wheat bags are moved outside when paddy is harvested and processed.


Total food grain stock in India: 548.19 lakh tonne

Wheat: 343.03 lakh tonne

Rice: 204.16 lakh tonne

Total food grain stock in Punjab

Wheat: 157 lakh tonne

Rice: 89.74 lakh tonne
Since wheat stocks in the open are exposed to moisture, fungal attacks are common, which turns the grain black and foul smell emanates from it. During monsoon, water flows into CAP godowns — generally located along highways — and for weeks, the stock remains drenched as plinths get saturated with water and the excess moisture moves to the grain, making it vulnerable to attack by insects, pests and rodents.
Enhancing storage
But the good news is that at least now efforts are being made to add to the area under covered storage. Driven by the FCI, as a policy decision, most government agencies have decided to not construct their own storage facilities, but rely on private sector instead. A few years ago, the government had launched the Private Entrepreneurs Guarantee (PEG) Scheme for construction of storage godowns through entrepreneurs, Central Warehousing Corporation and State Warehousing Corporations. Since 2008, when the scheme was launched, an additional storage capacity of 43 lakh tonne has been, and another 7 lakh tonne will be commissioned soon.
Initially, the government had decided to build 50 lakh tonne of storage under the PEG scheme, but later it was settled that 4 lakh tonne storage would be transferred for creating more scientific silo storages. The FCI had created a state-of-the-art silo storage at Moga in collaboration with Adani Agri Logistics on a build-own-operate basis, where the FCI has given a 20-year guarantee for usage of the storage facilities. This silo is now being used to its optimum capacity of two lakh tonne of wheat.
"About 90 lakh tonne rice stock is in covered storages. Considering that this season we will procure 120 lakh tonne, the total wheat and rice stocks with us will be 257 lakh tonne, including 47 LMT of previous years' wheat. We have total storage capacity of 258 LMT (145 LMT covered and 113 lakh tonne CAP). Thus, the problems related to storage will not be there," says Aseem Chabbra. The government is keen on adding more covered capacity, especially silo storages, but it would take several years to move to a completely covered food grain storage regime, he adds.
Excess stock
However, the government authorities say fiscal year 2013-14 was an unusual year when the take off from Punjab to deficit area was about 124 lakh tonne wheat and 79 lakh tonne rice. In a normal year, the take-off stock is in the range of 170 lakh tonne, excluding the carry-over to the tune of 50-70 lakh tonne every year. The carry-over creates problems for the fresh stock. "There can be a comfortable situation if the Centre takes the entire fresh stock of wheat and rice from the state to other parts of the country. If that is not possible, then there is a need to create additional space to stack at least 50 lakh tonne of food grain in the state," says a senior official of the Punjab State Warehousing Corporation that deals with storage. A rent to the tune of Rs 72 per quintal per annum is given to private parties for stacking the grain.


Poor coordination, slow lifting
This year unfavourable weather led to delayed harvest of wheat. The rains in March flattened crops at several areas in Amritsar, Gurdaspur, Ajnala and Sangrur, but did not harm the total production. Of the 120 lakh tonne wheat expected to arrive in the mandis for procurement, 105 LMT has already arrived. Of this, 102.5 LMT has been procured by the FCI and state government agencies, whereas private traders have purchased 2.52 LMT.
However, poor coordination between various government agencies regarding the supply of gunny bags, allotting mandis to transporters, etc. has led to the flooding of mandis with wheat and its slow lifting. As of now, 45 LMT of procured wheat is still lying in the mandis, waiting to be lifted and stored.
This year, the share of private traders in wheat procurement is high. This is mainly because the government has withdrawn certain taxes charged from private flour mills for purchasing wheat from mandis. Flour millers are exempt from paying rural development cess, infrastructure development cess and market fee. Even VAT has been reduced from 5 per cent to 3 per cent. As a result, buying wheat from mandis has become more cost effective. The wheat they buy from mandis now costs them Rs 1,490 per quintal as against Rs 1,603 if they bought wheat from the FCI under the Open Market Access Scheme.
Last year, during wheat procurement, private players had bought just 1.34 LMT wheat from a total 109.5 LMT procured by the agencies. In 2012, their share in wheat procurement was just 2,000 tonnes. This year, their share is expected to go up to 3 LMT.
'Treating wheat'
Not a single grain stored by the FCI is rotting because we treat the wheat properly. We are gradually increasing our covered storage capacity. This is the first time that we are storing all wheat stocks scientifically in covered or CAP storages.
Aseem Chabbra, agm, fci punjab region
'Loss huge'
Wheat stored in CAP storages suffers from qualitative and quantitative losses. The losses due to this are 0.6 per cent of the total wheat stocks in the past decade. The percentage of loss might be small, but in value terms, it is huge.
Dr MS Sidhu, a leading agriculture economist




Photo: Pradeep Tewari