Designs on grandeur
Sussanne Roshan loves designs. In Ludhiana to promote a project, she shares how designs should be in sync with the natural surroundings of a place

She has been in love with design since the age of five; she went on to study interior design at California, US, at the age of 18 and is working on several projects. In Ludhiana for the promotion of the Naira project, for which her company The Charcoal Project collaborated with developers Emgee Group, Sussanne Roshan speaks about the latest project and more. "I am promoting the project in Ludhiana straight after Dubai, which is a homage to the city of young entrepreneurs and the city of people who have a zest for life," she says.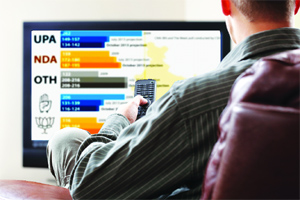 Poll khol!
You have already had your tea, asked for an early breakfast, maybe also checked for power-cut in your sector and probably placed a bet on your winning candidate! It's here; all the speeches, all those Twitter fights, those promises, the hope of 'maybe' better governance…sees the light of the day. Did you just get a ping on an election result from a friend who is lucky to find a seat in front of the television?

STAR TRACK
A fair share of controversy
At the trailer launch of the upcoming animation film Mighty Raju Rio Calling, Kajol has caught everyone's attention for her fair and lovely skin. The dusky beauty is speculated to have gone under the knife to get a fairer skin. Kajol sparked a lot at the event and it gave rise to the rumor that the actress has gone under the knife for a fair complexion.
In the league of masters
Farhan Akhtar has been invited to take a master class at a film festival in London. The event is a British Film Institute (BFI) special 'in conversation' event, with the London Indian Film Festival. It is Europe's biggest independent film festival.
Parineeti loves Pizza!
Favourite things
Food, travel and singing are my favourite things. Pizza is my weakness. Pizza and I were made for each other. I love Margarita, toast and cheese. If I've to ever cook a 'date dish' for my man, I'll serve him pizza. I love chocolates—Dairy Milk Crackle and Crunchy, which you get only in England. I dig dark chocolates, Lindt Silver particularly.
Let the show begin!
The opening ceremony of the 67th Festival de Cannes took place in the Grand Théâtre Lumière.
Subhash Ghai to direct Salman
After box-office dud Kaanchi, filmmaker Subhash Ghai is gearing up to team up with Salman Khan after six years. Rumour has it that his latest find Mishti will romance Salman in the film.
CHATTER BOX
All is well
Actress Dipika Samson had bid adieu to Saasural Simar Ka team on May 9, but within two days she was asked to resume shooting. The actress, who had cited creative differences, was leaving the show after being associated with it for three years.
New Releases
The Xpose
Producer: Vipin Reshammiya
Director: Ananth Narayan mahadevan
M3-Mid-Summer Midnight Mumbai
Producer: Gudnet Production
Director: Braj Bhusan
Godzilla
Producer: Thomas Tull, Jon Jashni, Mary Parent, Brian Rogers
Director: Gareth Edwards
Astro Turf
ARIES: Keep in mind that situations change and lucky breaks can be just around the corner. Try to increase your knowledge in new areas. Health will need more care in the evening.