A day before the result, candidates relax at home
Chandigarh, May 15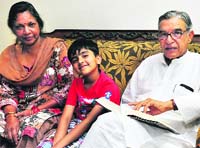 Though a bit anxious and jittery, prominent candidates in the fray from the Chandigarh Lok Sabha seat spent the day before the counting of votes relaxing at their home. They, however, took out time to plan for the counting day with their party workers.

Congress candidate Pawan Bansal with his wife and grandson at his residence in Sector 28, Chandigarh, on Thursday; Tribune photo: Parvesh Chauhan
Bansal, Kirron mum on Facebook, Twitter
Chandigarh, May 15
A day before the Lok Sabha election results, a majority of the candidates preferred to remain silent on their social networking sites.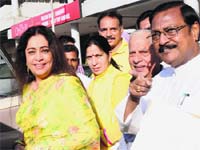 Punters give Kirron the edge
Chandigarh, May 15
While election results for the Chandigarh Lok Sabha seat will be out tomorrow, punters here are giving the edge to BJP candidate Kirron Kher over Congressí Pawan Kumar Bansal and AAPís Gulkirat Kaur Panag.


BJP candidate Kirron Kher leaves after holding a meeting with counting agents in Sector 17, Chandigarh, on Thursday. Tribune photo: Manoj Mahajan
Postmortem hints at poisoning; friend sent to police custody
Chandigarh, May 15
A day after the mysterious death of a college girl at a guest house in Sector 43, the postmortem of the body was conducted today. Though no definite opinion regarding the cause of death was ascertained, doctors conducting the autopsy hinted that death could be due to poisoning. The viscera samples have been sent to the CFSL for a chemical analysis to know the exact cause of the death.
Beware! Snake scare days are here again
Chandigarh, May 15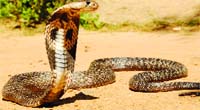 Cases of snake scare are on the rise. In the past four months, at least 12 cases of snake scare and rescue have been reported with the Department of Forests and Wildlife of the Chandigarh Administration. Among the snakes spotted in the city were three most venomous species -- the common krait, russell viper and cobra.


It wonít be a cakewalk for the winner
Chandigarh, May 15
Unlike the outcome of the 2009 parliamentary elections when Congress candidate, Pawan Kumar Bansal, emerged as a clear cut winner by taking a lead of 58,000 votes, it is not going to be a cakewalk for the winning candidate this time.

UPA will become history: Bedi
Chandigarh, May 15
The United Progressive Alliance (UPA) Government will become history tomorrow as the new leadership will come to power at the Centre.


Dr Kiran Bedi addresses a gathering at the PHD Chamber, Sector 31, in Chandigarh. Tribune Photo: parvesh Chauhan
Assembly of five or more persons prohibited around counting centre at Mohali
Mohali, May 15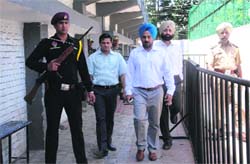 Special nakas will be set up in the town in view of the counting of votes for the Lok Sabha elections tomorrow. District Magistrate Tejinder Pal Singh Sidhu said there was a ban on gathering of five or more persons within a radius of 200 metres of Shivalik Public School, Phase VI, where the counting of votes for the SAS Nagar and Kharar assembly segments of the Anandpur Sahib parliamentary constituency would be held.
DC Tejinder Pal Singh Sidhu reviews the preparedness at the counting centre at Phase VI in Mohali. Tribune photo: Vicky Gharu
MC serves notices on eating joints
Chandigarh, May 15
Going ahead with the drive against eating joints, wherein, sites are being used for the purpose other than permitted, the Estate Officer, Mohammed Shayin, today issued three-day public notice to violators failing which their premises would be sealed.
40 bus passengers stranded
Chandigarh, May 15
Nearly 40 passengers of a Haryana Roadways bus en route Chandigarh from Rohtak were put to a great hardship following a scuffle between the bus driver and a passenger here yesterday.
Security arrangements reviewed
Panchkula, May 15
The district administration has claimed to have made elaborated security arrangements to conduct the counting of votes peacefully at counting centres at Government College for Girls, Sector 14, and community centre at BEL Colony, Sector 14, here.


Substandard food being served to children
Chandigarh, May 15
The Chandigarh Commission for the protection of Child Rights, during their surprise visit to check the preparation of mid-day meal at Shivalik View Hotel today, found shortcomings in the quality of food, infrastructure and cleanliness.
Rayat-Bahra students top in Asia
Chandigarh, May 15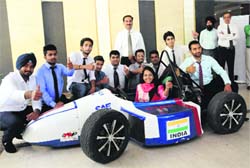 The students of Rayat-Bahra Engineering College are riding high on their success of bagging the first position in Asia in an international competition held at the University of Texas, USA.



Students of Rayat-Bahra Engineering College pose with the all-terrain vehicle at Shivalik View Hotel, Sector 17, Chandigarh, on Thursday. Tribune Photo
NavSankalp donates Rs 1 lakh for childís treatment
Chandigarh, May 15
NavSankalp, the charity association of DAV College, Sector 10, today provided financial assistance to the parents of an ailing child, Amritpal Singh, for his surgery. Amritpal (11), is suffering from hemolytic uremic syndrome.

City lad chosen for leadership programme
Chandigarh, May 15
A student of St. John's High School has brought laurels to the school and the city by getting selected for The Shri Ram Ananta Aspen Leadership School Programme. Salman Ahmad was selected from among 56 students from across the country
Salman Ahmad
PU announces date sheet
Chandigarh, May 15
Panjab University today announced the date sheet for MTech. ME, MEd., B Pharmacy and BSc. (agriculture).
Studentsí council submits memorandum to VC
Chandigarh, May 15
The Panjab University Campus Students Council (PUCSC), today submitted a memorandum to the Vice-Chancellor, raising issues of the University Institute of Engineering and Technology (UIET) and the University Institute of Chemical Engineering and Technology (UICET).
12,000 to take exam in city on Sunday
Chandigarh, May 15
More than 12,000 students from across the country will take the PGIMER entrance examination at various centres across the city on May 18.